Last year, Akai dropped a game changer with the APC40, a dedicated controller for Ableton Live performances. Now, with a price drop to the APC40 and its new little brother, the APC20, Akai has made it even more attractive for DJs and aspiring music producers to jump into the Ableton Live arena. Read on to find out just how much these controllers allow you to do, and how they stack up in terms of function and value against a growing field of competitors.
PRODUCT SUMMARIES
In the APC40 and APC20, you have a true brethren of form and function. Both units feature the same build quality, the same tight integration with Ableton Live software — either separately sold versions or the included APC version of Live — and similar value for the dollar. The price differential between the APC40 (now selling new for around or below $299 US) and the APC20 (at or around $199 US), only reflects the larger size and control count of the APC40, rather than any difference in professional quality.
THE GOOD: Excellent build quality includes a metal chassis, hard rubber siding, solid faders and encoders, and rugged rubber buttons. All in all, theses are tough, road-worthy units. Well thought-out, plug-and-play integration with Ableton Live makes these controllers a joy to use, especially when performing or recording in Live's clip-oriented Session view. All controls are re-mappable. Outstanding return on investment.
THE BAD: The large number of backlit buttons necessitates an included AC adapter, rather than USB bus power. Although the APCs can be mapped to other software, Akai has no intentions of releasing MIDI templates for any software but Ableton Live.
THE BOTTOM LINE: The APC units are affordable enough for beginners, yet powerful and sturdy enough for professionals. With the included Akai Pro APC Edition of Ableton Live, these controllers provide an accessible point of entry into the most exciting and popular live electronic music performance software. For those with expansive needs, up to six APC units can be used simultaneously on a Live Set, which would probably be overkill, but it's a nice sentiment. The APCs' combination of seamless Ableton Live integration, rock-solid build, numerous hardware controls and affordability make them hard to beat.
HARDWARE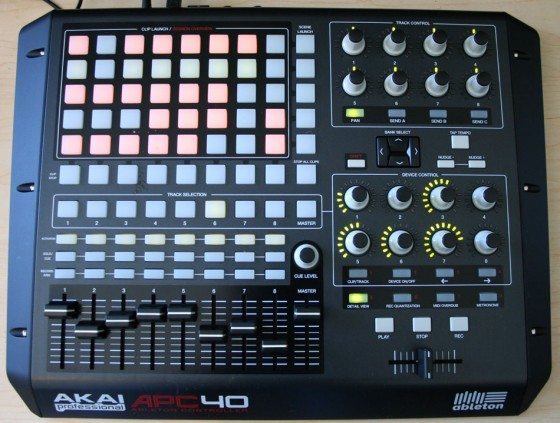 Beginning with the APC40, this device gives you hands-on control for just about everything in Live's Session View.
The upper left-hand buttons include an 8 x 5 Clip Launch grid; in the Live software, a red ring encircles tracks and scenes covered by the button grid, and you use the the Bank Select arrow buttons to navigate this grid over a session of up to 64 tracks and 125 scenes. The Shift button activates the Session Overview, letting you jump quickly throughout a large session using the grid buttons. You also have a column of Scene Launch buttons and a row of Clip Stop buttons, as well as a Stop All Clips button.
The mixer section gives you control of eight tracks at a time, as well as the Master track. You have button rows for Track Selection, track mute/activate, track solo/cue, and track record arm. The 9 faders (track 1-8 and Master) are sturdy, yet a bit stiff to move.
On APC40's right-hand side, you have an 8-encoder Track Control section with buttons to select whether the encoder control the pan position or Send A, B or C amounts for the selected 8 tracks. Another 8-encoder section for Device Control handles parameters for any selected effect or instrument device within an active track. Use the Shift key and the 8 buttons below to access the 8 banks of Device Controls, for 64 total controls. All 16 of the endless encoders are surrounded by LED rings that instanly indicate the value of the current parameter as you navigate around a Live Set.
In addition to the replaceable crossfader, a handful of dedicated control buttons include transport (play, stop, record), Tap Tempo, Nudge +/-, MIDI Overdub and Metronome.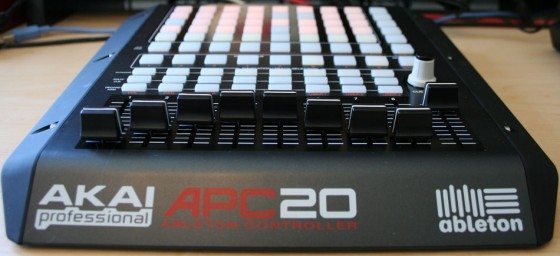 The challenge for the APC20 was to pack as much of the APC40's control into a footprint almost half the size.
Essentially the same control layout as the APC40's left-hand side, the APC20 relies much more on the Shift key to add functionality. A row of buttons giving you the directional navigation and transport controls doubles as the Track Selection buttons when holding down Shift. Also, the APC20's faders function as a stand-in for the APC40's Track Control section. Using the Shift key and the row of Record Arm buttons, the APC20's faders can toggle between controlling track volume, pan and Send A/B/C amounts. In addition, there are three user mappable slots for the eight faders. (Both APC units' controls are customizable at any time using Live's or another program's MIDI Learn function.)
Missing from the APC20 is the APC40's crucial Device Control section. However, Akai has introduced a tasty new feature in the APC20 that the APC40, at least so far, lacks. This is the Note Mode function, a button that switches the 8 x 5 Clip Launch button grid into MIDI note input buttons for MIDI instruments within Live tracks. So for instance, with Note Mode you could use the APC20 to play and record beats using a Drum Rack. I also used Note Mode to very easily control drum libraries in Native Instruments Kontakt 4 sample player running as a plug-in. The big drawback to using Note Mode is that the APC's pads are not velocity sensitive; I much prefer velocity-sensitive pads for making more nuanced beats.
Note Mode is a most welcome, and some might say, obvious feature for a controller like this to have, which makes it's absence from the APC40 all the more glaring. Let's hope Akai finds a way to add Note Mode to the APC40 through some kind of update. In the meantime, APC40 users can look toward third parties such as Native Kontrol for APC40-compatible presets that enable similar, and other, abilities.
A note from DJ TechTools:
Our Midi Fighter controllers (3D, Pro and Classic) behave as if in "Note Mode" out-of-the-box, but the buttons are also mappable as MIDI CCs… talk about flexibility!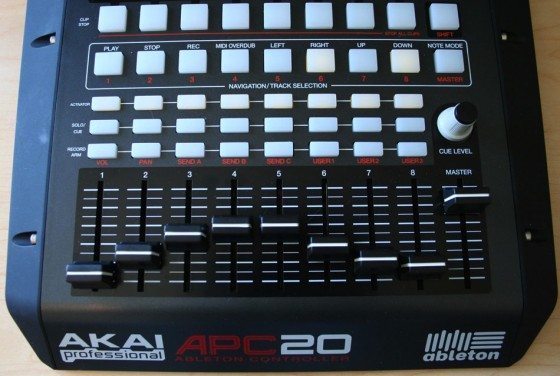 SOFTWARE
The APC20 will not work with versions older than Live 8, while the APC40 works with Live 8 or the latest update of Live 7. Both come packaged with Ableton Live 8 Akai Professional APC Edition, which is fully functional for recording, performance and production, but is limited to 8 audio tracks, 8 MIDI tracks and 20 Session view scenes, as well other limitations related to audio I/O, plug-in instances and more. Any upgrade to Live 8 Intro ($99 download/$139 box), Live 8 ($449 download/$549 box) or Ableton Suite 8 ($699 download/$849 box) gives you significantly more power. That said, a beginner could definitely get off the ground in DJing, producing or performing music with the APC Edition before needing an upgrade.
TWO GREAT TASTES THAT TASTE GREAT TOGETHER
When two or more APC units (up to 6) are used simultaneously, the Live software shows different colored rings for each APC's active Clip Launch grid range (see screenshot). So combining two units can give you dedicated access to 16 tracks and an 80 button grid.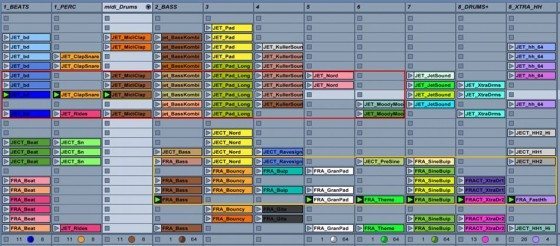 But which one do you get if you only want one? Or do you go with another controller entirely? The APCs don't come with any Editor software for saving/loading different settings, and Akai doesn't plan on releasing any templates for other software. While these are MIDI controllers that you can map to other programs with MIDI learn capability, I still wouldn't recommend them unless you are primarily going to use them for Ableton Live. It would be a wasteful to squander their tight integration with Live anyway.
For a one-controller fix to DJ or perform music live, I prefer the greater hands-on access of the APC40, especially for the expansive Device Control section that give you nearly endless tweakability with effect and instruments. The APC20 on the other hand squeezes and impressive amount of control into it's more compact frame, and its Note Mode should be indispensable to drum pad beat junkies. Either way, both units make it a pleasure to navigate around in and take control of Live. If you didn't already feel in command of the program, the APCs will seat you firmly in the captain's chair, giving you a smooth workflow that can save inspiration that over-reliance on a mouse and keyboard might otherwise destroy. And when working with only Live open on the computer, everything consistently ran smoothly.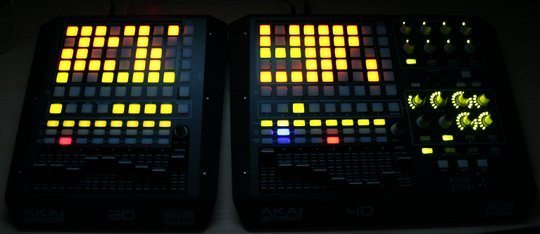 The APCs' LEDs are adequately bright to be seen in mid-day sunlight, and look pretty hot in the dark as well. Grid buttons glow orange to show an inactive clip in that slot, or green when the clip is active. Soloed tracks are indicated with a blue LED, and record enabled tracks show up red.
At first, I didn't love the button action of the APCs' grid buttons. However, upon using them standard scene and clip launching, track selection, etc., I had no complaints. But they do require a firm press that if doing rapid-fire live beat creation, I may prefer the smooth touch of the Monome or the larger pads of the Novation Lauchpad. The latter unit has to be the APC20's closest competitor; it gives you a larger button grid, but neither the tank-like build nor the real hardware faders. For the stiffest APC40 competition, you have to look to the Vestax VCM-600, which is also impressive but much more expensive, or perhaps the Novation series of SL Mk II controllers, which despite their Automapping prowess, do not match the same tight integration with Ableton Live and program-specific layout that you get with the APC40.
As a longtime Ableton Live devotee, I'm quite fond of the APC controllers, and if you're into the idea of one piece of hardware for one piece of software, they represent and excellent execution of that concept. If I can speculate for a moment, I think the absence of Note Mode in the APC40 (which many users are disappointed about), it's recent price drop, and its 1+ year of availability point to a possible new APC unit on the horizon that either replaces or adds to the APC40's attributes and adds Note Mode as well. I'm not telling you to wait though if you're looking to get into Live. These fruits are ripe for the plucking.
Reviewed: Akai APC20 and APC40
Prices: $199 (APC20); $299 (APC40)
Communication: MIDI over USB, with proprietary hardware/software "handshake"
Available: Now
Ships With: Ableton Live 8 Akai Professional APC Edition, USB cable, 12V AC power adapter