Over-ear DJ-style headphones have been an industry icon for decades but their time as the de facto DJ standard might be over.  With the rise in popularity of digital DJ software and new automated mixing methods such as clip warping and sync, over-ear headphones may no longer have a good technical reason for remaining in your DJ arsenal other than their professional appearance. Aesthetics aside, in-ear monitors, or IEMs, offer better performance, several technical advantages and may potentially save your DJ career – three excellent reasons to consider using them.  In this article we will look at some of top models available to help you choose which IEMs might be a good fit for your rig.
For an important background on IEMs and why they are important please read this article on hearing loss and then check out this article on how IEMs can help.
IMPORTANT FACTORS TO CONSIDER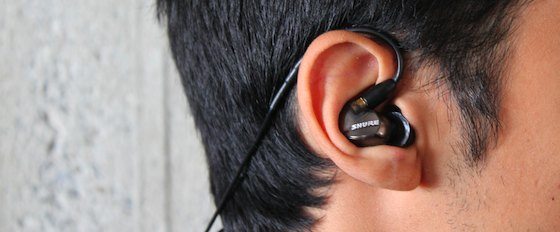 FIT
Since no two ears are created equally, some IEMs may be a better fit for the unique shape and size of your ears. All models come with various-sized pieces of foam that can expand to fit almost all ear canals and really serious DJs can get custom-molded inserts for around $100. Even so, the actual shape and size of each IEM's body may fit some ears better than others. You may want to try to get your hands on as many pairs as possible to see which models are a better physical fit for you.

PERFORMANCE
Without the proper frequency range, loudness, and overall presence, an in ear monitor will not overpower an excessively-loud club environment and leave you without a good handle on the music. It's critical that your IEMs are able to produce a solid wide range of frequencies (including bass) in order to sound natural and overcome any latencies caused by the club's speaker placement.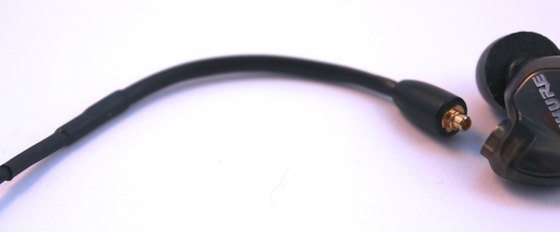 STRENGTH
While touring musicians have used IEMs for years, many of the current models are basically souped-up iPod earbuds. The result is that they break easily. With the constant bending, wrapping, and transport of headphones, the fragile connections at the ends of poorly manufactured headphones will break at critical points. Some models are notorious for this and several in our roundup broke after just a few weeks of use. You need to know how sturdy the model is before you plunk down $300 or more on a new pair.
PRICE
A really nice pair of DJ headphones will set you back $100 to $200, while properly performing IEMs run in the range of $200 to $400 and up. While this may seem like a steep price for fancy ear buds, remember what you may be saving in the long run. A proper pair of IEMs will save your hearing and that will result in anywhere from three to ten years of extra DJing – and you will more than make up that price difference with just a few gigs.
TOP MODELS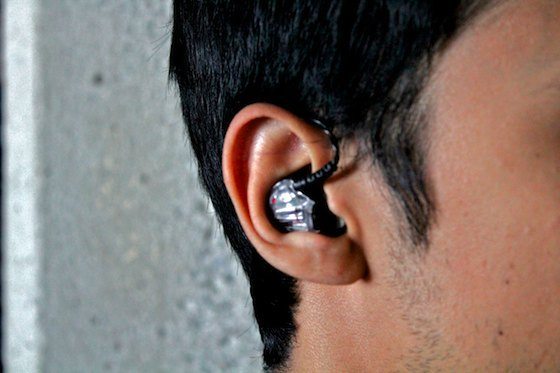 Westone UM2/UM3 (top pick)
Driver type: armature
Price: $279 (dual driver UM2) or $379 (triple driver UM3)
The Westone company specializes in manufacturing IEMs for musicians. They take their work seriously and don't have any low-end models. The higher end models made for top-touring musicians can run upwards of $2000! While you don't need anything that substantial, their non-custom UM2 and UM3 products bring a lot of the same quality with a much lower price.
Performance: I could not tell any real difference between the two- or three-driver versions using MP3s in the club, and both were loud and clear, with a broad frequency response that revealed every detail in the mix. These are very comparable to the Shure 535 in regards to performance on the audio side.
Fit: These are my favorite pair by far because they blend right in and look very inconspicuous. As a DJ, the last thing in the world you want to do is look like you're wearing iPod earbuds. Therefore I like the models that have very simple minimal designs that almost disappear into the ear, so it looks like you're not wearing anything at all. The foam included with both models was the highest quality out of any of the models we tested, providing an excellent fit and significant amount of noise dampening.
Durability: After a few months of gigs and casual use, nothing has broken. The soft braided cabling is unique and appears that it will withstand breakage and cracking more than a stiffer plastic found on other models.
Conclusion: The UM2 is a great value and will be staying in my personal gig bag for a while.
Shure 535 (close runner-up)
Driver type: triple armature
Price: $299 (dual driver 425) $499 (triple driver 535)
Shure have produced a large number of earbuds over the past years and whittled down their offering to the "SE" line, which offers single, dual, and triple MicroDriver models. We highly recommend you use two drivers or more, as just one will not produce the level of bass that DJs need in a club. The dual and triple driver models perform very well and have been used regularly by many DJs I know, including regular contributor DJ Solomon, who talked about IEMs in this article. Solomon reports "After three solid years my triple driver Shures are still going strong and have never broken. I am not sure about the new detachable cable feature and if that will make them less robust, but very few models out these have lasted that long."
Performance: No one that tested these headphones could hear any difference between the Westone UM3 and Shure 535. They both sound great and provide ample bass, mids, and highs. Switching to either of these headphones from standard club monitors will be like washing your windshield after three years. Every detail and mistake in the mix will become much more clear and easy to track through the night.
Fit: These fit well and sit into the ear better for larger ears. I have smaller ears and found the Westone's to be a much better fit for me personally. All Shure models are equipped with a nice bendable section just above the bud that wraps above the ear and supports the cable for a nice clean look.
Durability: This model has a unique detachable cable at the earbud, which is the most common point of breakage in IEMs. Usually, when the cable goes bad at that point, your entire investment is shot, but with these headphones you just need to replace the cable. At a price of $499, though, we would hope you never have to do that.
Conclusion: The Clear 425 model is a great value, reliable and excellent for DJ use; the 535 is probably not worth the extra $200. While it's very comparable to the UM2, I would give a slight edge to Westone because their casing fits a little better and the armature technology has more experience in serious pro audio, but it may just come down to which one is a better fit for your ears.
MODELS TO AVOID

In our quest to find the ultimate IEMs we looked at a lot of different models and unfortunately only the two above really stood out as being well-built and suitable for DJing. Here is a brief summary of the other models we looked at:
Ultimate Ears: TripleFi 10 $380
The Ultimate Ears TripleFi 10 had the strangest shape we experienced and fit into the ears in an unnatural way. The long, tapered design bulges out, attracting unwanted attention and making them hard to keep in the ear. Ultimate Ears is well known for their pro line of headphones which are reportedly quite good but very expensive at $800 and over. These never made it into the gig bag once due to their weird shape so we can't really report on the audio quality.
Sennheiser IE 8: $350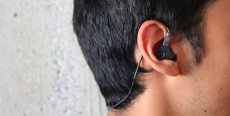 Not only does the triangular shape look strange and fall out easily, but these disappointing monitors broke after only one week of use. Our contact at Sennheiser, Joseph Phelps, didn't respond to repeated requests for a replacement and after four weeks finally told us, "those are going to be discontinued now anyway, you should just send them back." They didn't work that well in the first place, broke immediately and if the company treats us that poorly, how will they deal with customers? We recommend that you stay away from Sennheiser's IEMs.
Future Sonics Atrio: $199
Future Sonics makes some great custom-fit IEMs, but the dynamic driver lower-end version can't really cut the mustard. The fit was awkward and they didn't pack enough of a punch to cut through the club environment.
Shure 115 $99
You're going to want to stay away from Dynamic IEMs like the Shure 115. These are designed to hang down like an iPod bud and are aimed at the MP3 market, not professional musicians. The fit, appearance, and performance are not up to pro DJ standards.
THE WRAP

Good in-ear monitors are not cheap, so plan on spending $200 to $300 for a good pair that will actually work in a club. After trying various lower-end models without much success for years, I finally found two pairs, the Westone UM2 and Shure 415 that are going to keep me DJing for years without further damaging my already-shaky hearing.