We are always working deep in the DJTT labs on new ideas that push the limits of DJing while staying within the bounds of what might be useful in a live set. Today, I am proud to introduce a new concept that has been in development for several months: super combos. A super combo is just like the Street Fighter game, where you use a few basic controls in a very specific sequence to produce different and remarkable results. Everyone knows that with the right flick of the wrist, a simple punch gets turned in a fireball in the Street Fighter series. It's also no secret that the Midi-Fighter is inspired by that classic game, so it seemed absolutely natural to build on the concept of using secret combos in the world of DJ controllers. Continue reading for a video demo of the new "Instant Gratification" mapping for the S4, which contains super combos, free Street Fighter sound packs and a new mix contest!

This was designed for use with the S4 but can be used in a lot of other contexts. The primary requirement was instant aural destruction of any audio source with zero opportunity for messing up a song (all buttons are mapped to instant FX). This mapping takes advantage of the brand new 4 banks mode (4 banks is included in the newest firmware update), which allows the top 4 buttons to switch between 4 banks of notes. Here are the basics:
Each bank controls one of the four decks, A/B/C/D
Each button loads, activates and routes a specific effect to that deck
The effects are chained (from bottom to top) so you can build on them producing almost endless sonic possibilities
They are designed to be played in combination, similar to my original "cue point chord" concept
There are 5 super combos hidden in the mapping
Each combo kicks in when a specific sequence of events happen
They are all designed to be used musically in a 4, 8 or 16 count sequence.
GET YOUR MIDI FIGHT ON!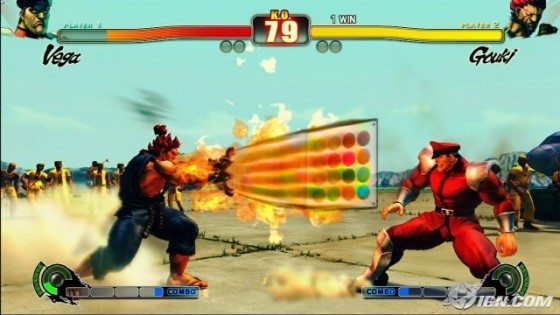 To celebrate the mapping release and see what you can do with it, we are running a contest and providing free Street Fighter samples. Use these samples, in conjunction with any beat of your choice and a Midi-Fighter, to create your own personal brand of sonic mayhem. Create a video of the results and you can win $200 credit towards anything in the web store. Here are the steps:
Download the Instant Gratification mapping (Midi-Fighter required for this one)
Pick your own beat (the simpler the better!)
Mix the 2 together in a creative way using the mapping
Make a video of the results
Add it as a video response to THIS VIDEO
The winner will be announced in the forum in 30 days (March 7th)
Some recommendations would be:
Sequence the samples together in a unique way (as shown in this article)
Use another controller, like the S4 or Midi-Fighter, to launch or loop the samples over a beat.
Take advantage of the mapping to break down the samples and the beat
Find the super combos and show your skills!
LEARN HOW TO BUILD THIS MAPPING YOURSELF WITH ANY CONTROLLER
That's great, you might be thinking, but I don't have a Midi-Fighter so how can I use this concept?  Don't worry, our resident mapping expert, Chris Lim, will be showing you how to track multiple button conditions using complex modifier techniques in just 2 days. Get plenty of rest and don't forget your vitamin B kids, because this stuff is not easy!