If you're looking for a slim line controller that is well built and offers a wide range of controls, there are surprisingly few options on the market. The ReLoop "contour" offers such a controller embedded with a host of controls without breaking the bank. Continue reading for a full review, including pro's and a few con's you will want to know from contributing writer, Michael O'hagen.
ReLoop Contour Review
By: Michael O'hagan
Price: $299 W/O sound card, $399 W sound card
Communication: MIDI over USB
Available: Now
---
The Good
The metal housing  is very solid to the touch.
All parts are high quality, feel good to the hand and play responsively.
LED's are bright and very bold even in daylight.
All encoders double as push-buttons for dual control from a single knob (on-off w/ wet-dry).
The audio interface is solid and good enough quality for public performance with no concerns about output quality. 10 outs total with a high quality and hot level output signal.
Most deck controls you need in Traktor are provided.
The Bad

All Encoders are indented and click when turned.They also only send 3F/41 messages, which can limit their use outside of Traktor.
LED button & encoder feedback is software dependent. Unless your software is driving the LED messages they do not work.
Audio interface edition MUST be wall powered (USB power is fine for the controller edition).
The 4 FX mini faders are really short, about 1" total
There is NO DEDICATED PITCH FADER! This is biggest downside to the units overall layout.
Although it's sturdy the unit is heavy.
Fairly cramped layout.
With the release of T pro 2 pending, many new features are not supported.
The Bottom Line
Overall I really like this controller, it is well built and responsive with a lot of control for the money. It's not perfect, but I have to say that it's very good in many areas and provides a lot of control possibilities. The physical housing is metal and solid but a little heavy, so it's a trade off between build quality and durability vs. convenience and affordability. The layout is sensible and traditional, so everything is where you'd expect it to be. The only real problem I experienced is that it can feel tight and cramped when using side by side controls.
---
DIGGING INTO THE DETAILS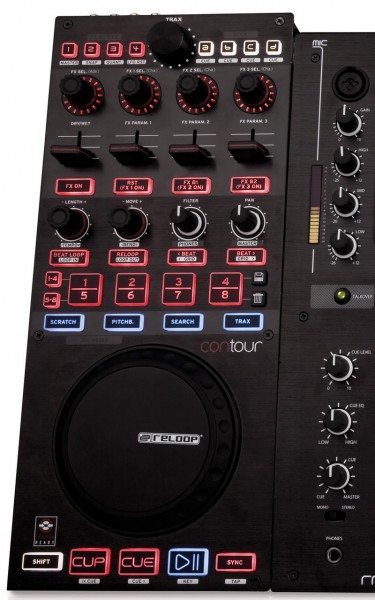 There are 4 main types of shift commands coded directly into the hardware unit itself. These do not require modifiers in Traktor or any other software as the shift action and outgoing messages are all built directly into the unit.
1 sectional shift that adjusts the platter and transport section.
2 cue point modes for 1-4 and 5-8.
Deck shift buttons, top right corner of unit, A,B,C,D – these send out all new MIDI messages per deck.
4 jog wheel modes.
The four internal controller decks are hard coded channel shifts (A=Ch1, B=Ch2, C=Ch3, D=Ch4) so they will still work with a software that does not offer modifier assignments like Traktor, this allows the full use of all of its controls with any software. Then there are four buttons offering five jog wheel modes directly above the jog wheel labeled Scratch, Pitch Bend, Search and Trax. Each button will glow blue when selected and represents a platter mode with hardware based changes in MIDI messages.
There are a lot of overlapping page and template based controls on this unit, so it can be a lot to remember or keep track of. It should also be noted that some of the shift buttons send out their own MIDI commands. For example, the cue point and platter shifts send out their own midi messages as well as shifting the associated controls on the hardware.
This could potentially be used to set up conditional modifiers in Traktor such as loading a specific set of FX when selecting a specific group of cue points.
The 32 semi-rubberized buttons (20 usable) are hard plastic tops with soft touch response and a click point activation with good response.
All encoders double as push-buttons for dual control from a single knob (on-off w/ wet-dry).
The jog wheel is the same quality/feel as most other re-loop dj products. It is low profile and has a surprisingly smooth feel/action.
All in all the Contour from Reloop is a great little controller that might just be right for you or could be very wrong, depending on your style. It all depends on what you want and need out of you MIDI controller and how you intend to use it. This controller assumes that you will also have mixer that takes care of the basic mixing, cueing functions or the controller might be used as an auxiliary deck for an S4.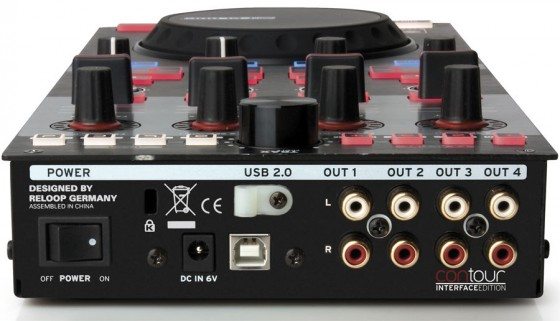 Detailed Features:
40 direct physical usable controls on each of the 4 banks.
4 faders, 7 push-button encoders, 2 rotary knobs w/ center reset indentation and messages.
32 semi-rubberized buttons (20 usable), they are hard plastic tops with soft touch response and a click
point activation with good response.
1 touch-sensitive jog wheel.
All buttons are backlit and the encoders have LED feedback.
Kensington lock port
2 physical headphones connections (6.3 mm & 3.5 mm jacks)
metal chassis with brushed aluminum top plate
4 deck controller optimized for Traktor
Integrated hi-speed 10 channel USB PRO 24 bit / 96 kHz audio interface
External mixer mode: Up to 4 stereo channels can be routed to an external mixer
All buttons backlit, encoders with feedback LEDs
Software controlled feedback LED buttons for visual control
Traktor Ready: Plug 'n' Play compatible