Pioneer has now announced a new mixer in their ubiquitous DJM line of DJ consoles. Its the DJM-900 "Nexus" with direct Traktor support, USB connections and a multitude of new effects and features. At a price of $2000 its heavy on the wallet, but perhaps low enough to become another club standard. Read on for video, photos and more.


Multitude of Effects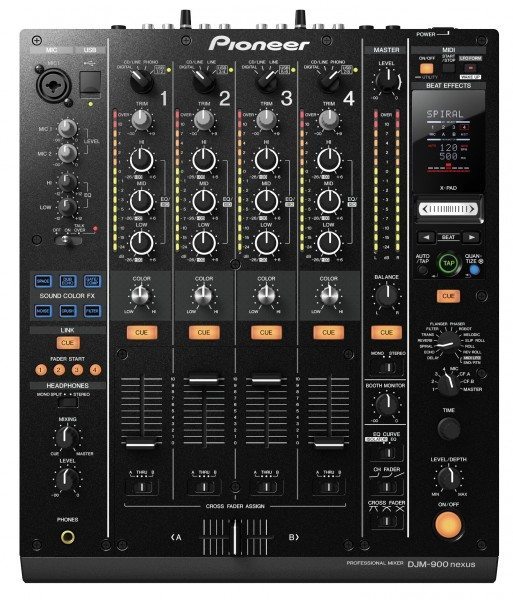 The DJM-900 Nexus follows Pioneer's traditional control layout enabling an easy transition to the mixer. As with other Pioneer mixers, the DJM-900 Nexus features a variety of advanced sound effects that allow DJs to have more creative expressions while mixing their music. Three new Sound Color FX, two Beat Effects and an X-Pad control were added to the mixer to enhance the user's performance.
Sound Color FX – The DJM-900 Nexus includes Space, Dub Echo and Gate/Comp in addition to Filter, Crush and Noise for its Sound Color FX. At any time with a simple twist of the knobs, DJs can quickly add their choice of audio effects bringing numerous combinations and arrangements to currently played music.
Beat Effect – A total of 13 effects, including two new ones called Spiral and Melodic, can be added by the user at any time to the beat effects is accomplished through a selectable knob located on the right side of the mixer.
X-Pad – A touch screen control bar that enables quick access, control, and manipulation of the thirteen built-in beat effects. With a touch and/or slide of the X-Pad control, the user can change the parameters of each effect for further creativity in performances.
Sound Quality

Part of the DJM-900 Nexus's design attribute is combining functionality with great sound quality. The mixer utilizes high quality components that ensure the best possible audio output when connected to other components.
Built-in 24bit/96kHz High Performance USB Sound card – Pioneer developed an onboard USB sound card that can simultaneously handle input and output audio signals from up to four (4) stereo sources through a single USB port1. The sound card supports 24-bit/96kHz high resolution signal processing, and can input and output all audio signals with no degradation of sound quality. Once connected to a PC or Mac, the settings utility tool can be used to customize the mixer's output signal path to suit various purposes, such as DJ play, song recording or production2. Furthermore, smooth transfers between DJs are possible with the easily accessible USB ports on the top surface of the mixer.
Sound Quality Design –The DJM-900 Nexus is equipped with the same audio input and output circuits as Pioneer's flagship DJM-2000 to achieve the most accurate audio reproduction from connected sources. The 32-bit digital to analog converter supports all outputs of the mixer, including the master audio outputs, booth outputs as well as headphones. Additionally, the built-in high performance 32-bit digital signal processor (DSP) suppresses any digital and analog circuit noise by way of high quality balanced hybrid operation amps and full balanced output circuits.
Connection

With more DJs continuing to use their personal computers as part of their rig, the new DJM-900nexus is ready for a direct connection to a laptop PC or Mac, increasing its convenience and functionality.
PRO DJ LINK – Via an Ethernet (LAN) cable, the mixer can quickly link to the latest Pioneer PRO DJ LINK compatible CDJ-2000 and CDJ-900 players (with firmware version 4.00 or later3) or a personal computer running Pioneer's rekordbox™ software, giving users fast access to a song's beats per minute (BPM) and beat location information, resulting in a precise beat matching capability. Furthermore, the built-in quantize mode compensates for Beat Effect operation timing errors automatically, so effects are matched perfectly.
TRAKTOR™ Functionality – Using a USB connection with a PC or Mac, the four decks (players) inside TRAKTOR can be connected simultaneously with the mixer, enabling enhanced flexibility with the software. In addition, the mixer is also TRAKTOR SCRATCH4 certified for TRAKTOR SCRATCH PRO / DUO 2, allowing scratch control functionality when using a time code disc5.
Time Code Output – Through its USB port, the mixer can output time code disc signals for DVS (Digital Vinyl System) software6 when used with a Pioneer CDJ player or analog record player. DJ play using DVS software can be done without difficult and complicated connections7.
Feature Packed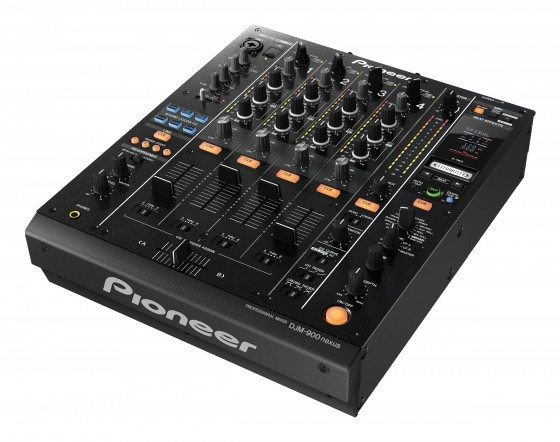 The DJM-900nexus is equipped with additional features that add to the user's DJ play.
High performance channel faders – The slide mechanism supports the fader knobs with two metal shafts for both longevity and smooth operability Furthermore, the new mechanism's design minimizes the effects of moisture or dust particles on the mixer's performance capabilities.
Integrated input selector – Enables users to simultaneously switch all channel inputs.
Indicators – The DJM-900nexus is equipped with a "USB connection indicator" to display the status of sound card and PC or Mac communications as well as a "USB audio input indicator" to display audio inputs from a PC or Mac.
Industry's First MIDI Signal Output8 – The DJM-900nexus features the industry's first musical instrument digital interface (MIDI) signal output that changes at beat-by-beat intervals. The mixer also includes a "MIDI LFO function" to control external devices such as effecters.
Assignable MIDI Functionality – Nearly all knobs and buttons operation information can be assigned to control other devices. The mixer can also be used as a MIDI controller.
Switching 3-Band EQ/Isolator – Each channel of the mixer is equipped with a switchable 3-band EQ (+6dB to -26dB) and 3-band Isolator (+6dB to -?dB).
P-LOCK Fader Cap – Keeps the fader channel and crossfader knobs (caps) locked preventing them from physically slipping off during use.
Auto Standby – Automatically senses the presence of active operation and input signals and switches to standby mode when inputs are not detected for a long period of time.
DETAILED FEATURE LIST
| | |
| --- | --- |
| Channel | 4 |
| CD/Line Input | 6 |
| Phono Input | 2 |
| Digital Input | 4 (COAXIAL) |
| Mic Input | 2 (XLR/PHONE, PHONE) |
| Pro DJ LINK (LAN) | 1 (LAN) |
| Touch Panel | |
| Beat Effect | 13 types |
| Sound Color Effect | 6 types |
| Inst Effect | |
| USB Audio Interface (USB TypeB) | 4IN 4OUT |
| USB recording (USB TypeA) | |
| MIDI Interface | DIN/USB |
| Traktor Scratch Certified | |
Mic Connection
XLR/PHONE, PHONE
Mic EQ
2-Band
Mic EQ Range
-12 / +12dB
Talk Over
Advanced Talk Over
Talk Over Level Control
Mic Effect
| | |
| --- | --- |
| 19 inch Rack Mountable | Yes (Optional) |
| Frequency Response | 20Hz – 20kHz |
| SN Ratio: Line | 107 dB |
| SN Ratio: Phono | 88 dB |
| SN Ratio: Mic | 84 dB |
| Distortion | 0.004% (JEITA) |
| Sampling Rate | 96 kHz |
| A/D, D/A Converter | 24 bit |
| Digital Sound Processing | 32 bit |
| Headroom | |
| Power Consumption | 42 W |
| Auto Stand-By Function | |
| Dimensions (W x D x H inches) | 13.0 x 16.1x 4.2 |
| Weight | 15.7 lbs |
If you are interested in buying, support dj TechTools click here purchase the Pioneer DJM-900NXS Professional DJ Mixer
 from Amazon.