With so many S4's flying off the shelves and traveling around the world, many people have been looking for a solid way to protect their investment. Fortunately, Native Instruments produced a flight case to fit the S4 perfectly but you are probably wondering if it's any good. Well, to save you a trip to GC or an expensive online purchase, our very own DJ PC3 has put together a nice little video review about the NI Traktor S4 flight case. If you're interested, check out all the stats after the break or pick up your own case right in our store while they are still in stock!
Price: $169
Available: Now
Weight: 21 Pounds
Dimensions: 60 x 46 x 21cm, 23.6″ x 18″ x 8.3″

The Good
Built for the S4, everything fits tight like a glove.
Sturdy construction means your controller will survive anything, even United Airlines!
Clean chrome and solid black sides look very professional and serious.
Slide out laptop stand puts everything in great ergonomic position.
The Bad



Weighing in at nearly triple the weight of the S4, this thing is a beast to carry!
Sharp edges on the laptop slides can cut your hands.
Laptop stand moves easily during a performance creating problems with blocked knobs.
Not a lot of room for extra gear like power supplies or mic's.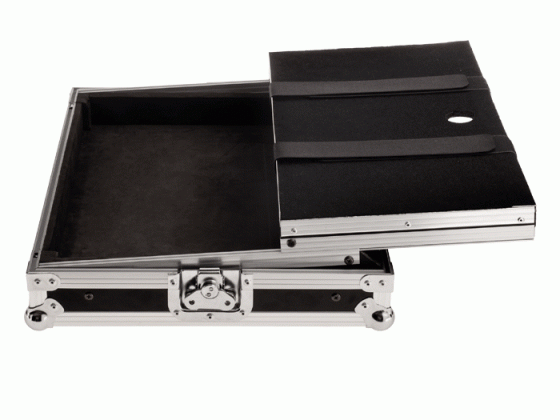 The Bottom Line
This case has been around for a little while now, so we have had plenty of time to collect feedback from customers on the design. On one hand, the sturdy construction is great, and you can really be confident that it will survive big falls. We literally tried throwing the case around the room with a controller inside and besides a few crushed interior bumpers everything was fine. The major downside of this case is the weight. At 21 pounds it's really just not practical for carrying to gigs on a regular basis. Mobile DJs are going to love it for the integrated laptop utility, but everyone else seem to wish there was a dedicated S4 bag that didn't weigh as much as a turntable.
DETAILED LOOK AT THE CASE
TAKING IT A STEP FURTHER
ALTERNATIVE OPTIONS
Odyssey makes two cases for the s4, a basic $99 model and a $199 model similar to the NI case.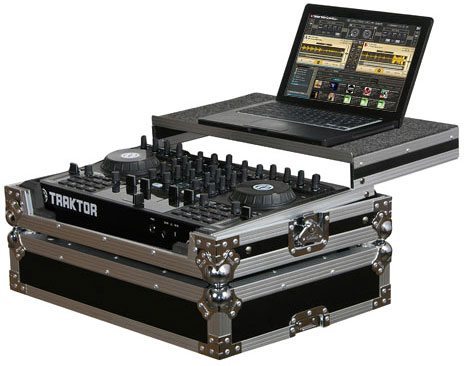 Additionally, Decksaver has created a lighter and more portable cover for the S4 which fits over the top of the controller. Their clear cover is constructed out of strong polycarbonate and will cost you about $80 (£ 49.99). However, you should note that it does add a decent amount of height to the controller should you want to fit it into a bag (about 30mm or 1.25″).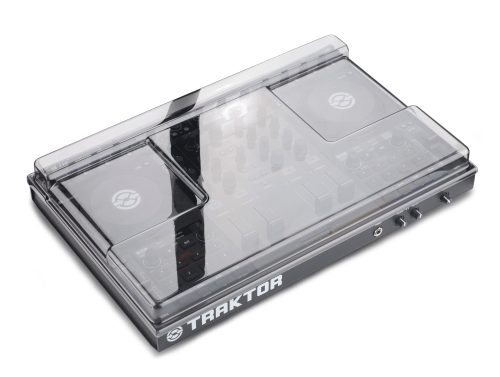 editor's addition: Noting that we've now produced our very own solution for safely transporting the S4 – check out the DJ TechTools S4 Bag here: http://djtechtools.com/2011/03/29/brand-new-dj-techtools-traktor-kontrol-s4-bag/
Some Important Legal-Shmeegle:
This article is for consumer review only and by no means an endorsement of any products on this page. Even though we sell the s4 case in our web store, consumers should use the post solely for informational value and look at every option before purchasing any case (from any distributor). We want everyone to get the right gear for them, regardless of what our store stocks.