Beatler, Crate Digging Alternative for Beatport
Missing album artwork is easy to find with beatler's built in artwokk tagging feature.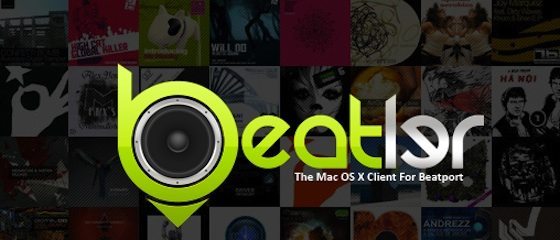 Beatport may be one of the leading music download sites on the internet. However, their flash based website is a source of contention amongst many of its users. The developers at Cancel Monday though have taken a step towards making your Beatport music shopping experience a pleasure. Beatler is a desktop application that interfaces directly with Beatport, letting you circumvent the website for everything but the final purchase. Keep reading for a quick rundown of some of its features.
Reviewed: Beatler 1.5.1
Requirements: X86 or PPC Mac running OS X 10.5 or greater.
Price: $9.99 direct download via the Mac App store or directly through the Cancel Monday website.
The Good:
Alternative to Beatport's flash based website.
Ability to create multiple crates for better organization.
Artwork tagging feature for files missing file art.
Easy to identify tracks that you may have an interest in.
Complete download manager.
Developers active in the DJ community.
The Bad:
Still need to go to Beatport to complete purchases.
Occasional flaws in the interface design.
Beatler serves as an alternative to searching for and downloading music on the Beatport website. The additional features of the app, combined with the existing services provided by Beatport, serve to enhance your crate digging experience.
ALL IN ONE SHOPPING EXPERIENCE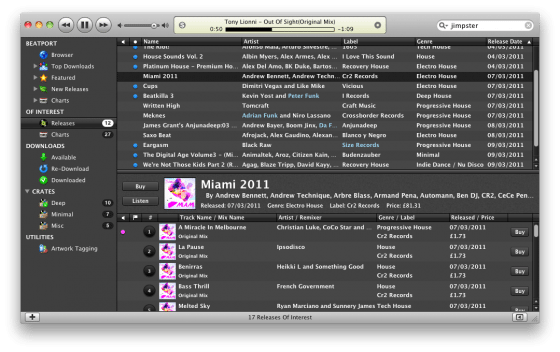 Beatler is Mac only software, and is a pretty straight forward install that when done is ready for you to plug in your Beatport account info and get started. When the app is open you'll recognize the similarities between Beatler and iTunes. Your main Beatport menu items, items of interest, download manager, your crates and an artwork tagging utility are all available via the browser tree on the left. Clicking on one of those options opens it up in the main window on the right.
One of the most useful features of Beatler for me is the ability to create multiple crates that you then sync with Beatport to purchase. For instance I have separate crates for the different genres I buy frequently, so I don't have to sort through all of the items on one page on Beatport. I'll have other crates that I'll put stuff in that might work well for upcoming shows – so when they get close I can go through them and make a final decision on purchasing.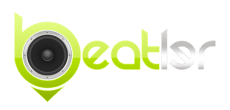 The main idea when using Beatler is that you keep your shopping cart empty on Beatport and when you're ready to buy, you upload that cart to the site to make the final purchase. When you get started, organizing the songs that are all in a single crate on Beatport is as easy as dragging and dropping into the correct crates in Beatler. This is something that really only needs to be done the first time after the initial sync with Beatport. After that, holding a click on the 'buy' button gives you a pop up with the different crates you've created. If you do use Beatport's web interface though, you'll need to sync your main crate in Beatler with Beatport and then organize from there.
Searching from within Beatler is accomplished via the search box in the upper right. Results will open up in a new tab, with each consecutive search opening in a separate tab – making it easy to keep track of what you've searched for. You can also right-click any text in an IM, email, or document and select the option to search for that text in Beatler.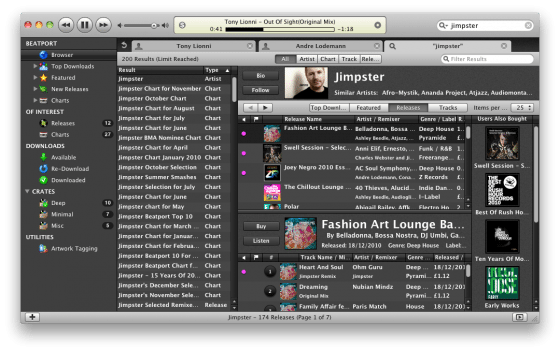 Any labels or artists that you're following on Beatport show up in Beatler under 'of interest'. They're also highlighted inside the main Beatler window with a different colored text that you're able to select in preferences. Another nice bonus is if you play a song it shows as played with a dot to the left of the track. This is useful if you have lots of tracks in various crates, you're browsing through several different sections, or use the app frequently.
You're also able to use the app as a radio player of sorts. When you play a song the app will continue playing whatever song is next on the list. Using this function you can leave the app running in the background and use the customizable hot keys to add tracks to your crate and navigate through tracks.
ALBUM ARTWORK TAGGING
Beatler also offeres an album artwork tagging feature that will search the databases of Beatport, Discogs, Last.FM and Amazon to find your missing artwork. The app offers several different options for displaying the artwork from full record sleeves, to center labels only when the available artwork is a lower resolution image.
Bulk selecting tracks from within Traktor worked like a charm. Just drag the tracks onto the Beatler icon in your dock and the tagging section of the app opens up showing the available artwork options. Once you select artwork for the tracks, simply check consistency in Traktor and the changes are applied.
Beatler also serves as a complete download manager that allows you to download the tracks from within Beatler after purchasing them on the Beatport site. Then, if you like, you're  able to place them in a directory based on the following values:
Label
Release Name
Artist(s)
Release Date
Download Date
When you buy music from Beatport, Beatler creates a new playlist in iTunes for that day using the date as the title for the playlist – making it easy to keep track of when you purchased songs.
Another handy feature is Beatler's share function. When you have one of your crates selected you can click the 'share' button and you'll be given a link that you can send to friends. That link opens as a webpage showing all of the items in that crate and if Beatler is installed on that computer it can then be imported into the app.
IS IT FOR YOU?
If you're a frequent user of Beatport  but don't like their online interface, Beatler may be your missing link. It serves as a concise, all in one app that takes all of the good things Beatport has to offer, adds a few new things and puts them in easy reach on your desktop.
There is a free demo available, but it has a limited feature set:
The number of crates is limited to 2.

Maximum number of allowed items in a crate is 10.

The crate import/export functionality is disabled.

Album artwork is not saved when using the Artwork Tagging feature.

Includes advertisements.