The managers at AVID's R&D department must have been bouncing off the walls with joy when they were set with the monstrous task of competing with the boys at Serato and Native Instruments. A lot of time and effort seems to have been spent creating Torq 2.0; packed full of effects, live editing options and connectivity with studio software such as Ableton Live, and of course, their own Pro Tools. The intended highlight of the show is the Traq Morph, which Avid have described as 'The Crossfader's Second Coming' – a typically bold statement for them to live up to. Fortunately, they have delivered in the past. The question is, can they deliver again, and draw in enough of the rest of us to break the Serato/Traktor divide?
Reviewed by Oliver Lockett
PACKAGE TESTED: TORQ 2.0.1
PRICE: $250
Customers who purchased an Xponent or Conectiv hardware device prior to 1/13/2011 are eligible for a $50 upgrade form 1.5 to 2.0
Customers who purchased an Xponent or Conectiv hardware device between 13/1/2011 – 30/6/2011 are eligible for a no-charge upgrade to Torq 2.0 software starting 8/2/2011
PLATFORM:
– Mac OS X 10.5.8 – 10.6.5 (10.6.5 recommended)
– Windows 7 32/64 (recommended), vista 32/64 SP2 or XP SP3
SYSTEM REQUIREMENTS (Mac & PC): 2GB RAM, 500Mb HDD Space, Intel Core 2 Duo 2.0GHz
AVAILABLE: Out now
THE GOOD
Familiar layout
The 'triplet mode' is a nice addition for mixing those tracks in triple time
'Traq Morph' crossfader allows you to perform effects that would normally require a spare set of hands.
VST Effect implementation
THE BAD
The setup for vinyl timecode has far too many variables which make it difficult to configure.
Tough to use without a controller
Can't add own effect to track morph
THE BOTTOM LINE
Torq 2.0 is a must have for those who already have version 1.5, especially if you own an Xponent. The Traq Morph is a great, hassle free way to spice up your mixes, and VST implementation allows almost unlimited possibilities. It's not the best for turntable DVS, and without a controller you might get confused by the interface, but those with a suitable MIDI controller should find Torq 2 very impressive.
FIRST GLANCE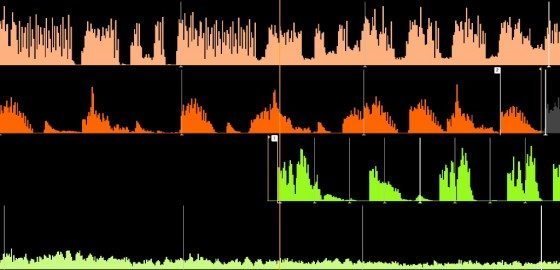 As one would expect from a product which is also being marketed as an upgrade, Torq 2.0 has been built around version 1.5, which keeps an air of familiarity that those using 1.5 and the M-Audio Xponent will embrace. Hovering the cursor over any of the icons will provide you with a brief description of their function at the bottom of the screen, which is really useful when getting used to the software. However, including the shortcuts alongside them would be a simple, yet vast improvement for new starters. The visual waveforms are also in need of improvement, with only half of each being shown and only in one block colour, something standard in both Serato and Traktor. However, the first screenshots of prototype user modified skins are showing up on the forums, and there is already chatter generating between those with a mind to fix this.
MIXING TECHNOLOGY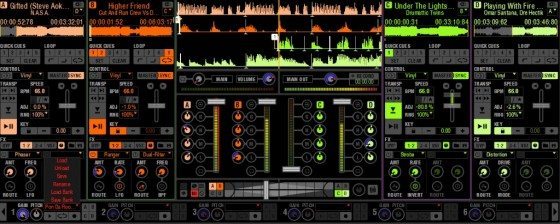 Using the four deck layout is, at first attempt, tricky to navigate; but if you spend a couple of days playing with it, the ideas for creative mixing start to creep in and before you know it you're away. The looping technology is really user friendly, and this is essential when creating four deck sets. For example, if you reposition playback using one of the Quick Cue buttons while looping is activated, playback will jump to the new location. Torq automatically places the Loop In Marker at the new location and places the Loop Out Marker in a position which maintains the same loop length. It does take a little patience to get out of previous habits, but using only four icons you can create automatic loops anywhere from a sixteenth of a beat to the entire track. You do need to make use of the control and shift keys, but learning where to do so does make the whole experience of using Torq without a controller easier than you might first think.
THE HIGHLIGHT – TRAQ MORPHING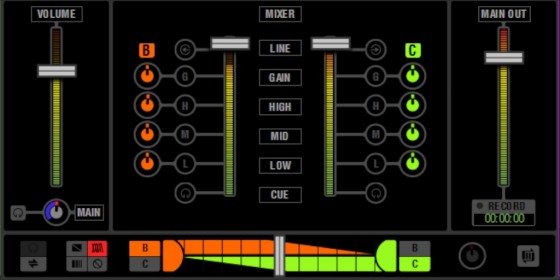 Torq's four channel crossfader is fully assignable, as expected from what could be described as Torq's unique sales proposition. In a nutshell, the 'Traq Morph' takes crossfader control and effects control, and integrates the two. First up is the 'Traq Morph Algorithm Frequency,' which essentially combines the crossfader with either a High-Pass filter on the source Deck and a Low-Pass Filter on the second Deck. The cut-off frequencies are set the same dependant on the position of the crossfader, however with a Mid-Pass filter on the source Deck and a Mid-Cut filter on the second Deck, with the width of the mid band is determined by the crossfader position. The hilariously named 'Algorithmic Duck' is on offer to crossfade between tracks by using either a frequency based or volume based 'ducking' effect – this lowers the perceived volume of the first track at the very moment the crossfader reaches the transition point between two audio signals. The desired overall effect is the both tracks will sound like one continuous song, and if you make long, careful blended mixes, it comes in rather handy whilst you get busy preparing your next mix.
The 'cut' mode switches between the tracks at user determined intervals, so, for example, you could switch between the tracks every eighth of a beat. I really just found this to be a fancy way of transforming, but it does function just as well as Avid intended it to. Finally, we have their proposed highlight, the 'Morph.' This essentially is a complex algorithm that determines which rhythms to use from each source, and creatively mixes it for you itself. This was created to make one track sound as close to the other as possible, and it does have to be heard to be believed just how clever this can actually be. The only disappointment with the crossfader is that you cannot assign your own effects to it, which seems odd given the extensive opportunities that would be presented with this implementation.
AND THE REST…

Also included in the software are all the essentials – full key adjustment with an optional lock; a sample bank holding up to 18 samples – and this number might just be increased by one of the upcoming user mods; the internal mixer, which is fairly basic with the EQs and gains, but beefed up with the Traq Morph; and a ten piece effects rack with up to four available per channel, which is great when you consider the stress it will take and the audio quality that Torq delivers. You can also add your own VST effects with remarkable ease, and they are available to be MIDI-mapped. The auto beat matching works as well as any other out at the moment, and there is a nice touch with the 'Triplet Mode,'for those who are thinking of mixing in 3/4 (or, more likely 12/8).
One problem with Torq 2 is that turntable fans may feel left behind. The Torq timecode vinyl took a lot of time to calibrate for my setup – I used two Stanton STR8-150s with the M-Audio Conectiv – and it never delivered the accuracy needed for any serious scratching. This being said, it works adequately for the basics of mixing and beat matching, and a lot of help for the various setup options are available online, with a whole library of video tutorial aimed at all levels of expertise. Torq 2.0 does not disappoint with a MIDI interface, and with all that Torq offers, it is here with a mind to conquer the digital market.
NB: There is currently a 30 day trial available from the Torq website, which includes all the features excluding the ability to save any cue points or analyses of tracks. As it isn't locked to an external interface, there is anti piracy software that needs to be installed, which comes in the form of a driver. It requires authorisation before use, and it may be best to set a restore point or create an image of your hard drive so you can quickly revert any changes to your registry if you choose not to continue using Torq.