With advanced effects getting more and more important for DJs to have in their arsenal, Sugarbytes' Turnado thinks it has the answer by putting eight knobs of sound mauling and an omnipotent fader at your fingertips. Let's see just how much mangling they can take.
Price: €139/$179
Out: Now
Compatibility: PC/Mac, Standalone/VST/AU
THE GOOD
Very easy to use.
Sounds great.
Masses of depth.
THE BAD
The price tag is a little on the dear side.
THE BOTTOM LINE
Turnado is a really good sounding, really easy to use effects unit. It's that simple!
OPERATION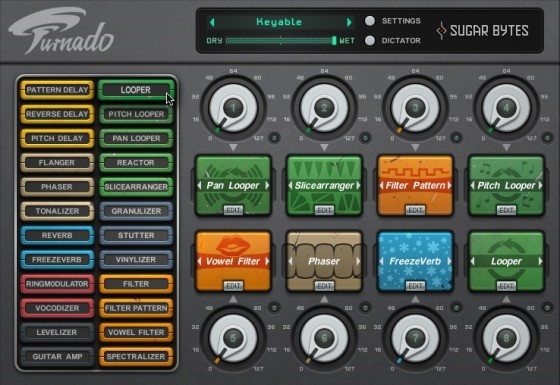 Turnado operates standalone and as a VST/AU plugin. This means that you can either integrate it with your mixer via its send/return effects or sit it directly inside a supporting host such as Torq 2.0 or Ableton Live. There are 24 effects modules in Turnado, and a single instance of the software is designed to load up to eight of them, each ready to be tweaked by their own large dial.
This 'super knob' concept that's been banded around for a while in various guises is what Turnado's based around; each effect conceals a deep editing panel underneath a single big knob which modulates all of the detailed parameters with a single motion. Further than that though, is the Dictator fader that then modulates the movement of each of the eight main dials along its travel. What this combination basically amounts to is to give a single fader the power to move every deep control in Turnado, which leads to absolutely wild and exciting (although if not thought through, somewhat jarring) effect transitions.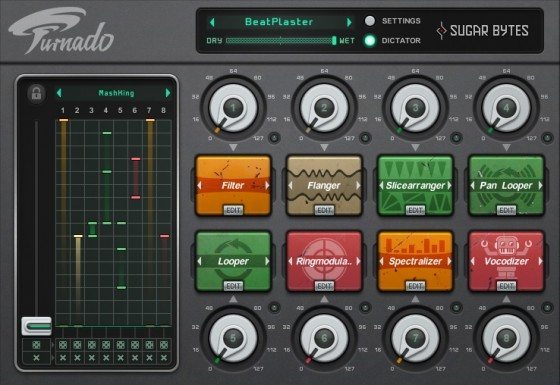 DEPTH
Of the 24 effects there are eight basic types: delay, phase, reverb, ring mod, distortion, loop, granulation, and filtering. Each has at least two variations, and all are controlled by four unique knobs – each of which can then be modulated by two LFOs and an envelope follower.  The shape of the LFO wave can be changed, as can the shape of the ramp for how every control is affected by the main knob. Of course, just as with any other music software, it's not what it does but how it sounds when it's doing it that will make or break its chances of ending up as part of your rig. The versatility of the effects combinations in Turnado make sure it always sounds interesting, but the basic effects themselves are very well featured too. There are multiple sounds for every type, like the comb, band, low, and high pass filters in three strengths, bit crushers with different modelling types, and an excellent sounding vowel filter section.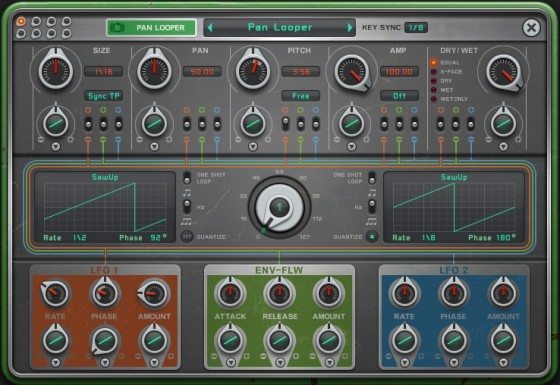 ROUTING
There are two options when it comes to routing the signal through the effects: going through each in series – from bank one to eight – or  Dynamic Signal Flow mode. Dynamic signal flow follows the order in which each effect is activated, and depending on which effects you use each method can be useful. Setting up the order of effects, is therefor an art in itself – and the ability to swap effects by dragging one onto another allows you to quickly audition how a different order can have a drastic effect on the overall sound. This option, as with the threshold for the knobs, the option to have the effect turn back off when the knob reaches full, and for the knobs to reset upon loading a new preset, can be set and saved on a per preset basis.
MIDI Learn is implemented really simply, with a right click on any parameter conjuring a Learn tab. Your learn settings can be saved inside the plugin too, which is handy for ensuring that assignments only have to be learned once in software whose workflow doesn't revolve around saving an entire project – Torq 2.0, for instance. The combination of the easy yet powerful routing and effective MIDI learn makes Turnado more powerful and user friendly than navigating Traktor Pro's complex mapping system or mixing and matching plugins in Ableton Live.
SUMMARY
If your software supports effects plugins, then Turnado will be right up your street. Its main virtue is its ease of use – a single unit/plugin that does so much and at the same time manages to distill its operation into the bare minimum of controls for an exciting, evolving sound – and this makes it a fantastic tool for performance. If you're working with a closed box solution like Traktor or Scratch Live and use an external mixer with a send/return loop, you can also give Turnado a try in standalone mode. The price, when considering the amount of effects available and the versatility of Turnado, is also very fair.