Vestax is back! After a solid year of limited traction in the DJ world and a lack-luster response to the VCI-100Mk2, Vestax comes back with a solid offering that should have plenty of you drooling. Its sexy, well built, full of great features and certainly "pro" quality. Can they make it in time and at a price you are willing to pay? We shall see! Check out lots of photos and an exclusive walkthrough video after the break.
Product: Vestax VCI-400
Price: $999 (MAP)
Communication: MIDI over USB (Requires Power Supply)
Available: Late This Year (Sign Up to Get Notification)
Ships with: Virtual Dj (4 Decks) + Serato DJ Intro (2 Decks)
Sound Card: 4 IN/4 Out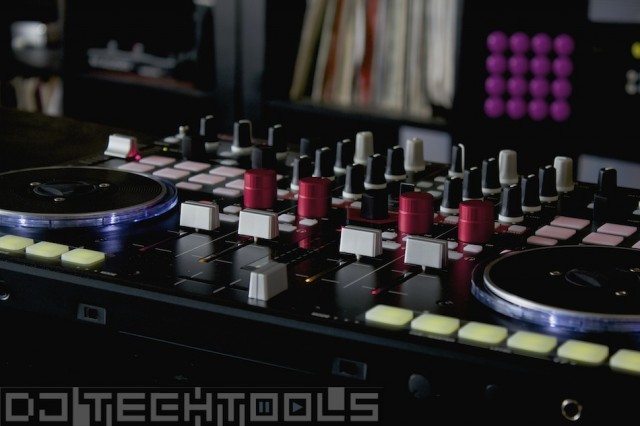 Vestax appeared to have learned their lesson with the VCI-100MK2 and came back with a controller containing:
Strong, well built components
Improved, high quality sound card
Neutrik inputs and outputs
Innovative control zones
a layout and design that is mapping and controllerism friendly
a slick black, red and grey look that is way more "pro"

A CLOSER LOOK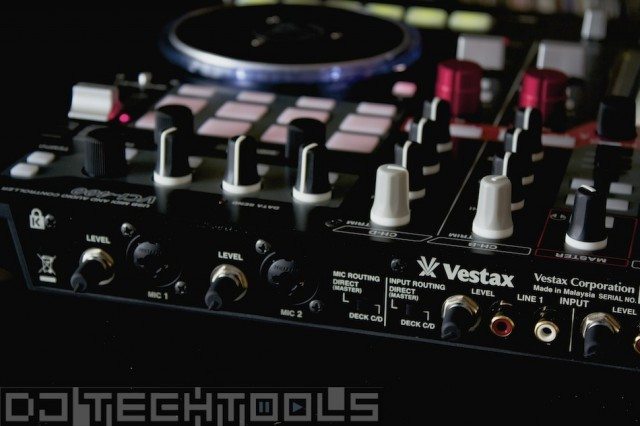 At about two inches shorter than the S4, the VCI-400 strikes a nice balance of being well spaced but looking reasonably portable. It will fit in more backpacks and conveys a nice solid look that feels at home next to turntables and mixers. Most other plastic controllers do seem a bit out of place in the rugged and utilitarian DJ environment.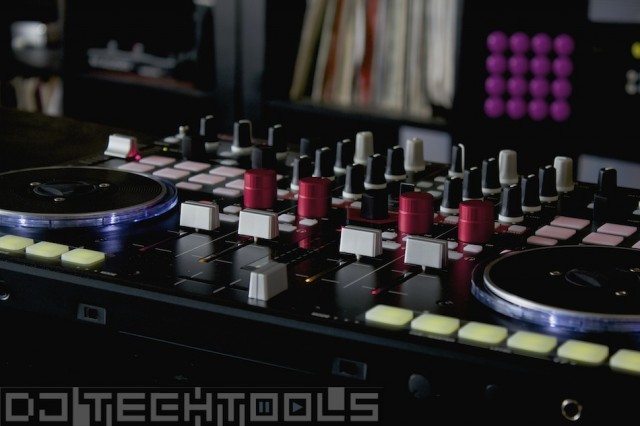 NEW CONTROLS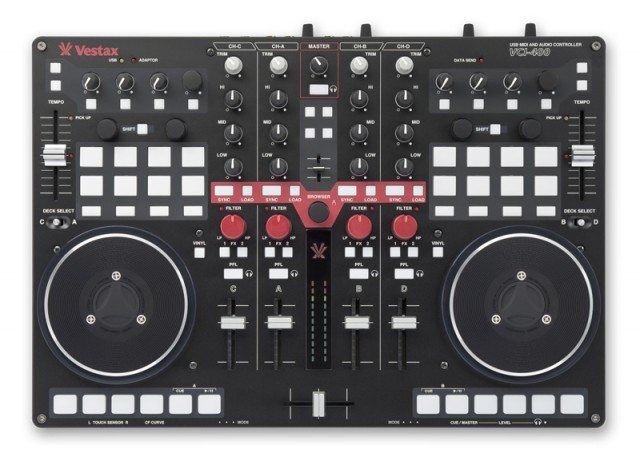 One thing you cant help but like is that Vestax has provided a large palette of performance buttons and controls with no markings or pre-defined use. You, and of course we, can take these and make some really bad ass mappings without being constrained by typical DJ controls.
VCI-400SE ?

As you can probably expect, we are amped to make a hot-rodded version of this controller complete with a mind-bending mapping.
The good news: It is in the works. Sign up on this email list to get updates on the project! 
The bad news: The regular VCI-400, and our version as well, wont be available for a while. 
Here is the release schedule we have from Vestax:
Europe (Some time late this year)- December?
US (Early next year) – February?
Vestax has to overcome two big obstacles:
They take a long time to build things and in today's  "I want it now"-environment, throw away consumers are fast to move on to the next big thing.
They are in Japan and due to a 10 year drop in the YEN, everything that comes out of Japan is very expensive for the rest of us.
Fortunately, Vestax makes some great DJ gear and as I was recently reminded sometimes DJs ARE willing to pay and wait for a better product. We recently sat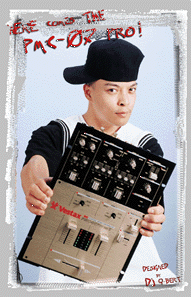 down with Toshi (the CEO) and the rest of the Vestax crew to learn more about the 400 and discuss the possibility of me creating another special edition version. Toshi reminded me of another similar time in DJ history when the market was flooded by lots of low cost, me too, 2 channel DJ mixers that were priced in the $300 range. Vestax, in collaboration with Q-bert and others designed a mixer to beat them all – the PMC-07. While being vastly superior in production quality and performance, it was three times higher than anything else – $1000! Still, DJs bought them in droves for the performance difference it provided. Is the VCI-400 the new PMC-07? Probably not, but based on first impressions it's probably the best 4-channel DJ controller out there, and thats pretty damn good.