The Gemini booth was another stop on our NAMM 2012 tour, and we got a chance to take a close look at the CDMP-7000, their flagship all-in-one CD-J, Flashdrive or software controller. It's well suited for DJs looking for a complete solution to get used to mixing with CD-J style jogwheels without spending thousands of dollars on a top of the line solution. Additionally, it's got some pretty slick features that we haven't seen in this type of unit before. Check out our full video quick look overview inside!
Manufacturer: Gemini
Product Name : CDMP-7000
Price: $995.99
Release Date: Spring 2012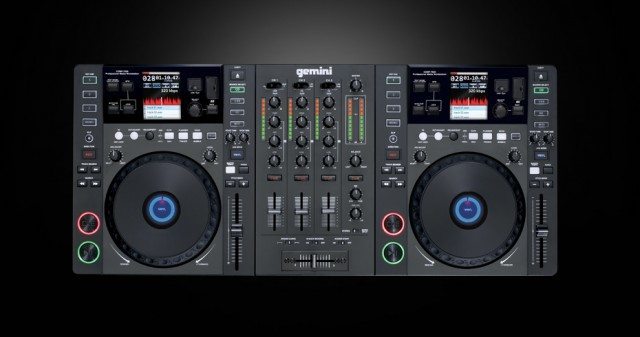 5″ Jogwheels that can control CD-Js or files on USB drives or SD cards
Unique "slip mode" that allows for interesting new scratch FX techniques
Ability to operate as standalone unit or software controller (the Jogs send MIDI and can be mapped, the mixer does not)
Built-in 24-bit/192kHz soundcard
Inputs: 2 switchable line/phono stereo RCAs, one Aux RCA input, one front panel ¼-inch mic input and rear XLR-¼-inch combo mic input
Outputs: 3 RCA outputs for Master, Booth and Record; CD1/CD2 stereo RCA outputs, two S/PDIF digital audio outputs, and one ¼-inch headphone output.
For more info on the CDMP-7000, visit Gemini's product page! What do you think, is Gemini on the right track with a lower-cost CDJ all-in-one?