This week both Denon and Pioneer's DJ divisions announced updates to their DJ product lines. Earlier in the week, Denon dropped the latest version of their CDJ, the SC3900, along with Engine, a setup software designed to match Pioneer's Rekordbox. This morning, Pioneer made official the rumors of a major update to their mixer line by announcing the DJM-850. How do these updates stack up to their predecessors? Are they worth the upgrade, and are they poised to invade a DJ booth near you? Read on to find out.
Pioneer DJM-850 Mixer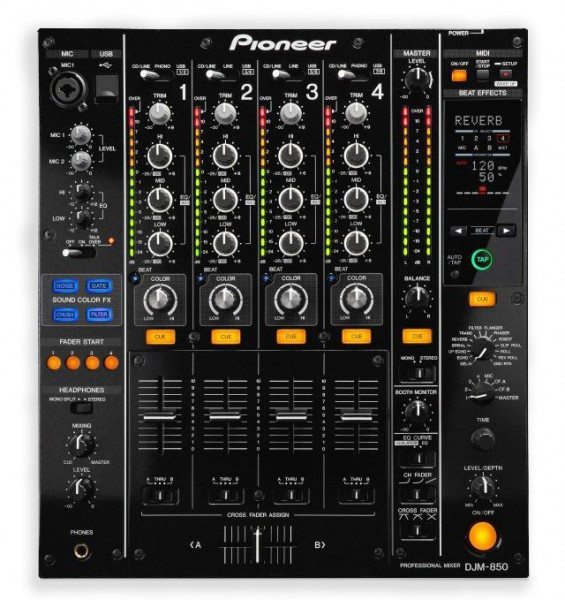 Price: €1,499 / £1,299 (announced) and $1,999 (estimated)
Release Date: Late March 2012
Best Feature: Complex sidechained effects with Beat Color Effects
What It's Missing: Two USB ports!
The DJM-850 is being promoted as being a future-proof mixer, with an integrated USB four-channel soundcard, multiple effects units and the overall build quality that's expected from Pioneer's kit. Most interesting are the new options for effects control.
When enabled, Beat Color Effects allow a DJ to take the Color Effects found on each channel and apply a beat-synced layer of control on top of the effect using the Beat Effects control unit. Pioneer's explains it best:
 The Beat Colour Effect 'listens' to the audio input of each channel and directly connects the rhythmical changes in volume to another parameter: resonance for Filter and Crush, beat repeat for Cutter and ducking volume for the Noise Effect.
The Beat Effects unit has has a new level of control added to it as well, called FX Boost. Designed around the resulting effects possibilities of the DJM-900's touch strip control, FX boost adds a second layer of control to effects using the Level/Depth knob.
Turn the dial to the 12 o'clock mark for a fully wet effect and turn it further to add Pitch Up to Up Echo and a High-Pass Filter to the Reverb.

As far as what you're missing compared to the DJM-900 nexus, the 850 is lacking digital inputs and the ethernet Link port for allowing CDJs to access music data via the mixer and Rekordbox. Also, there's still only one USB port, meaning that transitioning between two DJs who want to use the mixer's USB soundcard in a CDJ-free environment (rare as it might be) is a massive pain. Rane has this down with their flagship mixers, and when you spend a good amount of money on a mixer, it seems only logical.
Pioneer will offer two color options, the popular black DJM-850-K and the silver DJM-850-S, will be available to match Pioneer's dual color schemes on their CDJ units.
For more information on the Pioneer DJM-850, visit this page on PioneerDJ.com.
Denon SC3900 Digital Turntable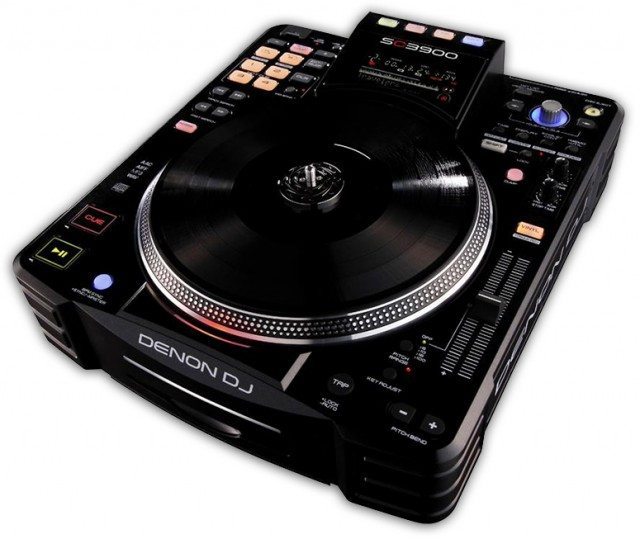 Price: To be announced.
Release Date: Also to be announced.
Best Feature: Hybrid MIDI Mode!
What It's Missing: The awesome level of HUD detail (colored waveforms, etc) found on Pioneer's CDJs
We're a big fan of what Denon has done aesthetically with this unit compared to the DN-S3700, the previous iteration in this line of CD/Media controllers – the unit looks sleeker and more thought through than its predecessor, and the control placement has improved.
The unit can operate in a hybrid MIDI mode, meaning that it can concurrently be sending control tone to a DVS soundcard setup while also sending MIDI information via USB that can be mapped however you like in software. Pretty smart stuff to allow this kind of dual purpose on a controller, and will undoubtedly be a major attraction for laptop DJs who have had hesitations about keeping CDJs in their setup.
One interesting feature dropped from these units are the onboard effects – Denon has been putting effects into their CDJs for a while, which allowed a nice level of effects control for CDJ users who didn't have a effects-heavy mixer.
The SC3900s also feature a new Link mode that's a step up from previous Denon solutions, thanks to a brand new piece of software, Engine.
Engine – Denon's Answer to Rekordbox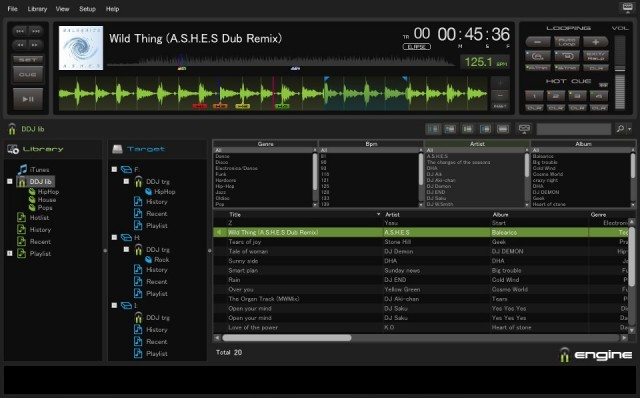 With many CDJ users moving to Link mode and library preparation software like Rekordbox, it only makes sense for Denon to rebuild their networked library software. Their new system, called Engine, is a cross-platform software that allows up to four control units together into a computer using an ethernet router and processes your tracks to assign waveforms and BPM values to each, data which then is shared back across the network to your controllers.
It's nothing revolutionary, and we haven't had a chance to use a complete setup in operation yet so we're not going to make any calls about how the system performs, but we expect that Denon is putting quite a bit of work into this system to make sure that it seriously matches and challenges Pioneer's workflow.
Do you expect to see Pioneer's DJM-850 or Denon's SC3900 in a club install near you? Let us know in the comments!