If you're looking to take your live set to the next level or you're trying to add some spark to your studio productions, using playable effects can be a natural and musical solution. But who stands out from the pack when it comes to looping, stuttering, and crushing? We'll take a look at Stutter Edit from Izotope, The Finger from Native Instruments, and Artillery2, Effectrix, and Turnado all from Sugar-Bytes, to see who is the real king of electronic mayhem.
Button Pushers
All five of these effects are designed to be triggered via MIDI in real time. Stutter Edit, The Finger, and Artillery2 all take an "effects keyboard" approach to triggering their various sounds. With this approach, one or more of their sub-effects are assigned to a piano key and can be triggered by playing the corresponding key on a keyboard. But even though the layout of the effects is shown on a piano keyboard, the effects are just as easily triggered via drum pads, Midi Fighter, or other MIDI device.
The Finger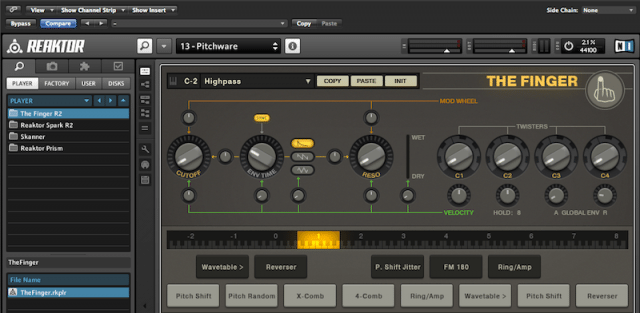 Manufacturer: Native Instruments
Type: VST/AU/RTAS/Stand-Alone
Price: $79
The Finger runs within Native Instruments' Reaktor (or free Reaktor Player) and can be loaded as a plugin or as a stand-alone application. Each note on the keyboard can contain a single effect and six effects can be played simultaneously to create even more in depth effects chains. The Finger provides filters and EQ, distortion, gating, pitch shifting, looping, and sampling effects.
Each of the effects loaded in The Finger utilize the same set of controls so taking time to understand what each of the knobs does early on will save plenty of time in the future. You can modify the internal effects settings with the Mod wheel, note velocity, or a built in envelope or LFO. There isn't a visual display of these settings, though, so you'll have to control them by feel.

What We Like: The Finger really shines with its creative sound manipulation and destruction and its ability to have a large number of effects available across the full range of octaves. Also, the same knobs on the interface are available for each effect, so if you map them to your MIDI controller they'll work on any effect you play.
What Could Be Better: The lack of value displays on the knobs makes you use your ears to get in the ballpark of the effect you want, but can be frustrating if you're looking for a particular sound. Also, if you're unfamiliar with Reaktor, there is a bit of a learning curve.
Artillery2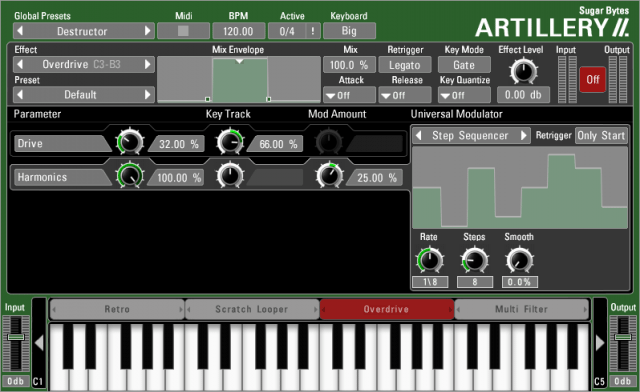 Manufacturer: Sugar Bytes
Type: VST/AU/RTAS/Stand-Alone
Price: MSRP $199
Artillery2 runs both as a plugin and as a stand-alone application and like The Finger, it allows you to put a single effect on a keyboard key. But, Artillery2 takes it a step further by allowing you to apply one effect to a group of keys and have each key modify the effect. For example, you could apply a delay to an octave of keys and have the delay time or feedback change as you work your way up or down the octave. Or have a looper where the size of the loop changes as you work your way up the keyboard, creating 8th note to 16th note to 32nd note stutters before a big impact.
Artillery2 contains a wide variety of effects organized by type. There are amplitude effects such as gates and compressors, modulation effects like flangers and phasers, as well as filters, delays, loopers, and even a Karaoke effect that if the planets align correctly can pull the vocals out of a song. Each effect has its own set of controls that can be modulated by the KeyTrack (what note you play on the keyboard), an LFO, an envelope, a step sequencer, or by a MIDI control message. Having a different modifier for each parameter of a single effect can be a little daunting, but it allows for some really intricate sounding effects.
What We Like: Artillery2 is great for laying out a variety of effects with different settings across the keyboard and syncing them to the tempo of your song. The settings of each of the internal effects are very straightforward and can be modulated in a variety of ways. It's definitely a strong tool for audio chops and is easy to jump in to with the presets.
What Could Be Better: Mapping MIDI control knobs to various settings in the internal effects is a lot more work than in The Finger so real time tweaking isn't as easy.
Stutter Edit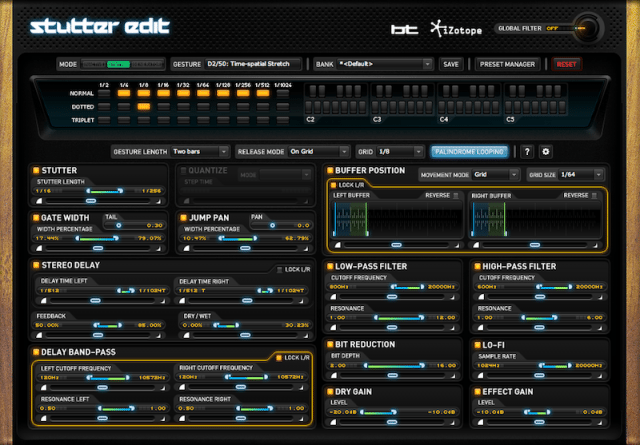 Manufacturer: iZotope
Type: VST/AU/RTAS
Price: MSRP $249
Stutter Edit has a slightly different approach to laying effects out on a keyboard. Instead of having a single effect on a single key, each key has one or more effects that can be turned on. Each key can have a combination of stutter, high and low pass filters, distortion effects, delays, and a panner. A unique feature of the plugin is the Buffer Position, which will jump to different parts of the audio buffer while stuttering to create very interesting rhythmic and melodic patterns. Also remarkable is the Generator section that generates sweep effects that can start or end in time with the music.
Each effect in Stutter Edit changes over time and you decide how much the effect will change and the rate at which it changes with a slider under each effect. Stutter Edit also takes care to ensure that effects begin and end when you want them to. A key being played is called a gesture, and gestures can be synched to the tempo grid to ensure that they are always played in time (if you want).
What We Like: Stutter Edit is an idiosyncratic tool that is great for glitch effects, sweeps, and transitions. Its ability to easily decide what subdivisions you want to stutter with and the rate at which they change is very handy. It's also loaded with very usable presets that are a great place to start tweaking if you want to see how the various internal effects work.
What Could Be Better: At $249, it's not the cheapest plugin in our round up by far, and the automation capabilities leave something to be desired. Also, only one stutter effect at a time means there's no chance to chain the effects!
Stepping In Time
Effectrix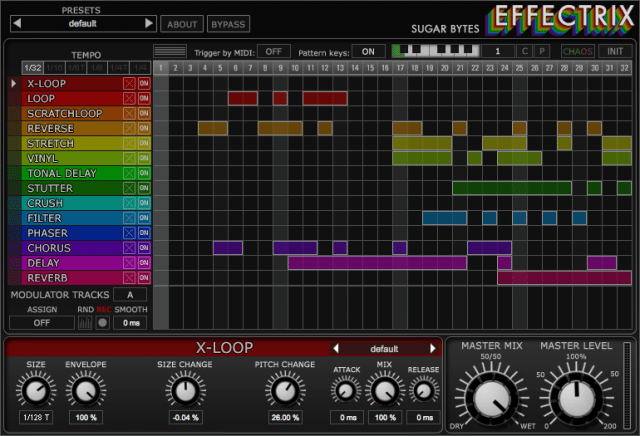 Manufacturer: Sugar Bytes
Type: VST/AU/RTAS
Price: MSRP $129
Effectrix is a plugin that takes a different approach to real time effects manipulation by providing a step sequencer for its effects. Instead of choosing a key to trigger a particular effect, you create patterns for your effects along its built-in 32-step sequencer. There are 12 patterns available and they can be triggered by notes on a MIDI keyboard, which makes it easy to use in the studio or on stage. The step size can be adjusted from 32nd notes to quarter notes and effects can be layered on top of each other or triggered separately.
The advantage of using the step sequencer is that you know effects will happen in time and in the place where you expect them to happen. You can also create a chain of effects that can be triggered from one button push. Effectrix also has a Chaos mode that will automatically generate a pattern for you if you need some inspiration and it has its own internal automation if you want to change settings of an effect in your pattern.
What We Like: Effectrix is really useful when you want to create chains of effects or loop a section of your song and try out different patterns of effects. The step sequencer approach is great if you have experience with drum pattern sequencers.
What Could Be Better: Effectrix only runs as a plugin and has only 12 patterns, but I have rarely wanted more.
Knob Twisters
Turnado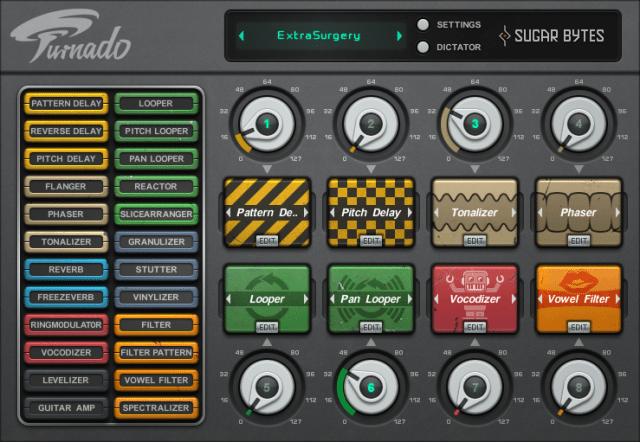 Manufacturer: Sugar Bytes
Type: VST/AU/RTAS/Stand-Alone
Price: MSRP $179
Turnado is designed for situations where you want a lot of power with as few controls as possible. Since we don't always have room for a MIDI keyboard in our setup, Turnado uses eight knobs to control its effects. Each knob has an effect associated with it and as that knob is turned, one or more of the settings in the effect are changed. Each of the knobs act as a macro knob for various settings inside the internal effect, but beyond that there's one more control called the dictator that works as a macro for the other eight knobs. This creates a very powerful tool with very few controls.
The effects available in Turnado are vast and the sounds that can be created when using the dictator can be extremely intricate. There are two LFOs and an envelope within each of the eight internal effects so your sounds can be modulated by more than just the knobs.
What We Like: Turnado has some excellent looping and slicing effects and with all of the ways to modulate them, the sound is really inspiring. It's one of the most fun effects to play with and is great if you have a limited number of MIDI controls or limited space.
What Could be Better: Advanced users will enjoy the various ways to tweak the sounds, but clicking the edit button on an effect might be a little scary for a novice user. While, you can accomplish simple tasks with Turnado, it isn't really the best effect for simple chopping, delays, or distortion as most of the presets are already doing much more than that.
One other note, if you like using knobs to control your effects, you may also want to take another look at The Finger as it has four knobs (called twisters) on the right side that can be used to switch between 48 different effects on the keyboard.
Final Thoughts
The two effects that I find myself reaching for most often in the studio are Stutter Edit and Turnado. They have the ability to do simple tasks and you can also just move a bunch of knobs and sliders and it usually sounds cool.
MIDI keyboard, buttons, or drum pad users: I'd suggest Stutter Edit for creative inspiration or Artillery2 for its large number of effects and customizability.
MIDI Knobs and/or slider controller users: Turnado is probably your best bet as it has a wide variety of internal effects, has very usable presets for beginners, and a great deal of customizability for advanced users.
Budget-minded user: The Finger is a smart call because it runs in all environments, has a wide variety of internal effects, and is easy to map to a controller.
If you're thinking of running effects software in conjunction with your DJ software: take a look at Artillery2 and Turnado because they run stand-alone and offer lots of internal effects, but The Finger is also a good call.
Know of any live, real-time, playable effects units or plugins that we've missed out on? Let us know in the comments and we'll start investigating them ASAP!