There was a time when DJs performed using turntables, a two channel mixer, a pair of headphones and a box of records. DJs lived and died by two things; their ability to mix and their choice of records. Over the years many of our original players took the needle off the record and walked away to get a "serious job", to focus on their family or simply felt the need to do something different. The good news is that they are coming back, and in droves; if you're one of that number, then DJ TechTools is here to offer a few pointers.
FIRST: WELCOME BACK!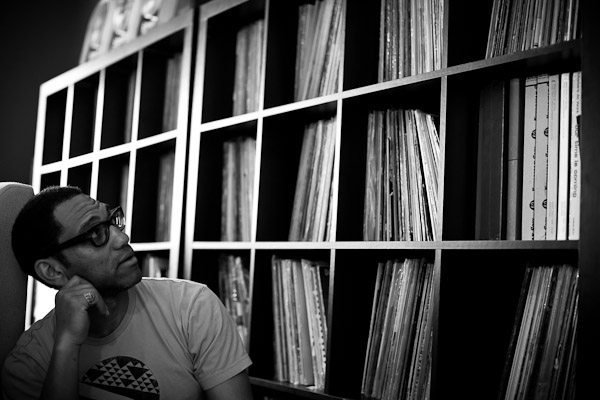 We're delighted that the nagging voice inside your head has finally reached fever pitch and pushed you into reclaiming your musical soul. The good news is that you are not alone with increasing numbers of previously self-exiled DJs (including this author) returning to the decks.  There's as much or as little to learn as you want there to be, and getting advice and feedback has never been easier.  Let's take a look at what has changed over the last few years as well as what hasn't.
Check out a DJ booth today you'll run into a myriad of computers, controllers, effects units and equipment that might look less out of place at an Xbox gaming party. While most venues still provide the basics,  more and more DJs are taking along their own equipment, ranging from small portable controllers to hardware capable of running Google.  It's worth noting that complex setups guarantee nothing, as what counts is what the crowd hears, not what the DJ uses. Your ability to read the crowd and drop the right track at the right time remains as your most valuable asset.
BREAK OUT THOSE HEIRLOOMS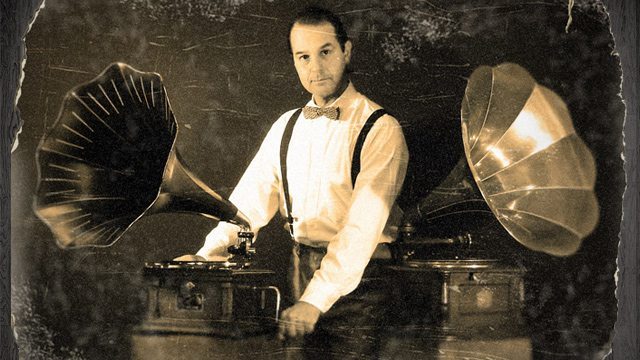 Head down to the basement, step over mother's collection of Engelbert Humperdinck's Fantasy Flans Cookbook Collection and dig out those turntables or CDJs. It's time to dust them off and put them back to work. Even if you plan on going digital there are countless configuration options that will enable you to take advantage of what you might already have.
OUR ADVICE:  If, like many of us, you sold your turntables during those dark days then take advantage of tools like CraigsPal (US) to track down used equipment. Be prepared for some head shaking and self-beration while you scan through today's prices. For more information on buying used Technics check out this buying guide from DJTT regular, Xonetacular.
DON'T EXCLUDE YOUR OWN PLAYING EXPERIENCE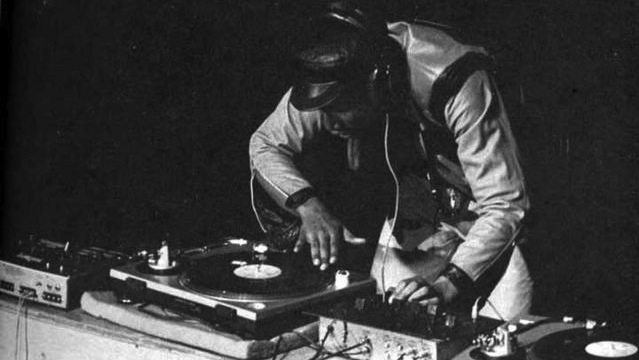 Now you've made the conscious decision to re-ignite your love of playing music, it's vital that your playing experience is as satisfying for you as it is for the crowd. Our returning heroes frequently dive head first into complex, controller-driven setups only to find that pressing buttons and twisting knobs is no match compared to some good old fashioned platter thrashing. Taking the DVS (a.k.a. timecode) route, whether it's turntables or CDJs, Serato, Virtual DJ or Traktor, will give you the best of all worlds, providing your wallet's up to the job. Conversely, if you always wanted to move into production or bring some of those elements in your sets, Ableton is worth a serious look.
OUR ADVICE: Take a modular approach to developing your set up. Don't buy more than what you initially need, but ensure that the hardware and software you select will support you as your requirements evolve. For instance, the new Allen and Heath DB2 is an undeniably stunning mixer, as long as you won't be looking for DVS support later on. Make an assessment of what is important to your individual workflow, and add those things to your setup.
PLATFORM PREFERENCE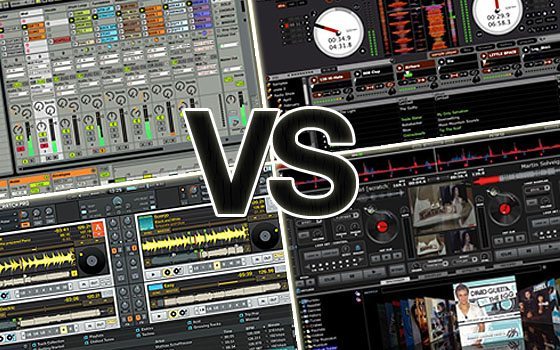 If the plan is to stick with vinyl or CDJs, then this section need not worry you. If you intend on going down the controller and/or DVS path, you'll be introducing software into your setup. There are few shared standards amongst the DJ software vendors today, so a rash decision on a platform now can lead to a great deal of headache should you decide to switch in the future. Personally, I made my buying decision based on the tried and tested model of 'most shiny wins'. The winner was the Kontrol S4 which provided 37% more shiny than 83% of other controllers on the market at the time. This is a great example of how not to select your gear.
OUR ADVICE:  There are multiple platforms to choose from but as far as the three leading platforms are concerned, the general consensus among DJTT readers is:
Serato: Ideal for DVS DJs looking for a clean and simple interface with options for Ableton Integration and video support. Critics are less enthralled with the lack of hardware options and limited effects and sampling capabilities.
Traktor: Platform of choice for both controller and DVS DJs looking for extensive options and granular control of effects, samples and flexible MIDI. Traktor hasn't always delighted users with its busy interface, occasional driver issues and new software features that are only supported by their own controllers.
Virtual DJ: Frequently bundled with controllers (also supports DVS and video) and considered by some as highly capable yet somewhat underrated. Virtual DJ is frequently cited by members of our community as a gateway platform with DJs ultimately transitioning to Traktor or Serato.
Ableton: Digital Audio Workstation turned live performance tool, Live has a large learning curve for getting started right away and involves a significant amount of prepwork before playing live. It's great for intense projects and playing out your own productions, but could be too much to consider starting on if you're looking for a familiar workflow to times past.
Take a look how Scratch Live and Traktor Scratch stack up here.
MO MUSIC, MO PROBLEMS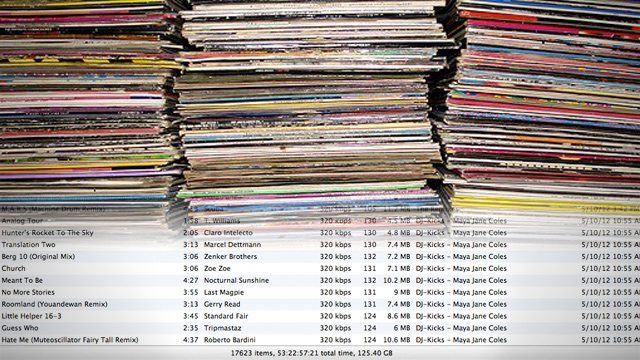 Your humble author's Saturday record buying expeditions used to consist of a 20 minute drive, half an hour on a ferry and a further 30 minutes trudging uptown to the local vinyl emporium. 30-40 records later and job done, half a dozen pieces of sweet, sweet vinyl to take home and work into the next set. Record shopping used to be expensive, time consuming, regularly frustrating and we loved every minute of it.
Today, the ferry port has been replaced by Beatport. Travel time has given way to boot-up time, and 30-40 records represents our ears just getting warmed up in the selection process. DJs can eat their way through a Virgin Megastore's worth of tunes without getting off the sofa and yet, there are seemingly more people complaining that they "can't find any music."  That's because unlike building that relationship with your local record shop where the guys behind the counter could make educated recommendations for you, you are well and truly on your own.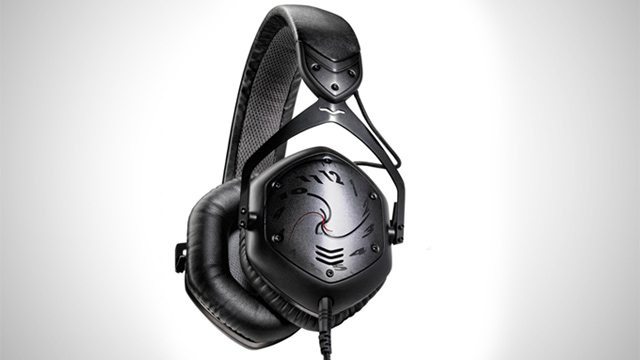 OUR ADVICE:
Put some hours on those ears. While it may be easier to reference old label favorites, published DJ charts or friends recommendations, the most effective way to re-engage your sound is to listen to everything in your chosen genres.  While this process will no doubt expose you to a litany of ear-crushing audio waste, it will also uncover music you would have never otherwise found.
Don't check out right away. Look through your vinyl collection and you'll no doubt wince at the amount of cash you've wasted on terrible records that sounded great at the store.  Buying online gives you more choice than ever, and it means you can avoid having to make snap decisions. Load up your shopping cart and walk away for at least 24 hours.  Come back later, review your selection and you'll be surprised how many tracks don't make the cut. This advice is especially useful for late night, judgement-impaired shoppers with a history of inexplicably finding ladders, inflatable sharks and $300 juicers showing up on their door step each week.
Shop at Artist, Label, and Distribution sites. Sites like Beatport and Juno make for an easy listening and buying experience but that can come at a premium. This is especially true when artists release full length albums. Check the artist's site first and you'll frequently find the release for much less. In some cases you can also buy the music on vinyl with the MP3 versions being included at no extra cost.
Don't download music you haven't paid for.  Especially when you find a new and exciting independent artist who's just getting started – these are the guys who might not sell enough records and never go on to produce their magnum opus.
FINALLY, THE BIG QUESTION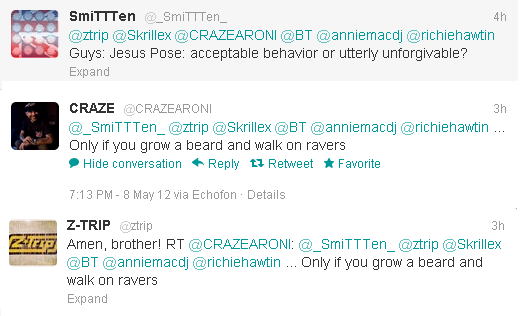 If there is one area of this business which literally transcends music preference, budget and skill, it's the ability to elevate the crowd to a higher plane. For centuries scholars, theologians and Goldie have sought to quantify the conditions needed to trigger this shared experience. Many books have been written yet none published on the secrets of the recently termed "Jesus Pose." For some DJs manifesting oneself as the Son of God is just another day at the office. For others it's considered egotistical and unnecessary. Whatever the truth is, the crowd generally goes in the direction of the bananas when it happens.
OUR ADVICE:
We think that in this instance, the best advice we could offer would pale in comparison to the insights shared by visionary producer and DJ Amon Tobin in the below video:
Are you a former DJ who has come back from the long hiatus and made it in this new era of DJing? We want to hear your story!