Just two weeks ago, we ran a story on the absence of MIDI controls for the Remix Decks in Traktor's then-upcoming 2.5 release. We immediately noticed in the comments on that article a number of our community members were primed and ready to start hacking their way in – and just a few days after the release, we're ready to update you on the lastest developments, with four different projects that have arisen to control the Remix Decks.
MIDI FIGHTER 3D

After only a week with the 2.5 software out, DJTT ninjas have managed to find a way to connect Midi Fighter 3D directly to the Remix Decks for full clip control, including RGB color display. The video above is our first proof of concept, with clip launching and color display working and natively supported (HID, without any mappings). Over the next two weeks we will finalize the integration and release a public firmware so all 3D owners can:
Control all four Remix Decks with one Midi Fighter 3D
Scroll through clip banks using the side buttons
Launch all 16 clips in each bank
Mute and unmute decks
and potentially:
Engage effects using the motion tracking
Get VU-style clip meters feedback on each button
Remap the motion controls or side buttons to other settings in MIDI while also using the HID clip launching
Look for an announcement and free download of a new Midi Fighter Utility that will enable these features in about one month. 
IOS LEMUR MAPPING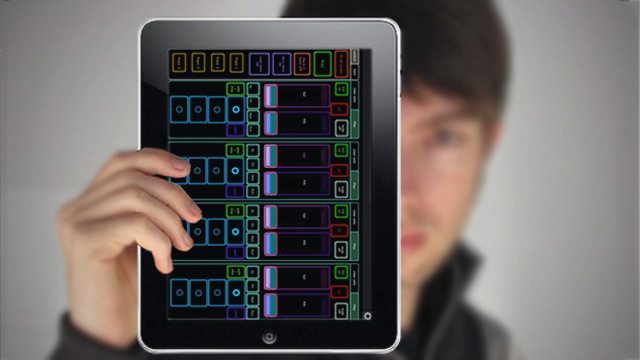 Got Liine's Lemur app running on an iPad or iPhone? DJTT forum member Forevernow has built a template that works to control the Remix Decks. It's still a work in progress, but the full functionality is there!
What Works:
Full playback from Lemur app for all 64 samples (all four pages)
Levels and filters and full control of the slot parameters for each slot player
Record loops from playing deck or sampler (first row only)
Change gate/latch mode (first row only)
What's Messy:
Layout dependent –  different resolutions and layouts will cause conflicts
Windows integration –
Designed for C deck only
More Information: You can download it here on the Lemur community, or learn more on the DJTT forums
Editor's Note: Rainer from Traktor Bible has also been working on a very extensive Lemur template for the Remix Decks, just announced. Check it out as well, as it's pretty comprehensive!
MASCHINE VIA MOUSECLICKS AND TOUCH OSC
There are two other significant projects that are worth checking out – first, djvc1993 has made a mapping and setup program for the Maschine that maps out the first 16 samples (four per slot) on each Remix Deck. It's achieved via mouse actions, and is PC-only at this point. Learn more about his setup in this demo video and this how-to/setup vid.
Second, M1RFace has also set up a similar system using a TouchOSC layout on his iPad. His hack is still in the early stages as of the video's publication, but shows great promise for iOS users who don't want to buy Lemur for $50. See the proof of concept in this demo video!
These two hacks are pretty basic – there's no LED feedback, and most of the advanced functions still need work, but we wanted to make sure we feature everyone who's putting in work to make the Remix Decks work with their setup!
HACK THE F1 PROJECT

Here's one of our favorite projects yet- Fatlimey has started a GitHub project that aims to directly allow your MIDI controller to "spoof F1 messages to Traktor, allowing full access to Traktor's capabilities".  The project is just getting started, and needs talented coders with experience in USB-MIDI and HID device descriptors, hardware drivers on Mac or Windows, and installer packages to make the hacks simple to use. Think you've got what it takes?
Learn more on the DJTT Forums or join the project on the GitHub page.
UPCOMING MIDI MAPPING POSSIBILITIES

It's important to note that these projects are not intended to be anti-NI in any way, but simply a creative way of getting functionality faster than scheduled. Even though there are limitations on third party hardware today Native Instruments does plan to implement full MIDI mapping controls in the future. We have no word on when it will be complete but Traktor's engineers have informed us their priorities are:
A – Ensure that the F1 integration with 2.5 is as tight as possible (done)
B-  Make updates to the controller manager first (partially done in 2.5) and then
C – Focus on creating the right controls for connecting external controllers to the Remix Decks.
We have reached out and expressed our desire to work with NI to help improve the MIDI mapping engine for all controllers moving forward!