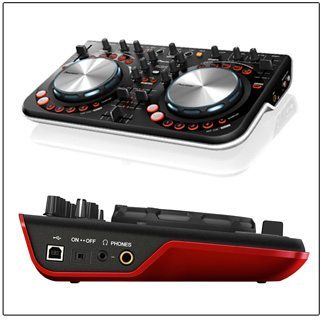 The digital DJ industry is in full controller-announcing swing this week, and it looks like Denon won't be the only manufacturer to announce a new ultra-portable beginner controller. Pioneer has just released details on their new DDJ-WeGO controller, a basic two channel controller designed to work with a custom edition of Virtual DJ LE.
The unit is pretty small, with a 14″ X 8″ face, and has design similarities to the Pioneer EFX-1000 and the DDJ-ERGO units.  As with the Denon MC-2000, we're expecting this to be very specifically targeted for beginners, as it just has a basic RCA master out and 1/4″ microphone in and is mostly focused on looks. Remember the "Pulse Effects" lighting found on the DDJ-ERGO? That's on this unit as well. Oh, and you can choose from five different colors for the body of the controller: white, black, red, green, and violet.
Have a look at the promotion video below for more details and to watch yet another "too cool" promotional video dance party.
The DDJ-WeGO will be in stores sometime in September, with a suggested price of $399.
 More Info: