The time will come in your career, if it hasn't already, when you want to join forces with another DJ – either as a dynamic production duo or just for fun around the house. The experience of DJing with one (or more!) collaborators can be really fun and unearth powerful new ideas you might not uncover on your own.  In today's article we provide a few templates for successful ways to perform with others.
First, a bit about your host. Over the course of my 17-year career, I've spent a lot of time developing various multi-person DJ groups, including: a 2X4 DJ duo (GoldenSol), a full band that played with me (Lyve) in 2k person venues, solo instrument accompaniment, playing with other DJs in a open jam format (like in this session with Qbert), and lately, three DJs playing samples in a more jazz style (with Mad Zach). Each of these styles have strengths and pitfalls, so my hope  is to provide you with a solid map of the territory.
THE CLASSIC TAG TEAM
Let's take a look at the different methods used by DJs to play together – I'll attempt to offer great advice about each path and some prominent examples in the real world.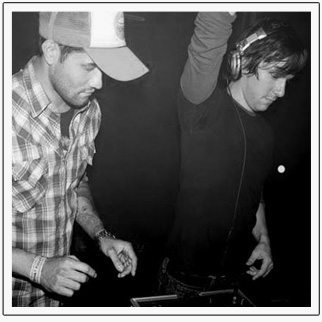 Method 1: Standard Swap
In this method, two DJs use the same setup and trade every few songs, with each person picking the songs when it's their turn. I've also seen duos (and trios!) that all are working collaboratively on the mixing process at the same time – with a headphone splitter, you can easily get a couple of hands on the mixer, building a mix and making adjustments. 
Veteran Advice: When you're starting out in this style, let each person play at least three songs, otherwise it's very hard to maintain any cohesive direction or movement with the sequencing. A classic example is Deep Dish. These guys would play about one hour each and then swap- so their individual musical styles created a interesting counterpoint and balance through the night.
Method 2: Classic 2X4
In this method, there are two dual DJ setups running into a common mixer. The traditional term used to describe this setup is a 2X4, referencing the four turntables used. Each DJ has their own mixer and both run into a master mixer, or one DJ has control over the other's input.
Veteran Advice: One person should really be "driving" and have the master mixer. They are responsible for always having music on deck with the second person mixing in songs when appropriate. Some planning here is required if you want a 2X4 to go smoothly. The goal should not be to get four pieces of music playing together concurrently, but rather to construct interesting and powerful transitions that would not be possible with one person. Perhaps the non-driving DJ keeps a common acapella on deck and sprinkles it in over three to four songs for continuity. One person should be charged with picking the right songs and holding the dancefloor, while the other can add layers of extra juicy samples on top.
Classic Example: DJ Dan and Donald Glaude – you can get a pretty good idea of their setup and performance style in this short video from 2008:

Method 2: Modern 2X4
This method is a modern take on the classic 2X4 setup, simply replacing turntables with digital controllers running into a single computer. One DJ play's on decks A/B, while the other controls C/D. This modern 2X4 solves one of the ugliest problems of two novice DJs playing together:
"It can be very hard for multiple DJs to stay perfectly in time with each other"
Both DJs playing on a common computer running the same DJ program is the easiest way to ensure all the tracks stay perfectly in sync. It also makes it possible for one DJ to apply effects and manipulate the other's music during a mix, allowing that first person to focus on the blend and timing of the mix. As long as the roles and responsibilities are clearly defined, this setup can yield great results.
Veteran Advice: Communicate! Talk about who is in charge of picking the music and for how long, otherwise ego can quickly erode the fun times to be had. In terms of gear,  I personally have found VCI-100s or Kontrol S2s work really well for this in terms of balancing portability and feature set, with both controllers connected to a single common computer. Supplemental controllers like the X1 also work well – check out this cool example below we found online.

Method 3: Split Personalities
This method is more about each person serving a particular function that aren't necessarily connected by intense activity collaboration – each person dedicated to a particular task. You'll often see pairs of producers who DJ together using this method, with one person mixing tracks while the other handles effects, hype, champagne pouring and general fun activities. In a producer duo it's common to find one person that has more experience beat matching and DJing, so he is usually tasked with the mixing duties while the other rocks out on effects, samples and general crowd hype activities.
Notable examples: Tommy Lee and DJ Aero, most major production duos including: MSTRKFT, Swedish House Mafia, and of course the party-loving Dada Life:

Now let's move on to some more esoteric and creative ways to play with others:
THE BEST OF BOTH WORLDS
It's not impossible to find a balance between live instrumentalists and DJs – so don't be afraid to invite one of your musician buddies into the fray. A musician can bring a unique sound and twist to a set that audiences really connect with.
Some effective combos are:
DJ + sax (for the soulful vibe)
DJ + guitar (for a flexible sound that works well over many things)
DJ + drummer (hip hop is a good place for this one)
DJ + singer (any genre that has space)
Today with digital DJing you can very easily route live instruments into software and sample them for a more integrated sound. Avoid the classic musician mistake of "noodling"!
"It's not the notes you play; it's the notes you don't play." – Miles Davis
Veteran advice: Sometimes the musician will have a tendency to want to show of their chops and solo for 20 minutes straight. Gently remind them that simple patterns and clever melodies are much better than an extended ripping guitar solo that spans five songs.
Notable example: the late DJ AM and Travis Barker on drums:

THE DJ BAND
DJs can combine forces to perform together as a group, with each person playing unique parts through controllerism, scratching, or mixing. This is often the most complicated to set up and execute in a way that sounds good, but if you manage it, the results can be amazing.  You'll want to make sure roles are clearly defined, and everyone knows the "instrument" or part they are playing. Who is drumming? Who is holding down the melody? Who will play solos? 
Notable Examples: Invisibl Skratch Piklz, Birdy Nam Nam, Kireek, C2C (see one of their DMC Team Championship winning sets below)

Currently the Bangerz do a bang-up job of executing this concept, with a variety of styles and instruments – including the Midi Fighter 3D! The recently formed Mostly Robot was Native Instruments attempt at forming a DJ supergroup.
THE JAM BOX

Lately a style has been emerging from DJTT HQ that we're really enjoying. It's far from a trend, but personally, it's possibly the most musically rewarding group DJ activity I've done so far. Some of our weekly sound packs contain several pages of sounds including bass, drums, and leads. If you are lucky enough to know three people who can finger drum somewhat proficiently, then plug in three Midi Fighters or other pad controllers and drum away. Each controller can be easily pointed to a page of sounds, so that people can trade instruments and find their own personal style. This 100% improvised jazz-style playing with electronic sounds can sound amazing when done well. The most important thing is to have one individual with great time holding down the rhythm while the others experiment with parts.
Veteran advice: Start off with a loop running in the background so your new group does not have to hold it's own time. Avoid the "one man band" syndrome where each person wants to play all the parts (this is possible with a single controller, i.e. Jeremy Ellis). Instead do less, and find interesting ways to negotiate with the welcome space.
OVER TO YOU! We know that some of you play in DJ groups and duos – what's your favorite style? What DJ duos or groups have you seen that produced excellent results?
Ean Golden is the founder of Dj TechTools and a worldwide Dj specializing in controllers and new performance technology.
Follow Ean on: Twitter  Facebook   SoundCloud   YouTube