What if you could turn any conductive surface into a controller for your DJ or production software? With over 11,000 backers on Kickstarter earlier this year, the MaKey MaKey project captivated the attention of the online world. Three months after raising over 20 times their funding goal, the initial kits have shipped, and we've had a chance to test one to see how well this Arduino-based invention kit works. Read on for our take on MaKey MaKey controllerism!
Manufacturer:  SparkFun
Price:  $39.99 (Standard Kit) | $49.99 (Deluxe Kit)
Availability:  ~September 19th (Preorder Available)
Communication:  USB (sends HID messages)
Standard Kit Ships with:  1 x MaKey MaKey HID Board, 1 x Alligator Clip Pack, 1 x Mini-USB Cable
Deluxe Kit Ships with:  1 x MaKey MaKey HID Board, 2 x Alligator Clip Pack, 1 x Jumper Wires Pack, 1 x Mini-USB Cable, 1 x Roll of Copper Tape
This DIY invention kit garnered more than half a million dollars in funding from Kickstarter members across the planet. If you missed the initial internet freakout, watch this video from the launch of the project earlier this year. In brief, the MaKey MaKey is a simple electronics kit that allows everyday objects to be used as basic computer keyboard inputs. As soon as we saw the project on Kickstarter, we knew we had to hook it up to Traktor for some fun.
HOW DOES THE MAKEY MAKEY WORK?

The kit that ships from Colorado-based SparkFun Electronics contains a MaKey MaKey circuit board, alligator clips and a mini-USB cable. Any object that is capable of conducting a minute amount of electricity can be used with the kit to send signals to the computer. One of the popular examples shows six bananas being connected up and used to play an online piano app.
The standard kit allows for up to six objects to be connected to the MaKey MaKey board. By default, inputs are limited to the four cursor keys along with space and the left mouse click. The board allows for extra objects to be connected to the back of the board (requiring additional connectors) and for those Arduino hackers out there, the entire unit can be configured to control whichever keyboard inputs are needed. It is also possible to run multiple MaKey MaKey boards on a single computer – all you need are spare USB ports.
CREATING A CONTROLLER WITH MAKEY MAKEY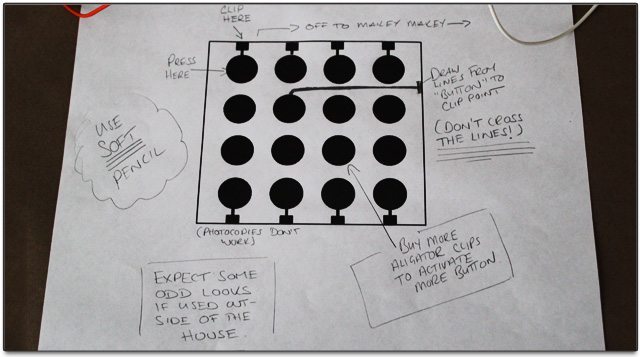 Before we go any further, we should point out  that the MaKey MaKey is designed as an easy to use and fun invention kit. We're pretty sure that the tin foil we used in testing using is not velocity sensitive.
Using the MaKey MaKey with Traktor (or any DJ software) is very straightforward. Create a new keyboard mapping in Traktor's Controller Manager and map whichever commands you like to the four cursor keys, shift and left click. You will want to disable or alter the default keyboard mappings to ensure that the default commands are triggered when you start using your new "interface".
We decided to build two simple concept controllers to test the unit with:
MaKey MaKey Test Controller Project #1 – The graPHITER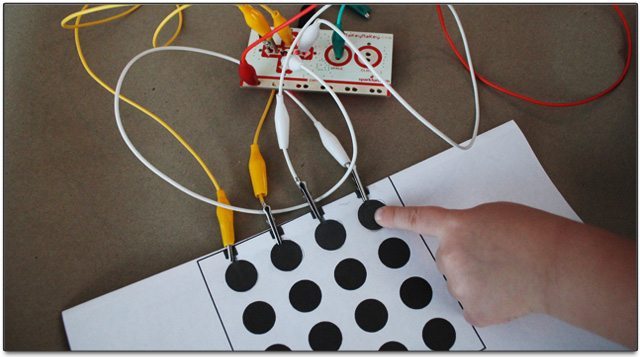 The MaKey MaKey doesn't require an awful lot in the way of conductive juice for it to be able to function. The potassium in a banana is more than enough to play the world's oddest piano, and the graphite in a good old fashioned pencil will allow you to draw your own controller on paper. Just be sure to draw thick lines to the edge of the paper so you can make a solid connection with the alligator clip and don't cross lines. This unauthorized Midi Fighter clone worked just fine – but don't expect to have ANY tactile feedback with a piece of paper.
Best Part: This project made us realize that the MaKey MaKey could be very easily used to test out ideas for other DIY controllerism projects. We find ourselves drawing up crazy controllers all the time and having the kit on hand would help us figure out how well they might play.
MaKey MaKey Test Controller Project #2 – The Big Maktor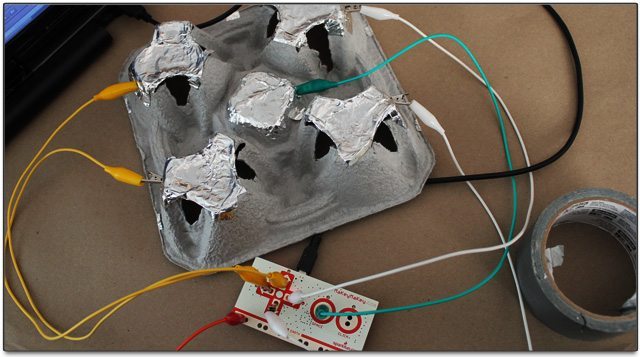 Fast food drink trays now have a use beyond quickly becoming trash! We decided to use this as a basic structure for our second test, simply because they were readily on hand in the testing lab. Flip the tray upside-down, stick tinfoil to each of the cup mold and pierce two holes in each mold for the alligator clips (full disclosure: we cheated a little and used adhesive tin foil tape found in the insulation aisle of any hardware store).  It's most certainly not the prettiest controller in the world, but it worked.
Best part: Realizing that we could pretty much make any object into a conductive surface using aluminum foil. Andy Warhol would be proud.
Taking It Further
These two basic controllers were fine for our tests, and while playing with the MaKey MaKey we also came up with a basic on/off foot pedal constructed out of a cardboard box and more of our trusty tinfoil. The possibilities are almost endless depending on what kind of an experience you want to create.
Why not scale up the size and create a Twister-esque controller that requires multiple participants? We even considered putting together a water-based project but that would just be inviting trouble.
CAN YOU USE THE MAKEY MAKEY IN A PERFORMANCE? 

Alright, so the invention kit is a lot of fun to build controllers with – how well will it work for a real DJ set? Playing around at home is one thing, but taking a setup that features a MaKey Makey into a live performance environment is a different level. We've made an assessment, so let's take a look at some of the key points to consider:
Inputs: The Standard Kit comes with six usable inputs and can be expanded up to 18 total. The Deluxe Kit provides the necessary jumpers to get rocking with all 18 connections out of the box.  This gives you the ability to put together a controller with a similar range of inputs as the Midi Fighter Classic. You can run multiple units at the same time, giving you more than 54 inputs but the standard keyboard restrictions mean you can only trigger six inputs simultaneously, and you'll need to use more USB ports.
Trigger Sensitivity:  The kit emulates standard QWERTY keyboard inputs, which should give you an idea as to the performance you can expect (unless you've never had to make do with your keyboard as your controller). The biggest variables in the set up are the connection points. The alligator clips are very flexible in terms of working with a wide variety of objects and surfaces, but it doesn't take much to accidentally move them, which can drastically affect responsiveness. There are hundreds of other wiring options for making the connections between the board and the input objects.
Customization: In the examples shown, we used the default cursor/space/click assignments on the front of the board. Anyone looking to use the MaKey MaKey for something more serious will want to be able to customize the inputs. To change the key assignments, the settings.h file in the Arduino IDE need to be edited. If that last sentence meant little or nothing to you, customizing the unit may have more of a learning curve than other devices/kits.
Construction: Assuming your connection points  between the board and your input objects are rock solid , there is no reason why you couldn't build something that would cope in a club/gig environment – but it will take a bit of smart construction skill.
Usability:  In our tests, it seems like finer controls aren't going to be the MaKey MaKey's strong point – but looping, cue points and other transport controls seem to work well.
THE BOTTOM LINE
For a kit designed to be a fun and educational tool, the MaKey MaKey has the potential to be customized and turned into a truly original controller. We love the flexibility and simplicity of the kit and there's no doubt that YouTube videos will soon begin cropping up and showing where people are taking this idea. We weren't thrilled with the length of the alligator clips or the lack of easy keyboard customization – but this won't stop a true DIY DJ.
When comparing the kit to a similar tradition Ardunio or Livid brain as a DIY project base, the key difference is that the MaKey MaKey is very simple and easy to get started with. You don't need to solder, code, or shell out more than $40.
(Editor's Note: We just got our unit here in DJTT HQ as well and are planning on playing with it to see what other crazy ideas we can try. We'll even shoot some video if we make anything really neat! Got requests? Let us know down in the comments.)
Learn more about the Makey Makey on the official website!