This morning the Native Instruments Traktor team released a teaser video of a new standalone mixer unit that appears to be a firm foray into professional DJ territory. The unit appears to be completely standalone mixer solution for both turntablists and controllerists who need a Traktor-certified mixer to put at the center of all of their gear. Read on to watch the video and see the full inferred feature list from video analysis!


VIDEO ANALYSIS OF THE TEASER
Obviously NI is intent on keeping most of the specifics around the unit still hidden, but just from this teaser there's a number of things we can tell right away:
The Name: If you pause the video and take a good hard squint at the name, we're pretty sure it reads Kontrol Z2 – this would make sense with Traktor's naming traditions.
S4-style Mixing: There are five knobs above each channel – clearly seems to be gain, EQ, and a larger filter knob at the bottom.
Complete Loop + FX Control: It's looking like the mixer will be easily capable of doing most of the grunt work in both the loop and FX departments for all decks – less like the S4/S2 in layout (horizontal) and more similar to vertical controls like the Pioneer T1 or many of the Rane mixers.
New Traktor Effects: some awesome new effects seem to be coming alongside this mixer's announcement – in the video you can see both a "Laser Slice" and well as a "Bass-o-matic" being controlled with the mixer's onboard controls
Integrated Soundcard: You can see "Master Out" along with some blurry additional outputs – most likely XLR out for masters, again with the seeming intent of putting this unit on the same level with similar Rane and Pioneer offerings
Potentially Scratch Certified: Traktor Scratch makes a heavy appearance throughout the video, with a turntable on the left side of the mixer and a CDJ on the right. As to if the audio I/O on the rear of the unit will have built-in Scratch Certified inputs is yet to be seen, but we're hoping and guessing that this is the case.
Two Channels, But Four Decks of Control?: While the mixer is clearly set up for just controlling two channels at once on the main mixing section, NI seems to be including features that will make it easy to be controlling all four decks – like the buttons above the cue-point controls pictured on the right. We're hoping the entire workflow allows very intuitive control of all four decks.
Obviously price hasn't yet been announced on this unit – with an integrated soundcard and complete control over Traktor, we're guessing that this will run in the $800 – $1200 range – based on the feature set, what would you pay for it?
One other interesting note – looks like there's a complete Traktor software update coming as well – take a look at the below screenshot of "Flux Mode" active on one of the decks (screenshot by our forum mod Photojojo).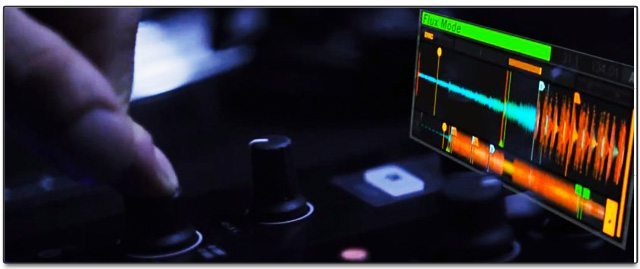 Overall, it's great to see this unit finally make it to market – even immediately after the launch of the Kontrol S4 nearly two years ago there was a high demand for a jogwheel-free version of that unit, and it's looking like this is it!
There's plenty more to be freeze-framed and enhanced over the next few hours – so get to it and let us know in the comments!