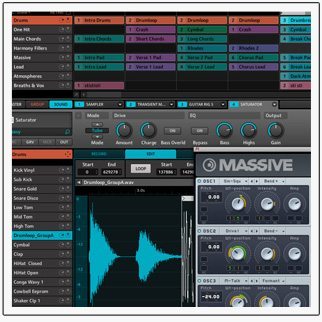 This morning Native Instruments has made the new version of the Maschine software (announced in parallel with Maschine Mk 2 earlier this month) available for download in their Service Center. Registered Maschine users will be able to download this update, and when they do, they'll also have access to a full version of the ever-popular Massive synthesizer.
What's new in the 1.8 update? In addition to a number of new production-oriented effects (like Transient Master, Tube, Tape Saturator, Tube Saturator), it also includes a massive amount of workflow improvements:
Host transport control: Running the MASCHINE software as a plug-in in your DAW*, use the transport buttons on the MASCHINE hardware to control transport in the host software. Important: Requires the latest version of the NI Controller Editor.
New Browser sample preview mode: Easily scroll through the browser list and pre-hear samples without loading them.
Revised select screen: Now includes individual note length and velocity editing.
Auto-write pinning: Pin the Auto-Write button for improved automation recording – tweak with two hands!
New hardware shortcuts: Select and erase events quickly and easily.
Panic button: Immediately cuts off all sound from MASCHINE.
Improved missing sample handling: Now locates files per project – point the MASCHINE software to the location for one missing file, and it automatically resolves other related missing files.
Sampler play position indicator: See the play marker in the sampler wave display – also shown in the hardware display.
Save Group with samples: Now you have the option to save Group with samples.
More Info