The Kickstarter-approved, open-source friendly and multitouch-sensitive QuNeo has captured the imagination of music producers. With every touch it can send velocity, pressure, and location messages – but the real question is, how good is it for actual DJ and live performance use? We put this iPad-sized wonder through its paces (and then some!) to find out where it shines and where it may need a helping hand.
Manufacturer: Keith McMillen Instruments
Price: $249.95 (MSRP), $199 in the DJTT webstore
Availability: Now, but availability varies by store
Communication: OSC and MIDI over USB (USB powered)
Ships with: USB A-to-Micro USB 2.0 cable, documentation, QuNeo Editor software and software templates for popular DJ and production programs available as a download.
Weight: 14 oz.
Dimensions: 9.5" x 7.3" x .3" inches
The Good: Pads, sliders and rotaries can send three dimensions of control at once. The 16 drum pads multiply to a 64-button grid in Grid Mode. Deep programmability, especially when it comes to velocity sensitivity. Several usable templates for popular DJ and production software. It's the size of an iPad, but not flimsy, and stands up to serious abuse. Gorgeous light display makes for good stage showmanship.
The Bad: LEDs not nearly as brilliant in bright daylight. Buttons lack the extremely fast physical response that we're accustomed to on the Midi Fighter arcade buttons. To master its programming you may need some Adderall and a free weekend.
The Bottom Line: While it may not change the game entirely, the QuNeo raises the bar on small-form controllers at least twice: Its "3D" controls can send three layers of commands (velocity/pressure/location or direction) rather than the usual two (velocity/pressure), and its extraordinary build makes it the size and thinness of an iPad while still feeling robust.
AUSPICIOUS BEGINNINGS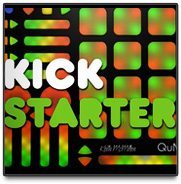 No one can accuse Keith McMillen Instruments (KMI) of eschewing modernity. Everything about the QuNeo — right down the way it was funded — screams state of the art. In early January, the slimline "3D multi-touch Pad Controller" crushed its modest Kickstarter goal of $15,000 with a total of $165,914 from 678 backers, most of them pre-paying for a unit. Read more about how this process worked and the development of the QuNeo in last week's in-depth article by Kylee.
Yet 21st-century fundraising doesn't begin to tell the story. The QuNeo astonishes with its waif-thin form factor; its dimensions are identical to an iPad's, which is no accident. Not just an engineering feat, it was a strategic move to make the QuNeo compatible with certain mass-market iPad accessories, such as iPad microphone stand adaptors (iKlip for example) and certain carrying cases. Hopping on a train that is still picking up steam, the QuNeo can control iPad apps but you'll need a couple of add-on adapters. There are also a couple of iPad app preset templates included- most likely the first of many more to come.
Most importantly, the QuNeo couples multi-touch sensitivity with an extra layer of control and deep programmability. The "3D" in its name refers to the ability of most of the QuNeo's sensors to send velocity, pressure, and location information. For example, the drum pads can send x/y axis parameters, or in Grid Mode, each pad can send 4 separate note/pressure commands (one from each corner), instantly making the 4×4 pad array into an 8×8 grid of 64 triggers. Some pads can even send direction and width information.
Already all of the above places this $200 controller squarely into the conversation of both drum trigger and button grid controllers. To top it off, the QuNeo can send both MIDI and OSC data over its powered USB connection, and it features an open source development kit and API for advanced programmers. The Keith McMillen Softstep impressed us enough last year to add it to the DJ Tech Tools store; let's see if the company has another unmitigated hit on its hands.
THIN IS IN

There are 27 total pads, sliders and rotary sensors on the QuNeo, each one sensitive to velocity, pressure and location. The two rotary sensors can also send direction info — making them stand-ins for jog wheels in DJ applications — but they can't send direction and location simultaneously. The sliders and rotaries can also have up to 4 banks programmed, so for instance, the four vertical sliders could control up to 16 track volumes in Ableton Live or another DAW program.
Another 17 buttons respond to both velocity and pressure.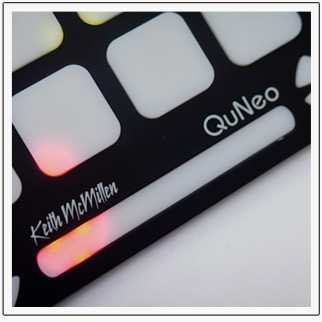 With all of that packed into an iPad-sized controller that stands only 0.3 inches high, durability may seem like a concern. However, the unit feels quite sturdy. It can bend a tiny bit under pressure, but it doesn't creak audibly like many small-form controllers we've come across. Provided that the sensors themselves can withstand a shellacking of live use, the chassis feels worthy of the rigors of the road. You can stuff it into a cushiony iPad case or the sleeve that Keith McMillen sells to be safe.
Due to its svelte nature, the QuNeo relies on a micro-USB connection for both power and data transfer. It's class-compliant and requires no drivers, just a comprehensive Quneo Editor to program the 16 onboard presets and some software templates are available for download.
DURABILITY AND STRESS TESTING

We asked Keith McMillen Instruments if the QuNeo could stand up to having water or beer poured all over it, and when they didn't yet have an official answer, Mad Zach couldn't resist a chance to find out if the controller could stand up to the challenge. Watch the video above to see what happens when we put the QuNeo in one of the worst situations that can happen during live performance!
PROGRAMMABILITY

You can use the QuNeo with the factory preset templates, third-party presets or program it using either the QuNeo Editor software or the CoMA mode made for compatibility with the MIDI Learn functions of programs like Ableton Live or Apple Logic (see the MIDI in a CoMA section below).
KMI promises access to the open-source development kit and API for advanced programmers, but for most of us mouth-breathers, the QuNeo Editor provides a comprehensive programming interface for the full power of the QuNeo. For anyone who is used MIDI or patch editor software with music gear before, this program shouldn't be too intimidating; it's the sheer options available that make it nervous-gulp inducing.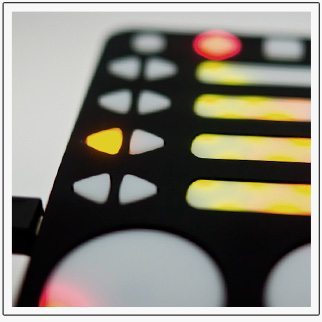 The QuNeo includes 16 onboard preset slots, including 16 factory preset templates, but with the Editor software, you can create, duplicate, import and export as many presets as you wish, shuttling them to and from between the controller and your computer, and then shooting preset files out to the wild, wooly Internet for other people to enjoy if you so choose. In the software, you click on any control sensor of the QuNeo to see its set of editable attributes. Transport buttons have the fewest options: selectable MIDI channel, MIDI note number, pressure CC# and selectable velocity sensitivity. The manual includes a handy chart that converts MIDI notes to a number, based on the C3 = 60 standard.
Sets of arrow buttons also let you enable bank switching which determines whether the sliders and rotaries will have four banks of controls. In practice, the QuNeo hardware arrow and rhombus buttons let you know which bank is active according to LED color coding. Sliders add Location CC# to the mix, and the long slider (crossfader) specifically adds a Width value. With Width, pressing two fingers sends a CC# that represents the distance between the fingers. As you move them apart or closer together, the value increases or decreases.
The rotary sensors let you determine a value for Direction, but Direction and Location cannot be active at the same time. The rotaries also have a Pass Thru Width, which establishes a range at which the rotary will pick back up from the last location. This means if the Pass Thru Width is 127, you can touch it anywhere, and the rotary will pick it up. If the Pass Thru Width is 10, you have to touch within 10 levels of the last entered value to pick the control back up.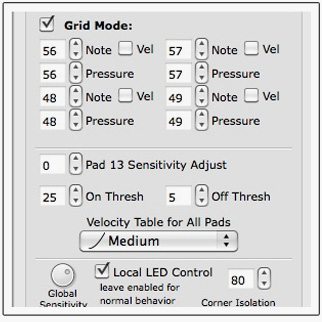 The pads have separate controls for whether they will be in Drum Mode (default) or Grid Mode (selectable). In drum mode they have CC# numbers for the X axis, Y axis, pressure, and the X/Y return value: the position the X and Y axis values will return to when released. In Grid mode, you determine the Note and Pressure CCs for each of the four corners of a pad.
If all that's not enough, you can select the Advanced settings from the View menu in order to choose the Pad Sensitivity and on/off thresholds for each individual pad. There's also a Velocity Table for all pads, where you can choose the sensitivity levels Light, Medium, Hard, Full or Dynamic to suit your playing style, a Global Sensitivity dial for all controls, and a Corner Isolation value, used for determining how hard you must hit another corner of a Grid mode pad in order to trigger another corner when one is active – intended to help prevent unwanted triggering.
MIDI IN A COMA: IT'S SERIOUS
To get a MIDI map going a little quicker using a software program's MIDI Learn function, Keith McMillen has endowed the QuNeo with the Controller Mapping Assistant, or CoMA Mode. Because the QuNeo can output multiple data sources from a single control, and that can muck things up when using MIDI Learn, the CoMA Mode adapts the QuNeo to play nice with a MIDI Learn system.
You just have to turn on the MIDI Learn function in the software, and then switch the QuNeo to CoMA by pressing and holding the Mode button in the top left corner for one second, until all the QuNeo LEDs momentarily flash. The Mode button will illuminate blue to let you know it's in CoMA. Then you can operate the MIDI Learn process normally and finally hit the QuNeo's Mode button again to exit CoMA.
We used CoMA Mode to great effect in Live, quickly assigning scene and clip launch controls to the pads in Grid mode, track volume to the vertical sliders, etc.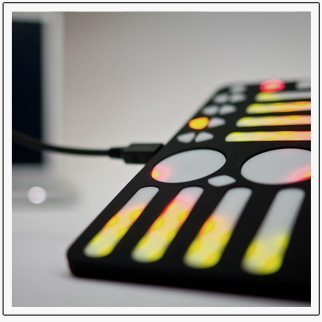 USING THE FACTORY TEMPLATES
With the kind of programmability that the QuNeo holds under the hood, it may be an under-utilization to confine it strictly to preset templates. On the other hand, the very portability of the QuNeo makes it highly attractive as a supplementary controller or primary controller for the minimalist.
We should also mention that KMI has done a commendable job with stocking the QuNeo with very useful templates for popular software right out of the box. You get 16 factory presets, including custom mappings for: Ableton Live, Logic, Mixxx, Reason, Serato, Native Instruments Battery, Traktor, and two iPad apps, BeatMaker and the Korg iMS-20 synthesizer.
All the templates come with pretty clear documentation showing the control layout graphically. To get started, you just plug in the QuNeo, launch the software, select the QuNeo in the software's controller/MIDI preferences, and then select the correct preset on the QuNeo. To do that, you tap the Mode button, and then hit the corresponding drum pad (1-12) for the template you want.
Traktor Template
The Traktor template showed great potential, but I don't think it will be quite right for everyone – although KMI has noted they're still making ongoing revisions to all of the mappings based on user feedback. The rotary sensors made decent jog wheels for Deck A and B. When the decks aren't playing they operate in a scratch mode, and when the decks are playing, they speed up or slow down the track up to 50% when you rotate a finger either forward or backwards.
Over on the pads, the two top rows are in Grid mode; the top row sets instant loops of 8 different lengths on both Deck A and B, and the second row sets 8 cue points for Deck A and B. In this template, the QuNeo Rhombus key works as the Shift button, and you can use the Shift + Cue Point commands to undo a cue point, as usual.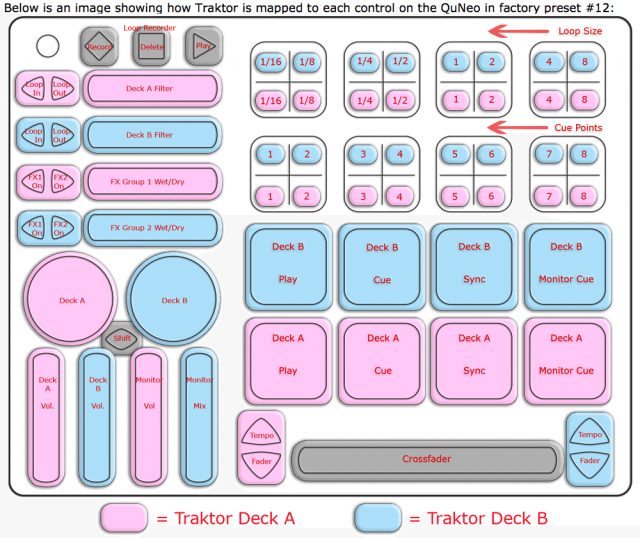 While the QuNeo's Grid Mode is an ingenious way of letting the controller work as both a button grid or a drum pad controller, for my taste the cramming of four cue point and 4 loop setting controls onto a single pad did not feel completely comfortable. The LEDs illuminate on each corner when there is a cue point or loop set, so that's not a problem. Rather it's the close quarters that makes rapidly jumping around to different cues and loops a little bit dodgy. Getting the trigger sensitivity to suit your individual needs can also take some tinkering in the Editor software and some patience.
One other small nitpick is that on the sliders and rotary sensors, Deck A controls sit on top of or to the left of Deck B controls, yet on the Grid and Drum pads, the Deck B controls sit on top of Deck A. That's a bit off-putting, personally.
Fortunately it's not that difficult to edit the preset to your liking. Especially because the QuNeo preset doesn't include track browsing and track loading controls, I liked to use it with a second controller. (Here's how to set up multiple controllers in Traktor Pro.) Pairing it with a Kontrol X1 can make for a pretty wicked compact setup, or using it with a larger controller can give you a lot of expansive options.
ABLETON AND HARDWARE

Obviously the QuNeo is designed to be used across a wide array of software and hardware, so we had Mad Zach spend an hour this week trying out the Ableton mapping and also using it with a 808 drum machine in the above video.
NOW AVAILABLE

After some thought and testing, we decided that we should put our money where our reviews are – and have decided to add the QuNeo to the DJ TechTools boutique webstore. The unit is a solid choice, especially in place of a lot of touch-based applications that lack any tactile feedback like Lemur and TouchOSC. If the QuNeo seems like it's your dream controller:
Purchase a QuNeo in the DJTT Webstore now!