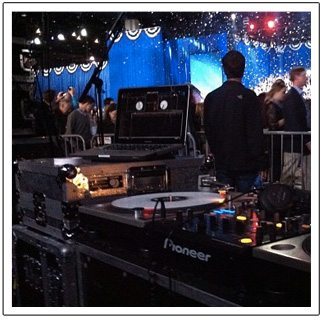 Occasionally we find incredible stories around the web from DJs that inspire and offer a unique point of view from behind the decks – so instead of just hoping that our readers also happen across them, we're going to publish excerpts from our favorites that we find here in the DJTT news feed.
This first one comes from last week – election night in the US – from Chicago the massive party at Obama's headquarters with DJ Mel on the wheels of steel. Stereogum got a full interview with him – our favorite moment in the interview is his description of when the news came through that Obama won, and his on-the-fly selection of a victory song:
STEREOGUM:You didn't have any pre-gig anxieties?

DJ MEL:I didn't prepare for it at all! The only thing that I was prepared with were those pre-approved songs. It didn't hit me until I walked into that empty venue and the press was already there and there were tv cameras everywhere. I just looked around stunned. That's when it hit me.

When I ran out of the [pre-approved] songs was right around the time they announced that Obama had won. It just happened so quickly and I was so happy — I was jumping up and down and the whole room was going apeshit. I couldn't even think. Even though I was there working I was so worried that the dude was going to get robbed or that we were going to have to wait for a week for a recount or something. So while I was jumping up and down, I just spur-of-the-moment grabbed and decided to play "Twist And Shout." The room went bananas and the sound guys were looking at me, telling me that the producers were giving me a thumbs-up. I was honestly just standing there so happy, thinking about how crazy everything was around me. And then it dawned at me that we were in Chicago and Ferris Bueller took place in Chicago — that song "Twist And Shout" played such a big part in that movie. I remember that the crowd in that movie was just as diverse and it was just this scene of joy. It reflected what was going on in that venue on that night, too. That's when I decided I should just wing it for the rest of the night. I was like, I should just do what I do and really think about what I'm playing. I immediately thought of really uplifting, soulful music. Songs that people knew or didn't know — the cool thing about it was that they were all songs that I really, really love.
Read the full interview with DJ Mel on Stereogum.