In Austin, the South By Southwest Interactive and Music festivals have a day of overlap, so it's no surprise to see an event that incorporates elements of each. Richie Hawtin and Deadmau5 spent an hour together to chat about where music and technology meet and their thoughts on the future of innovative music technology. Read some of our favorite moments from their conversation inside.
The event itself is a lead up to tonight's performance at the SXSWi Closing Party at Stubb's BBQ in Austin, which will feature Deadmau5 and Richie Hawtin playing a back-to-back set that's being billed as a versus set – meaning that they'll playing in some collaborative way together.
SYNCing up at sound check with @deadmau5 at #Stubbs at #sxsw

— Richie Hawtin (@richiehawtin) March 12, 2013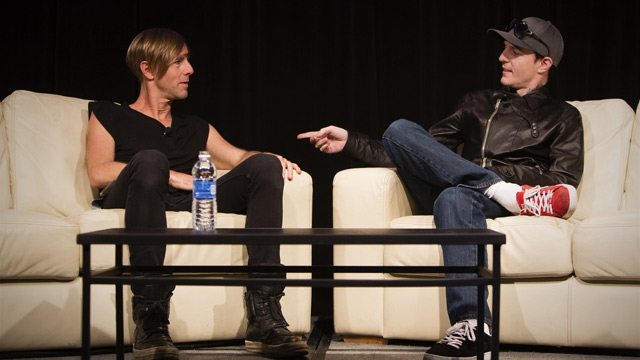 We had ears in the event, entitled "In Conversation: Talk. Techno. Technology.", and compiled some of the key moments of conversation with quotes from both Joel (Deadmau5) and Richie below – as well as some of our favorite selections recorded by attendees on Twitter!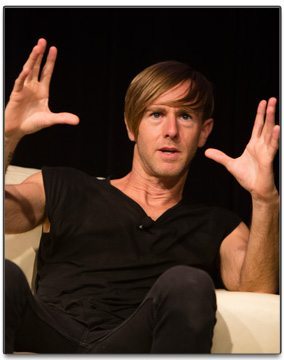 Richie summarizing why he and Joel chatting are about this topic:
Richie: "We are two geeks and feel pretty good with computers rather than people sometimes"
On the modern music production: 
Joel: "It's so cool today that people can just download demos [of production software] and try things out so easily"

Richie: "It's great that it's so easy – but is it better?"
On performing live:
Richie: "Do the complexities of a live performance weigh you down sometimes?"

Joel: "There are the four chin-strokers in the back that care about everything, and then there are the other 98% that wish to remain agnostic and be in the moment. […] We are the only people that care, everyone else is more interested in seeing the show."
On the monotony of DJ technology: 
Joel:I have considered the possibility of having two studio setups and treating them like two CDJs. Homeboy wants to play Levels, let him play it. But does he have a 32-part stem file of it? […] But then you are one man banding it again..

Rich: Wouldn't it be good if we could have a new format? An 8-channel multi-file that we could all be playing with? As DJs we are a little handcuffed creatively.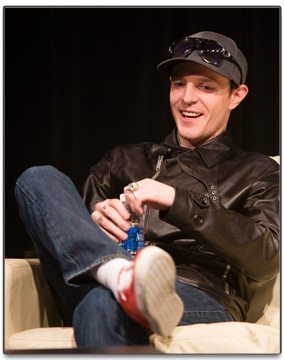 Despite his massive success, it seems like Joel still has a massive amount of respect for Richie Hawtin – not a surprise considering Hawtin's background. On playing with Richie tonight: 
Joel: 10 years ago if someone had told me "You are going to play a set with Richie Hawtin", I would have been like "…no wayyyy!" It's pretty cool; I am absolutely honored.
On the forumla of pop music: 
Joel: I go to Pinkberry a lot – and they have a rather interesting playlist. You hear one song, and then you hear another one just like it by another dude. I am actually shocked that the record labels don't just go home and make the music on their own! Cut out the middle man!
Joel talking about the appeal of his costume:
"If I was a 5 year old and saw a guy sporting a mouse head jamming some incredible tunes, I'd be geeked too" @deadmau5 #hawtmau5 #sxscout

— molly currey (@mollynann) March 12, 2013
People gravitate toward an image like a giant mouse head but you can use that to take them to more depths #hawtmau5 #sxswi

— Kit O'Connell (@KitOConnell) March 12, 2013
Joel and Richie also quickly discussed how DJ schools are now teaching students to emulate a specific artist's style: 
#SXSW #hawtmau5 Richie says there's a lack of personal style in EDM today: There's a manual now. There never was a manual before.

— Nadia Neophytou (@NadiaNeophytou) March 12, 2013
"You can't teach style" @deadmau5 on DJ schools teaching students how to imitate electronic artists. #SUatSXSW #hawtmau5

— Gauraa Shekhar (@GourmetGauraa) March 12, 2013
"maybe that's why EDM is so big now, its been homogenized" – Richie HawtinYEP!#hawtmau5#Sxsw2013

— Mallory(@lapommedeterre) March 12, 2013