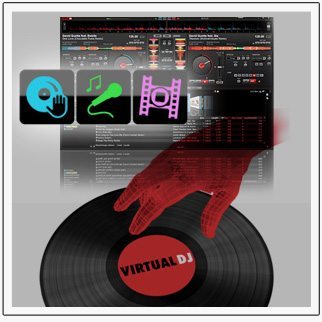 Atomix Productions is rolling out a brand new update of their VirtualDJ software this afternoon, version 7.4. The software has a number of minor updates – but the big win for users is a brand new cloud-based content streaming service wrapped into VDJ for professional DJs, dubbed ContentUnlimited. The service allows users to stream an unlimited amount of HD music videos, karaoke files, and audio tracks. While streaming audio had been available previously in partnership with Grooveshark, the two new partners added include MegaHits (formerly known as ChartBusters) and VJ-Pro.com. T
The content is available for all users in 30 second previews, but subscription plans (which is cleverly marketed on Virtual DJ's site as "the Netflix of DJs") for each type of content are available for different prices:
Music Plan (Grooveshark) – $9.99 / month; 15,000,000 tracks
Karaoke Plan (MegaHits and eventually SunFly) – $19.99 / month; ~20,000 karaoke videos
Video Plan (VJPro) – $49.99 / month – currently only available for US DJs due to licensing laws
Virtual DJ 7.4 also adds a fair amount of compatibility for Windows 8, including support for multi-touch computers (read: Microsoft's Surface), fixed a number of bugs, and has a remake of the MusicGroups service into two software features:
LiveFeedback: recommends what tracks to mix in with the current playing track based on what other VDJ users have mixed in
MySets: creates a webpage that shows users their set history
Version 7.4 is available for download now on VirtualDJ.com – but for those of you holding out for Version 8, they're still working on it!