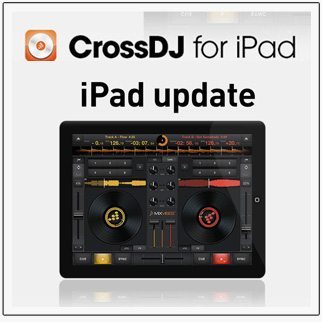 CrossDJ from MixVibes is one of the DJ applications that's making a name for itself by trying to beat the Big Three (Serato, Traktor, VirtualDJ) at their own feature set – and their brand new update for CrossDJ for iPad attempts to show up Traktor with an advanced keylock algorithm. The new version (1.1) purports to have the best audio algorithms available powering the keylock system.
Here's the full feature list from the MixVibes press release:
The app uses the best algorithms available on the market, so the sound is crystal-clear. The quality of the audio
output has never been so high on an iDevice. MixVibes proves it again with the new keylock function.

Keylock: mix everything with everything
No matter how much you change the tempo of your track, the tone will remain unchanged (without any distortion),
the music will stay harmonious. Keylock is useful when you mix different music genres. Indeed, 2 tracks from different genre have very different BPMs. This functionnality allows you to feel completely free and mix various music!
At the end of the day, you are more focused on your mix, and less on the technology.

What's new in this version (1.1)

Keylock.
Faster library browsing.
Tapping on the vinyl when no song is loaded opens up the collection to load a song.
Master knob is linked to the iDevice volume buttons.
Optimized delay effect.
Cue / Play swipe.
New settings: Security, Pitch bend.
Various bug fixes and enhancements.
To promote the new release, CrossDJ has posted a video explaining the basics behind keylock and pitch bend and how it affects sound – a good overview for beginners:
CrossDJ users, we want to hear from you – how good do you find the new keylock engine?