Musikmesse 2013 has brought two new DJ mixers to the table from Pioneer and (less-expectedly) Reloop!
Just spotted this afternoon is a very similar-looking mixer from Reloop, the RMX-80. Also a four-channel mixer with digital effects and dedicated filters, we've just seen a leaked press release and small photo evidence seen here from Bax-Shop.nl: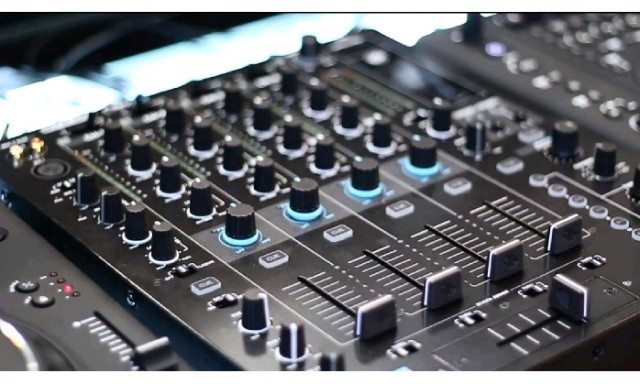 Reloop RMX-80 Digital Features

4+1 channel performance club mixer
Fully digital architecture for outstanding sound and flexibility
Future-proof thanks to innovative, updatable firmware system
Setup utility mode for extensive control and setting possibilities (master, limiter, solo/mix cue, isolator crossover, talkover threshold, mic-to-booth, cue-to-booth, LED check, factory reset, firmware update)
13 high-quality performance effects in studio quality (flanger, delay, echo, reverb, transformer, pitch shift, loop roll, reverse loop, noise, bitcrusher, gate, tape delay, send/return)
Direct access to effect modulation (trigger, LFO, time, pitch) via time bar buttons
2 independent beat counters with 'intelligent tempo detect'
Large, well-structured LCD display for all important functions
Bipolar filter per channel
Adjustable EQ characteristics (kill & classic)
Fader & crossfader-start
Innofader compatible
Mic channel with 2-band EQ & talkover 'active ducking technology' for mic channel
Intelligent 1-knob equalizer and mono/stereo switch for headphones
Active 3-way USB hub for additional audio interface or controller
Individual zone routing
Symmetrical (XLR) as well as asymmetrical (RCA) outputs

Technical details

Inputs: 7 Line, 2 Phono, 2 Mic, Return
Outputs: Master 1 XLR balanced, Master 2 Chinch unbalanced, Rec, Booth, Send – Frequency range: 20 Hz – 20KHz
EQ range classic: +12 dB/ < -26 dB
EQ range isolator: +12 DB/ -8 dB (total kill)
Dimensions: 320 x 107.5 x 382.4 mm
Weight: 6.9 kg
From Pioneer is the brand new four-channel DJM-750, which brings a simplified version of the color effects found on the DJM-800/900 to a slightly more price concious mixer, with an MSRP of  $1,199/€999 Check the obligatory Pioneer promo video and the full specs below:
• Boost Color FX – The new Boost Color FX enables users to change the parameter of an effect with the varying rotation speed of the integrated controller knob. The degree of the selected effect is intensified (i.e. increase cut rate) the faster the knob is turned. The Boost Color FX knob can work on any of the integrated mixer effects and the feature includes four different types of effects, Filter, Crush, Noise and Jet.
• Sound Color FX – The Sound Color FX offers four types of effects (Filter, Crush, Noise, Jet) for more creative mixing options. Users also have the ability to switch between Sound Color FX and Boost Color FX to match the music playing.
• Beat Effect – The Beat Effect function presents 13 different types of effects (Delay, Echo, Spiral, Reverb, Trans, Filter, Flanger, Phaser, Robot, Vinyl Brake, Slip Roll, Roll, and Reverse Roll) that can be combined with Boost Color FX and Sound Color FX to create more than 100 types of effects for extremely original remixes.

Superior Sound Quality

24bit/96kHz High-Performance USB Sound Card – The DJM-750 4-channel digital DJ mixer is designed with a built-in USB sound card that enables simultaneous input-output of stereo signals for up to four inputs/outputs2 with no deterioration in sound quality.
The sound card supports three different sampling rates (96kHz/48kHz/44.1kHz) and ASIO/Core Audio standards, ideal for DJ play and music recording and production.
USB port, located on top of the mixer, enables quick connection of devices.
The signal output path from the mixer can be easily modified using its setup tool via a computer3.

• Sound Quality Design – The mixer produces clear and powerful audio using high quality components such as a 32-bit digital signal processor (DSP) and SEND/RETURN circuit parts, as well as a low-jitter crystal oscillator installed in the clock of its audio circuits, to deliver the most precise audio signals and accurate audio reproduction.

Additional Features
• Information from operation of the device's knobs and buttons is transmitted to external DJ software and effectors, etc. as a MIDI4 signal, with a "Full Ensemble MIDI" function built in to enable simultaneous control of this device and other external devices.
• Each channel is equipped with a switch-type 3-band equalizer (+6dB to -26dB) and 3-band isolator (+6dB to -?dB).
• Channel fader knobs and cross-fader knobs offer a "P-LOCK Fader Cap" applying a lock function to guard against accidental disconnection of knobs.
• Auto Standby automatically senses active operation and the presence of input signals, switching to standby mode when a long period of input is not detected.

The DJM-750-K (black) and DJM-750-S (silver) are both available in June with a suggested retail price of $1,199.00.