Soundcards – for electronic music producers, they're the central hub of input and output to a digital audio workstation in a home studio. Today we've got a massive roundup of five soundcards under $1000 for producers who demand quality while still remaining within a budget. Read on to see how offerings from RME, Apogee, Propellerhead, Akai, and Alva stack up!
The pictured soundcards in the above image are the Balance, EIE (not the Pro model), and Nanoface.  
SOUNDS GOOD!
When it comes to choosing a sound card for modern electronic music production setups, there are no shortages of affordable, capable options. With the advent of computer-based digital audio workstations, it's now possible to record, mix, and master everything 'in the box,' eliminating the need for a plethora of outboard gear.
Consequently, a new class of ultra-portable audio interfaces have emerged that despite having a limited number of inputs and outputs, are jam-packed with all the features you need to create computer-based music.  In this roundup, we're featuring five of these sound cards that span a range of prices and features to help you determine which one is perfect for you.
Already know what you want? Jump to a specific review here:
RME Babyface | Apogee Duet 2 | Propellerhead Balance | Alva Nanoface | Akai EIE Pro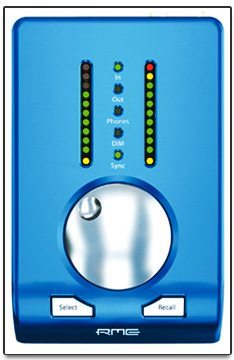 First is the RME Babyface, a card that sports both a comprehensive feature set and a relatively high price tag. RME has an excellent reputation in the pro audio world for crafting high-quality interfaces with innovative features and solid drivers. The Babyface is no exception and includes many features found on RME's higher end interfaces.
For most project studio users looking to purchase a high-end two-channel interface in the price range of the Babyface, the chief concerns would be sound quality of the A/D converters & mic pre-amps, latency performance, and ease of use. RME's custom M- series converters sound crisp, accurate, and among the best of the units tested. The Babyface's converters will definitely not be the weak link in your monitoring chain, and with its large wheel to control the output, input, and headphone volume, the Babyface doubles as a monitor controller quite handily. While playing back a relatively quiet, un-mastered recording, I was able to set a comfortable listening level using only about a third of the Babyface's available output gain. The mic pre-amps also performed well, providing an accurate recording of vocal, guitar, and piano tracks. The Babyface delivers up to 60dB of input gain, which is enough for recording even demanding phantom-powered ribbon microphones. The sound of the preamps and converters did not color the sound in any way but lent itself quite well to post-recording effects processing.
An often-overlooked quality in sound cards are the drivers. Some manufacturers invest all their time and money in crafting stellar pieces of hardware then write sub-par drivers for their devices, often as an afterthought. On OS X, the Balance and Duet 2 both use the Core Audio driver built into the operating system which provides easy setup and integration with on OS X and iOS, but delivers less than optimal latency performance. RME crafts its own custom drivers, which ensures optimal functionality and latency performance. I was to run a fairly demanding control project full of third party VST instruments and effects in Ableton Live 9 at just 32 samples (2.15 milliseconds of latency) at a sampling rate of 44.1 khz with the RME Babyface, making it by far the best choice out of any of the sound cards listed for driver stability and latency performance.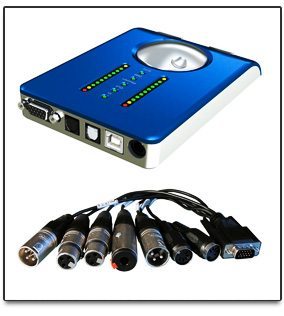 The Babyface is, for the most part, exceptionally easy to use. Weighing just 1.1 lbs, it is light enough to be easily portable, but is heavy enough to ensure durability and quality craftsmanship. Connectivity is provided via a breakout cable (pictured at left).
The only thing that isn't so user-friendly is RME's TotalMix FX software control panel. Although it's clearly a powerful piece of software that promises to help you route, affect, and monitor all the audio coming into and going out of the Babyface, its interface is more than a little daunting and prevented me from fully coming to grips with it. Admittedly I've had little need for the bulk of its features, aimed at live sound and conventional studio engineers who must manage the monitoring of multiple musicians. These features have far less relevance for electronic musicians generating all their sounds in the computer. Still, TotalMix FX provides you with features like Dim, Talkback, Direct Monitoring, and extensive routing options usually found on high end recording consoles to confidently handle any recording situation.
Summary: the RME Babyface is an excellent choice for project studio musicians. The top-notch sound quality of its converters and preamps, exceptional drivers, and robust construction make it a pleasure to work with as long as you can reconcile yourself with the relatively high price tag. It is also worth noting that many of the features found in TotalMix FX that surely contribute to the Babyface's higher price tag aren't particularly relevant to electronic music producers operating exclusively in the computer, so if you're after a simple, no frills two-channel sound card with superb sound quality, you may want to consider the Apogee Duet 2 or look elsewhere to save some money.
Verdict: 4.5/5
Pros: Rock solid drivers & latency performance, very clear & detailed sound quality, clean & loud pre-amps, very flexible DSP, expandable
Cons: Expensive, confusing control panel software, DSP features are overkill for most project studios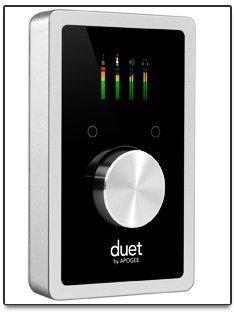 Apogee's Duet 2 sound card is a follow up to their acclaimed original Duet FireWire interface and supports the Mac OS X operating system exclusively. Not surprisingly, the Duet 2's brushed aluminum chassis and the Maestro control panel software looks and feels very much like an Apple product. At $599, its feature set emphasizes sound quality and solid construction whilst relying on a breakout cable for connectivity, much like the RME Babyface. Unlike the Babyface, the Duet 2 forgoes extra features such as a carrying case, digital I/O and onboard DSP in favor of retailing at a lower price point.
Using the Duet 2 is quite simple and straightforward. Simply plug in the device via the included breakout cable (or optional breakout box), download the driver from Apogee's website, restart your computer, and you're off and running. Despite having some previous driver issues when awaking from sleep, Apogee updated the drivers to address this issue. During testing, the drivers performed quite well, managing latencies as low as 96 samples (around 5 miliseconds) on a CPU intensive Ableton control session running at a 44.1 khz sample rate.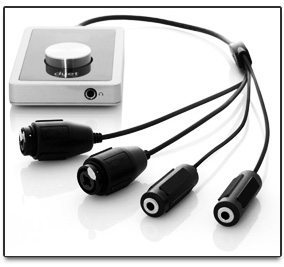 The large silver knob on the top of the Duet 2 acts as both a monitor controller for the two main outputs and headphone output, while also controlling the input level of either one of the Duet 2's two XLR/TRS inputs. The bright, colorful OLED display above the encoder provides excellent visual feedback on the levels of all inputs and outputs. Like the RME Babyface, selecting which input or output you'd like to control is as simple as pushing the silver encoder. The Duet 2 also includes the novel feature of assignable touchpads located directly below the monitor encoder, enabling you to assign a function such as output mute, dim, or sum to mono from the Maestro control panel. The control panel's straightforward interface provided a welcome relief from the bewildering complexity of RME's TotalMix FX software, but at the cost of considerable functionality. Here you can access I/O levels and settings, engage phantom power, enable soft limit to avoid clipping while recording, and much more.
Out of all the interfaces tested, I found the Duet 2 to be the most pleasing to the ears. The sound was smooth, detailed, and wide open while containing incredible detail during both playback and recording using all available sample rates. I was able to achieve a comfortable listening volume using only a third of the Duet 2's available mains output, and the 75db of input pre-amp gain proved more than enough for capturing impressively loud recordings from microphones. The headphone amp also proved to be quite powerful, requiring only about a quarter of the available level.
Summary: The Apogee Duet 2 is a great-sounding, capable audio interface for modern recording applications. Despite being available exclusively for Macintosh computers and not very expandable due to a lack of digital I/O, the Apogee Duet 2 will most likely handle any 2 channel recording situation you can throw at it. Although the lack of onboard DSP and extensive routing options that can be found on its main competitor, the RME Babyface, make the Duet 2 less expandable and more limiting, the card is perfect for those who just want high quality playback and recording without all the bells and whistles.
Verdict: 4/5
Pros: Superb converter & pre-amp sound quality, OLED display provides instant visual feedback, Maestro software is simple and easy to navigate
Cons: History of driver connectivity issues, latency not as low as RME Babyface, expensive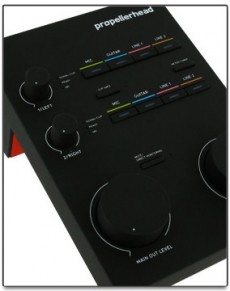 Propellerhead, the Swedish company known for their software DAW Reason, makes their first foray into the crowded market of desktop audio interfaces with Balance, a 2-in/2-out ergonomically shaped device that doubles as a monitor controller. Priced at $399, the card is targeted at budget producers who want hands-on control of their music and the ability to easily record multiple microphones and instruments. Balance delivers all that and then some, with a few innovative extras thrown in for good measure.
Out of the box, you'll find the Balance, a USB cable, and a copy of Reason Essentials to get you making music right away. Connectivity options include 2 XLR microphone inputs with phantom power, 2 ¼" guitar inputs with gain boost (pad), 4 TRS inputs, and 2 TRS outputs. Despite the extensive connectivity, only 2 inputs and 2 outputs are available for simultaneous use, meaning you'll need to select them from the onboard controls. Despite this limitation, having the ability to connect multiple input sources means less time unplugging and re-plugging cables, making the Balance similar to a mini patch bay. The matte black colored interface is sleek and boxy, but its angled design is both a blessing and a curse: its large volume control knobs are easy to use while planted on your desktop but the device is rather awkward to travel with. The lack of a collapsible design is lamentable, but it can hardly be considered a serious design flaw for a product that's destined to spend most of its time on your desktop.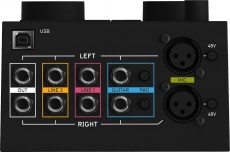 Configuring Balance to work with your computer couldn't be easier on Mac OS X thanks to the Propellerhead's use of Apple's Core Audio drivers – plug and play. On Windows, things are slightly more complicated, requiring a driver download from the Propellerheads website and a quick reboot. Getting up and running with Reason Essentials is quick and easy thanks to the software license that's stored directly on the device via an embedded flash drive.  This is a nifty feature but too bad you can't write any files to this drive. Once you're setup with the DAW of your choice, you're able to access the essential functions of the interface such as setting input and output levels, enabling phantom power, and selecting inputs directly from the device itself. This is a great design decision that makes interacting with the Balance quicker and easier than navigating software control panels and is more akin to working with traditional recording hardware.
Once I loaded up my test session in Ableton, using the Balance was quite straightforward. I was able to get a nice loud signal using only about a third of the available output. The Texas Instruments microphone pre-amplifiers performed quite well, requiring only about half of the available gain on the stepped input knobs to capture decently lively recordings of guitar, piano, and vocal tracks. And just in case your input levels get too hot while recording, you can enable to "clip-safe" mode to automatically reduce the input level and prevent digital distortion. The Balance uses Cirrus-Logic converters that sound decently punchy and accurate and are the same as those used in the Audio 6/10 series of Native Instruments Traktor sound cards. However I did notice a slight bit of noise that was faintly audible even when the main out and headphone out knobs were turned all the way down. For the price, the Balance delivers totally respectable sonic performance. The drivers also performed fairly well as I was able to run the same demanding Ableton control project file I used to test the rest of the sound cards in this review at 128 samples (around 7 milliseconds) of latency.
Summary: I found the sound card to be a very well-rounded and feature-packed interface that delivers a great value for not just Reason users, but anyone looking to make music with their computer. At $399, a Balance isn't cheap and it won't blow your socks off with sound quality or options for expandability as your studio grows. But it will provide excellent integration with Reason and won't hold you back from making great computer based music. If you're in the market for an affordable, no-frills sound card with some nifty extras, the Balance may just be perfect for you.
Verdict: 3.5/5
Pros: Innovative features like integrated patch bay, nice design, easy integration with Reason
Cons: Comparatively expensive, no digital I/O, no custom drivers, latency could be lower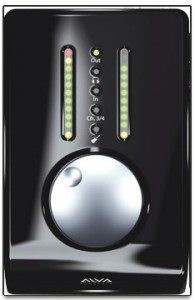 At first glance, the Nanoface seems to be identical to the Babyface: exact same chassis, very similar breakout cable, and the same configuration of ports. In fact, the two interfaces appear so identical that surely there must be a lawsuit involved, right? Quite to the contrary, Alva has produced the Nanoface with RME's blessing after working closely with the German company to develop the breakout cables and other accessories for the RME Babyface. So given the disparity in price between the two (the Nanoface retails for $289 and the Babyface for $749) what exactly are the differences between these two? And is the considerably steeper price of the RME Babyface justified? The answer depends on what you value in an audio interface, but both are worthy contenders for different markets.
The Nanoface shares nearly every facet of its appearance with the RME Babyface except for the omission of the 'Select' and 'Recall' buttons below the silver wheel on the front of the chassis and the lack of a power supply port on the rear of the unit. The Nanoface is also considerably more lightweight and sports a slightly different configuration of function indicator LEDs on the top of the unit. Physical operation is much the same, plug in the breakout and USB cables, select your desired input/output via depressing the large wheel, and control the volume of the signal by rotating it. Unlike the Babyface, the Nanoface doesn't feature balanced outputs, opting instead for unbalanced RCA phono jacks. This makes the Nanoface a considerably less professional solution than competitors, given that many studio monitors do not have RCA inputs and runs of RCA cables over long distances can introduce noise to the signal. Thankfully, the Nanoface has balanced XLR inputs for microphone connections. Digital connections include 2x MIDI outputs, 1 x MIDI input, and 2x S/PDIF in and 2x S/PDIF out (phono and optical jacks). Other analog connections include a single ¼" instrument jack, and a ¼" stereo headphone output jack.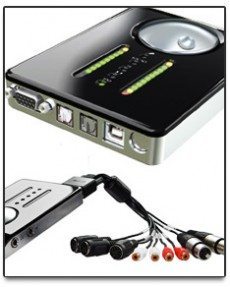 Getting setup on the software side requires a driver download from the Alva website and a reboot for both Mac and PC configurations. Once I had the Nanoface set up, I was eager to see how well it compared to the RME Babyface's exceptional sound quality and low-latency drivers. I was able to manage about 256 samples of latency (around 11 milliseconds) using my control Ableton project, but I did notice some CPU spikes not present when running the same project using the RME Babyface and Apogee Duet 2. Alva doesn't offer up any specifics regarding the Nanoface's converters, but I found the overall sound quality and especially the top end to be surprisingly detailed and crisp for a budget interface. While playing back an un-mastered track in Ableton, I was able to reach a solid listening level using about half of Nanoface's available output gain for the main outputs. However, the headphone amp needed to be turned up to around 80% to achieve a good level.
The microphone pre-amps performed decently, requiring quite a bit of gain to achieve a good level. The sound quality and detail of the recordings produced was ok, but nothing stellar compared to the Duet 2 or RME Babyface. Unfortunately I was not able to test the software control panel because I'm not running 10.8 Mountain Lion. This limitation made the task of enabling phantom power for the microphone inputs somewhat puzzling and required a read through the manual, which wasn't the most user-friendly experience.
Summary: Despite the lack of a software control panel for older versions of Mac OS X, comparatively weak pre-amp gain, and limited use of the unbalanced main outputs, I was pleasantly surprised with the Alva Nanoface. For $289 the Alva Nanoface is a solid choice for a hobbyist/consumer level sound card, but I wouldn't say that it should be considered in lieu of an RME Babyface (unless you're ok with the compromised features mentioned above). I wouldn't recommend taking it on tour or recording anything too critical with it, but for a budget-conscious project studio requiring only the bare essentials plus the added bonus of some expandability it should work just fine.
Pros: Great value for the money, surprisingly good converter quality, expandable via digital I/O, generous MIDI I/O
Cons: Feels light and rather cheap, unbalanced RCA outputs, no software control panel for Lion & Snow Leopard, weak microphone pre-amp and headphone amplifier, drivers could be better
Verdict: 3/5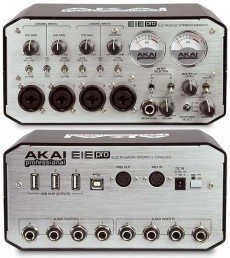 Akai's EIE Pro is the least expensive interface mentioned in this round up, but definitely the most feature-packed in terms of connectivity.
Sporting a 4in/4out 24bit 96-khz capable sound card, 2x MIDI I/O, a 3 port powered USB hub, a pair of analog VU meters, and plenty of retro-looking knobs and switches to control it all, the EIE Pro is a solidly-built beast. It's also quite chunky and weighs in at just under 3 pounds (without the necessary power supply), making it less ideal for the mobile producer. Still, you'd be hard-pressed to find this much connectivity at such a low price point, making the unit well worth a look for the budget-conscious producer looking to use external gear and record both instruments and microphones.
On the front of the unit are 4 Neutrik inputs that accept either XLR or TRS connections. Above each input are two switches: one for selecting the input type (mic/line or guitar) and one for enabling phantom power. Above these switches are four knobs for setting the input gain. On the right hand side of the interface are LED backlit VU meters, providing a nice retro touch to this unit that's both slick and useful. Below the VU meters are switches for linking the meters to various inputs and outputs as well as a headphone jack + volume knob and master/monitor level controls. It's great to have instant, tactile access to commonly used settings to speed up your work flow instead of software. Around the back you'll find 4 outputs in the form of TRS jacks as well as 4 inserts for patching in outboard gear such as EQs and compressors. Near the top of the unit, you'll find a three port powered USB hub and two 5-Pin MIDI I/O jacks. Of course, this many connectivity options requires use of the included 9v power supply.
On the software side, EIE Pro requires a driver download from Akai, regardless of your operating system. The software control panel includes no on-board DSP or routing options and provides only basic information like connectivity status and sampling rate/bit depth selected.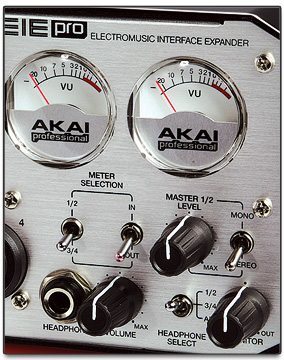 With my control project file in Ableton, I was able to get the latency down to about 128 samples (approximately 7 milliseconds) with all inputs and outputs enabled. I recorded and played back audio using all four input and output channels simultaneously without issue. The monitor blend switch made it easy to directly monitor inputs, again with no need for a software control panel.
Both the VU meters and headphone output can be assigned to either of the two pairs of TRS outputs on the back of the unit, making the EIE Pro ideal for dual monitor setups. The microphone pre-amps required about 70% of the available level to produce an adequately loud recording. The switches on the front panel made selecting different input types and activating phantom power simple and easy. I found the audio inserts to be a very welcome addition to this interface and made patching in my Kaoss Pad and outboard EQ very simple and easy.
The sound quality of the pre-amps was acceptable for recording basic things like home-made percussion but guitar and piano recordings captured by the EIE Pro lacked the depth and clarity found in similar recordings made by the RME Babyface and Apogee Duet 2. The quality of the converters was also passable, but again, lacked the focus and width of higher end sound cards.
Summary: the Akai EIE Pro represents an excellent value for project studio musicians looking to get a lot of connectivity and functionality for an affordable price.  The flexibility and expandability of the EIE Pro are definitely its strong points, making it a worthy addition to any budget-conscious project studio.
Pros: Tremendous value for the money, very flexible & expandable, lots of knobs and switches so no need for a software control panel, solid drivers
Cons: Bulky, not portable, requires external power supply
Verdict: 4/5

None of the sound cards mentioned in this article (nor any sound card) will hold you back from making great music with your computer. Which one is right for you is completely dependent on your personal needs as a producer. If you've got some cash to spend and want fantastic sound quality and as many features as possible from a compact interface, the RME Babyface is probably your best bet.
If you like the sound quality of the Babyface but don't need all the extra features and you're on the Mac operating system, the Apogee Duet 2 is a safe choice. If you'd like a simple and affordable two-channel interface and monitor controller with a few extras, the Propellerheads Balance or the Alva Nanoface are both excellent options. Lastly, the Akai EIE Pro is a great choice for producers who'd like to patch in their outboard gear, record multiple instruments, and don't need a mobile interface. Whichever interface you choose, you'll have some serious tools at your disposable for making great music.
Author's note: the soundcards were all tested on a 2011 MacBook, 2.3 ghz i7 Quad Core with 16gb RAM.