If DJing is your game, Numark has something that may level up your life. The Orbit wireless controller with 2-axis motion control feels like a video game. Sitting in both your hands, it lets you thumb and wave your way to multi-colored effects madness like a caffeinated kid on a PSP. But how is its response and programmability? Read on for our play test.
Reviewed: Numark Orbit Wireless MIDI Controllerz
Price: $149 (MSRP), $99 (common retail price) 
Available: Now
Ships with: Orbit DJ and Orbit Editor software, USB dongle, USB cables, user guide.
Weight: 11.2 ounces (317 g)
Dimensions: 7.1 x 4.3 x 0.9 inches (18 x 10.9 x 2.2 cm)
Requirements (for Orbit DJ):
Windows 7 (32/64 bit) or Window 8 (32/64 bit), 2 GHz Intel Core 2 Duo or faster, 2 GB RAM, 1,280×800 display resolution
Mac: OS 10.7 or 10.8, 2.0 GHz Intel Core 2 Duo or faster, 2 GB RAM, 1,280×800 display resolution
The Good: Wireless operation with a 2.4 GHz frequency USB dongle, or wired use with a USB cable. Motion-controlled, 2-axis accelerometer has almost no latency over a clear wireless connection. Lightweight, handheld MIDI controller with Traktor Pro + GrandVJ mappings (and more program mappings on the way. Rainbow array of 10 customizable LED colors. Rechargeable lithium-ion battery lasts for about 8 hours of continuous use. 
The Bad: Large Virtual Knob feels clunky and slippery in the middle. Occasional latency upon initial wireless connection. Extreme accelerometer motions feel physically unnatural. USB dongle is wider than it should be for cramped laptop layouts. 
The Bottom Line: With a unique feature set, solid build, and affordable price, the Orbit's versatility and novelty make it one of the more compelling small-format controllers available.
MEET THE ORBIT
You've probably seen plenty of people hacking video game controllers to operate their DJ software. Now Numark has basically hacked the portable video game design ethos to create a fully MIDI-compatible controller aimed squarely at DJs and live producers.
The Orbit's look and feel harkens to the Sony PSP, mirroring its general size, shape, two-handed grip and thumb-oriented control; it even has two top-panel buttons for the forefingers, which are designed to toggle on the 2-axis motion control, courtesy of the onboard accelerometer. Whether its filtering tracks or scrolling menus, the accelerometer controls can manipulate just about anything, and they can both be active at once.
Envisioned as a wireless, handheld controller that lets a live performer tweak two functions via left-to-right or back-to-front motion, the Orbit has hooks in the front and underside for attaching the unit to a strap to wear around the neck or attach to an arm band, belt, etc. But the unit is equally adept as a general MIDI controller for any MIDI-compatible software: music, video, lighting, etc. It's perfectly suited for tabletop use as well, with rubber feet for a good grip on the bottom, and you can use it wired over a USB cable to a computer if the internal Li-ion battery needs charging. 
No matter how you use it, the Orbit's 16 pads and four Pad Banks give you ample fodder for your programming delight — 64 pads that you can color code to your liking with 10 LED colors. The big center knob can also have four function buttons (K1-K4)  per Pad Bank, meaning 16 total uses of what Numark calls the Virtual Knob.
The Orbit's non-volatile memory will store the current settings when the battery expires or when you turn it off with the power switch on the right-side panel, next to the USB port. If you want to create and save more Orbit settings, you can build and store as many as you want with the Numark Orbit Editor software. Any of the controls can be mapped to any MIDI function.
For the price, the Orbit feels very sturdy, yet its low weight will never strain your hands or your gear bag. Its controls are solidly constructed, and the pads particularly have a good middle-ground feel to them: neither too stiff nor too loose. If you end of playing them with your thumbs while holding the Orbit, rather than banging pads with your fingers on a tabletop, you probably won't generate as much force with your pad strikes. But the Orbits buttons respond very well.
ORBIT DJ AND EDITOR SOFTWARE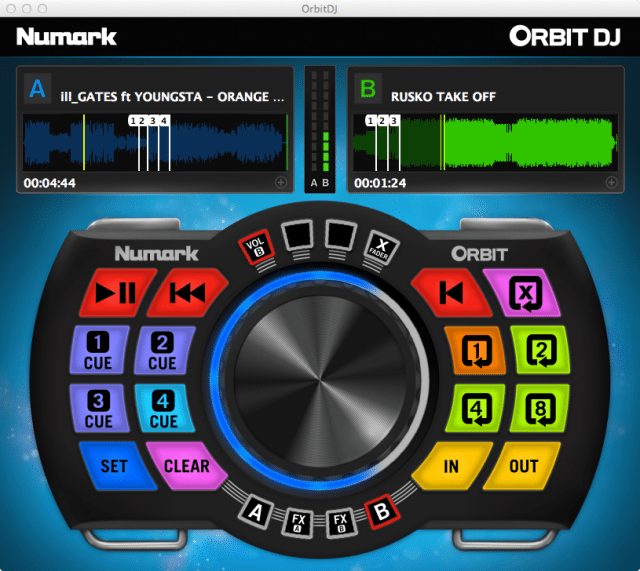 Numark includes some software that you can download after you register the Orbit's serial number on their site. The Orbit DJ software may not seem like much right off the bat. But it actually can be useful for both beginner DJs and for experienced people to get ideas on how they will use the Orbit in their workhorse software, whatever that may be. 
Orbit DJ has A and B "decks" where you drag and drop music from your hard drive. The software graphically shows you the exact functions of the the Orbit's buttons, and mirrors the colors of the hardware. The four Pad Bank layouts include transport; cue playback, setting, and deleting; auto and manual loops for both decks, as well as FX pages for both decks that include 8 tempo-based effects, as well as 3-band EQ with EQ kills. The Virtual Knob is used for deck volume, crossfading, and EQ adjustment.
It's not really a live performance software, but it lets you have some fun with the Orbit out of the box, and it can give you some good suggestions for Pad Bank layouts and color codings for your own mappings.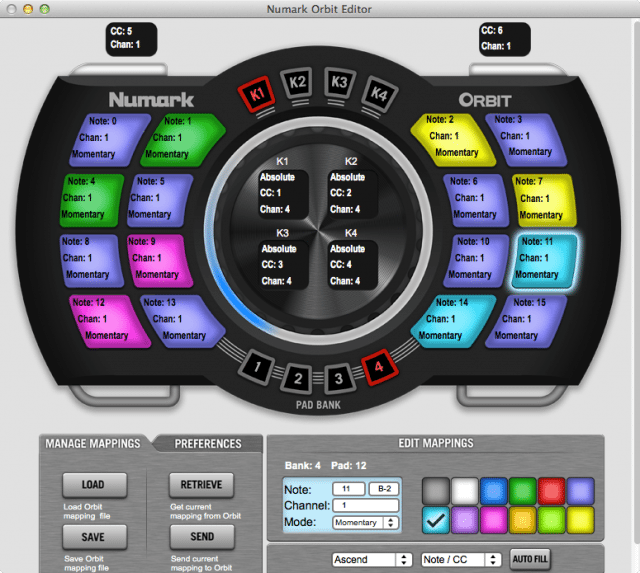 On deep end of the software spectrum, the Orbit Editor is the traditional MIDI editing program for creating and saving control layouts. You can retrieve the current mapping from the hardware load, modify, and send existing maps to the hardware, or create something entirely new.
The editor has a couple of nice shortcuts to autofill the pad mappings to ascending MIDI channel numbers or Note/CC numbers if you want to.
TRAKTOR PRO MAPS
Although there are Numark videos showing mappings for Ableton Live and Serato DJ, the only mappings available from the official Ozone site were three Traktor Pro 2.6 maps and one for Arkaos GrandVJ.
These Traktor mappings are smart; a single control often does multiple things. For example, when you're using the Virtual Knob to browse tracks, the software jumps to Browser view; as you load the track with one of the buttons, it jumps back to Mixer view.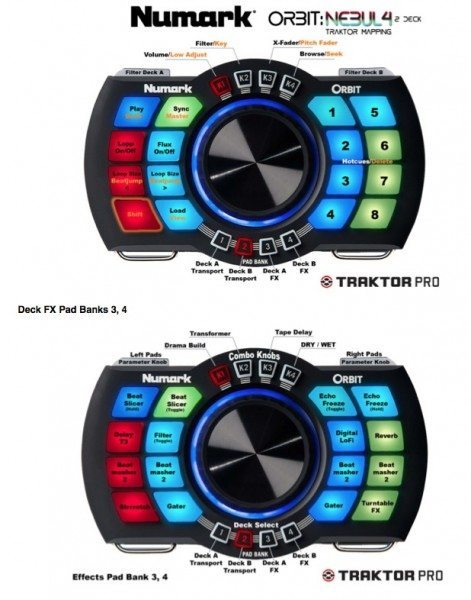 There's a 2-deck and a 4-deck map; the 2-deck one seems like the most fully functional. With it you can really run a full set, although the more prepared the tracks are, the better. The Pad Banks on this mapping take care of Deck A Transport, Deck B Transport, Deck A FX, and Deck B FX. The transport decks even have a Shift key built in, giving you lots of flexibility with the buttons and Virtual Knob. You can set, trigger, or delete cue points; control loops; browse, seek, and load tracks; and work the crossfader, pitch fader, track volume, and key value. The shoulder accelerometer buttons control filters A and B, which you can control simultaneously with some un-self-conscious twirling and twisting motions.
The FX decks are even bigger treats, as three of the Virtual Knob settings control the dry/wet levels and effect amounts for custom FX groups designed to add flair to build ups and breakdowns with a single fluid movement of the knob. These banks let you quickly access a battery of 13 effects, some of them, like Beat Masher 2, in multiple incarnations. With the Beat Slicer and Echo Freeze effects you can either toggle or hold them on. Most of the these effects have one or two parameters tied to the motion controls, so while the effect is either toggled or held on, you can also hold one or both of the shoulder buttons down and perform motion-controlled tweakery.
Creating a mix with the Orbit doesn't feel quite as fluid as with a big controller or a mixer, but within a half hour of exploring the Traktor map, I was performing credible mixes with familiar music in my collection. It's also just a fun, new experience to use Traktor with the wireless Orbit, whether you're jumping around the room or reclined back in a chair with your feet up. Of course, pairing the Orbit with other small controllers or one other main controller will really open you up to specializing the Orbit's functions to just the whiz-bang, ooh-ah type stuff, while the others handle the ordinary routines.
THE ORBIT IN USE: HOW DOES IT PERFORM?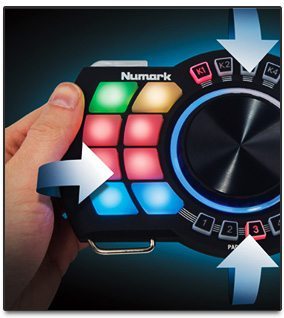 Early on, Orbit answered the big questions about wireless latency and the response and resolution of the motion control. Besides some rare hiccups, it performed up to professional performance standards. Upon initially pairing with the USB dongle, we occasionally experienced some early latency, but after 30-60 seconds or less, the unit was sending signal with no noticeable latency.
The results from the motion controls also impressed us. Take for instance the typical adjusting of a track filter or effect parameter. A flat Orbit represents a knob in the center position, and rotating the Orbit 90 degrees to the left, right, front or back represents the knob all they way left or right, depending on the situation. The response to the software felt immediate; the knobs turned as quickly as we could rotate the Orbit. Not only that, but the response also sounded very smooth. There was no notching effect involved with the motion control. Even when using both shoulder buttons to manipulate both motion controls, the results sounded great.
We tested it without a lot of active Wi-Fi networks in the area-  other (2.4 GHz band) devices and microwaves can interfere with the signal. The wireless signal range is estimated at about about 100 feet (30 meters) with a clear line of sight. [Note, 7/8/13: The Orbit and its USB dongle communicate over a 2.4 GHz frequency–the same as many Wi-Fi networks and other devices. It is not, however, a Wi-Fi device that sends packets of data that could be interrupted.]
A possible concern is just the physical movement of the Orbit itself. While not a huge bother, the motion of twisting the Orbit a full 180 degrees from left to right and back or from back to front and back both feels and looks a bit awkward. You won't always want such extreme movements, and you'll get more used to it in time.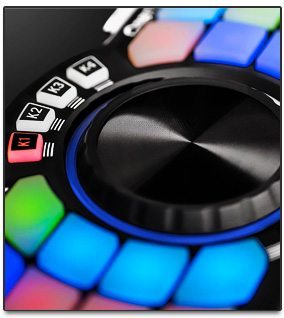 The feel of the Virtual Knob also caused some concern. While it's a giant knob, you pretty much have to touch it specifically at the edges to get it to move well. The top finish of the knob is covered with small serrated concentric circles, giving it a slippery feel that simply does not respond well with a thumb or finger on top of the knob instead of the rubberized edge. You also have to apply a fair amount of pressure to that edge. This means if you're trying to execute quick maneuvers and don't quite hit the edge with the right amount of pressure, either your timing will be off, or you aim might be off and accidentally hit a button instead. Again, it's something to get used to in time, I just wonder if that much unusable knob space could have been used for something else.
Numark advertises 8 hours of continuous use from a charged battery. In our tests, with a fully-charged battery we had the unit powered on for just about 10 hours before it shut down, although some of that time was in sleep mode. If the Orbit stays inactive for three minutes, it will enter sleep mode, which consumes some (less) energy. You just need to move the Orbit or press any control for it to instantly wake up.
FLOATING IN SPACE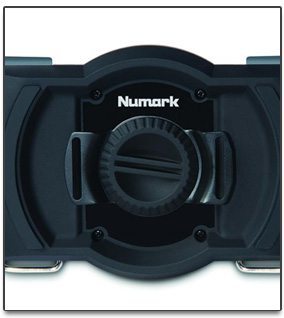 It's hard to resist the appeal of the Orbit. It's often the case that a $100 piece of gear either sacrifices build quality for features or feature for build quality. Neither is the case here, and there's high-performance wireless connectivity and motion control, which are still unusual at any price point.
As with many controllers, the magic is in the mappings. The current Traktor maps showcase the potential of the unit quite well, and could serve either as a good inspiration or jumping off point for people's own mapping. It's not going to be for the faint of heart to come up with mappings as sophisticated as Numark's Traktor maps, but to MIDI mapping veterans, it's just business as usual.
While the Orbit could suffice in almost any small-format MIDI controller situation, it really is uniquely designed for its specialty, which is wireless, handheld control. That means controller users will probably fall into one of three categories: those who are already using some wireless and/or handheld gear in performance, those who are not yet using such gear but might be interested in doing so, and those who are not using such gear and couldn't care less about it. Props go to Numark for potentially alienating some customers for the sake of making a cool, unique device.
Markkus Rovito is the DJTT Technical Editor – have something you'd like to see reviewed or questions about the Orbit? Let him know in the comments below.