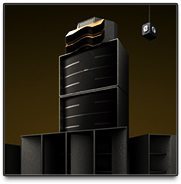 With Ibiza season now in full swing, Pioneer has unveiled its first-ever line of club audio systems designed in tandem with Gary Stewart Audio (GSA), the sound company responsible for notable club systems in venues like Zouk in Singapore and Vertigo in Costa Rica. Pioneer, the brand typically associated with its line of club hardware, particularly CDJs and mixers (and recently, both combined into the XDJ-R1), has released the following statement regarding its foray into pro audio:
"We didn't just want to enter the market; we wanted to be the best in the market. So we gathered the dream team: Pioneer's pro-Audio R&D expertise combined with GSA and Powersoft's club system credentials. You have to hear it to believe it."
Pioneer has split the offerings into two sets of passive speaker systems: the GS-WAVE, designed for "wide dispersion" and dancefloor use, and the XY, which can function either as a booth monitor for larger club systems or a PA system for smaller rooms.
Upon first glance, the speaker system looks decidedly a bit "retro," with the usage of W-bins and traditional cabinets the most prominent cosmetic element. No word yet on the pricing of either system, but as with many Pioneer products, we can guess that these will be largely for club use rather than home use. Alex Barrand, a sound engineer for Pioneer UK, commented: "We're installing the flagship sound system in a number of world-famous clubs in Ibiza and beyond, including a complete club re-fit, which we'll be announcing in the coming weeks."
Ready to hear a Pioneer system while out on the town? Let us know in the comments.