Announced earlier this week, the new Mixed In Key DJ software is set to go into a limited beta as early as today or Monday – but what makes the development of another DJ software unique or interesting? Read on for a first look (and a quick demo video) of how the software plans to stand out from the rest.
The software is divided into three sections – prepare, play, and export – designed to follow the main times that a DJ uses the software. Here's a closer look at each:
PREPARE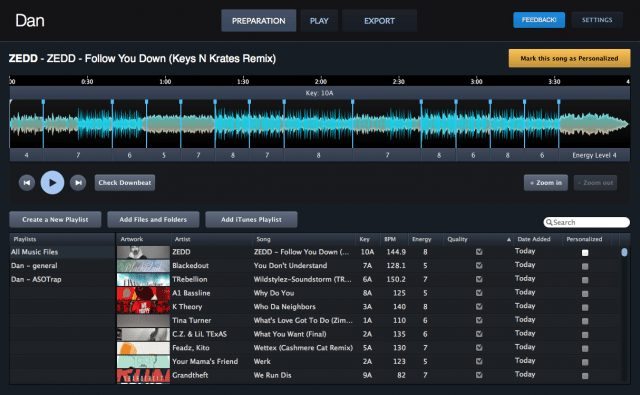 This section for the most part behaves like it would in any other DJ software- setting up playlists, analyzing tracks, and setting playback metadata on the tracks themselves. While you can add tracks to the collection at any time, in order to do track analysis, you will need an internet connection as it communicates with Mixed In Key's servers for energy and key detection.

The interesting element is that instead of detecting energy levels on a per-track basis, the software actually splits up the track into segments – about 5 to 10 per track. This is done based on the energy for that segment – so it looks for major phrasings and attempts to set a segment start point there. You can adjust all of the segments + the initial downbeat in the prepare screen. Once it's locked in, you can check "Mark this song as Personalized" so you'll know when playing if a track has been prepared or just auto-detected.
It's also worth noting that the key detection in the prepare step apparently includes a brand new Mixed in Key 6.0 algorithm – which would mean an upcoming release is due in that department as well.
PLAY
The play section is very similar to most other two-deck DJ software, but instead of loops and cuepoints, the primary form of intra-track movement is done by blending between different segments. Here's a quick example:
A few things to detail about this playback style:
Crossfades: You can hear that the software fades between each segment smoothly – so it's not quite the same as a cue jump
Legato: when jumping between segments, it keeps the track beatmatched and in the same relative point in the phrasing of the segment
Energy Choices: The labels under each segment make it easy to know what intenisty the section has before you jump to it
Beatmatched: There's no pitch control or nudging in the software – nor is there a sync button, because it's always on. This is where the software feels less like Traktor and more like Ableton.
Master Tempo: This is the only tempo control – so if you want to move around, it affects everything.

Obviously there's quite a bit missing from the software still because of the beta status – you'll note that there's no looping, filters, or effects in the software, and you can't add more decks. One thing to note is that Yakov (Mixed In Key's founder) has made an intentional choice to not build in any timecode into the software – instead focusing on a synced workflow by locking in all off the tempos to that master tempo – that means no scratching or manual pitch adjustment.
EXPORT

Having a whole section dedicated to after-set actions aims to solve a lot of the headaches that come after a set – did I remember to record it? What were the tracks that I played, and when? The export screen not only organizes every individual set you've ever played with a complete playlist, it also can automatically record every single set and associate that recording with the right playlist.
A secondary feature is that the software keeps a nice dataset of the most-played tracks in your DJing history, so you can quickly check out what your personal top list is for the last week, last month, or the last six months.
HARDWARE COMPATIBILITY

The software works with any MIDI controller that you might have on hand – with built-in mappings for all of the popular controllers. One of the nice workflow features that the Mixed In Key team has added to the software is the MIDI learn layout – which lets you quickly map out a new controller with a simple graphical interface for mapping (see above).
There is a significant limitation of internal mixing – meaning that you won't be able to route each deck to its own channel on your hardware mixer, so you'll have to use your MIDI controller for the volume faders and EQ knobs. External soundcards are supported for previewing audio, or you can also plug in a headphone jack into your laptop and output that way.
FUTURE
In a couple hours of using the software, we can already see how much fun this style of mixing has the potential for – with a workflow that combines the preparation of Ableton clip-launching and Traktor DJ's freeze mode. We'll be interested to see what features get developed out for the full release and how feedback from users drives the direction of the software.
The Beta is launching starting today – to learn more about this DJ software from Mixed in Key, visit the official beta page at http://beta.mixedinkey.com