With the same solid feeling and durability as the QuNeo controller, the Keith McMillen Instruments QuNexus keypad controller throws a little KMI flavor into your portable music production fantasies. See what its innovative new layers of playability can do for your DJing, Ableton Live performances, and music creation.
Reviewed: Keith McMillen Instruments QuNexus
Price: $199.95 (MSRP), $149 (on Amazon)
Communication: CV, MIDI over USB (USB powered)
Ships with: 1-meter USB A-to-Micro cable, Software editor, OSC Bridge, Ableton Live scripts
Weight: 0.76 lb. (345 g)
Dimensions: 12.8 x 3.3 x 0.43 inches (325 x 84 x 11mm)

The Good: Expressive playability with velocity, pressure, and Tilt sensitivity on each keypad. Small and light, yet durably built. Out-of-the-box integration with Live 8/9 and Reason.
The Bad: Pricey if all you're looking for is a basic compact keyboard or controller. Keypads feel a bit strange compared to playing traditional keys.
The Bottom Line: From creating a tiny studio by pairing it with an iPad to making it a hub for connecting hardware MIDI and CV gear to a computer, the QuNexus is a tiny key that unlocks a vault of possibilities. Its innovative playability and next-level durability also make it a jewel of compact keyboard controllers.
QUNEXUS + THE KMI BACKSTORY
Keith McMillen has 30+ years creating innovative instruments, including helping to develop the precursor to OSC. His small-but-growing Berkeley-based company (Keith McMillen Instruments)  amassed a runaway train's worth of momentum from a successful QuNeo Kickstarter campaign about two years ago. With that controller and now the QuNexus, KMI seems hell-bent on reinventing and redefining the standards for durability, flexibility, and playability in portable controllers.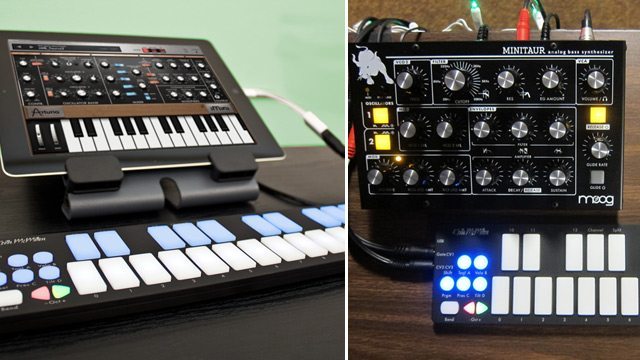 The QuNexus 25-keypad compact MIDI and CV controller/converter can go anywhere and control just about anything. With iOS 7 compatibility just announced, it's plug-and-play with the latest iPads and iPhones (Camera Connection Kit required), as well as any other system that supports MIDI, including properly equipped Android devices.
Naturally, the QuNexus plugs into computers using USB power, but it also can control CV devices such as vintage synths or certain modern units from Analogue Solutions and others. It can do so without the use of a computer, powered from a USB AC adapter or via the optional KMI MIDI Expander ($49.95), which connects the QuNexus to hardware MIDI gear. CV enthusiasts may also want the QuNexus CV Cable Kit ($29.95), to cover the options of connecting CV devices and expression pedals to the unit's three 1/8-inch CV ports.

CONTROLS: LETTING IT RIP
The keypads of the QuNexus pack a triple-threat of velocity, pressure, and Tilt response into their inviting rubber buttons. The Tilt feature comes from KMI's Smart Sensor technology; it's the up-and-back movement of your finger on the key—imagine the action of a violinist's fingers on the neck. You can map velocity, pressure and Tilt to any MIDI CC, making very expressive play possible. A Bend button to the left provides pitch bend, and you can set its range in the software editor.
Experienced keyboard players may find it weird trying to play the QuNexus with the same ease with which they tickle keys with traditional keyboard action. The spacing and feel of trying to play melodies and chords with keypads without a doubt takes some getting used to, but it's the price of having four-in-one control—note, velocity, pressure, and Tilt—from a single button.

When judged in and of themselves, the QuNexus' keypads feel great. In this day and age, many producers have been weened on playing buttons anyway, and they should approve of the QuNexus pads' feel and response. Neither squishy nor hard, the pads sit somewhere in between, with a little more give to them than the main drum pads of the QuNeo.
You can adjust the velocity, pressure and Tilt sensitivities in the QuNexus Editor (even setting values for each key if you want to). At their default settings, you don't need extreme variations to get the range of velocity, pressure and Tilt. When playing presets that for instance have the pressure set to note modulation, and Tilt to filter cutoff, you can really ride a single note for a while, adding the Bend button for further effect.
The pads also work well for drums – plenty of size and response for two-finger tapping, and the keyboard-style layout can be a nice change of pace for laying out sounds compared to the common 4-by-4 square layout.

Left-side buttons include octave up and down arrows, which double as cursors in Live Edit mode (see Programmability section), and four preset buttons that double as function keys for turning on or off the Toggle, velocity, pressure, and Tilt responses. When Toggle is active, pressing a key will keep the note on until you press it again – good for letting notes play, building chords, or other on/off functions like turning on FX decks, muting tracks, etc.
PRE-BAKED MAPPINGS
QuNexus comes loaded with four presets, which you can edit and swap out with the editor if you like:
The basic Preset A turns off pressure and Tilt for a straightforward keyboard playing style.
Preset B adds pressure set to modulation and Tilt set to pitch bend, which is more fun for playing synthesizers.
Preset C adds Channel Rotation, another unusual QuNexus feature that cycles through MIDI channels for each key pressed. The first key sends to Channel 1, the second to Channel 2, and so on up to 16 channels. When the keys are released, the cycle begins again. This lets you get different pressure, velocity, and Tilt for each note.
Preset D deems itself the drums & clips preset. It's the one to use for a synth or drum machine mapped to the general MIDI channel 10 standard for drums. It's also the one you use in conjunction with KMI's Ableton Live Remote script for playing drum sounds/samples and launching clips.
More interesting to DJTT readers will be the Ableton Live Control Surface script that provides a control scheme to scroll through and launch as many scenes and track clips as you have. It gives you 8 clip launch pads per track, clip browsers, track browsers and 6 pressure-sensitive FX controls to the right. This script helps make the QuNexus one of the smallest effective Ableton Live performance controllers you'll find.

Propellerheads Reason 7 also includes a mapping for the QuNexus which centers on playing Reason instruments and devices. Depending on the active device the Reason script makes full use of the pressure and Tilt functions, controlling filter cutoff, LFO rate, oscillator mix, etc. For better using the MIDI Learn features of software such as Live and Apple Logic, KMI includes a CoMA (Controller Mapping Assistant) mode. This will allow you to set MIDI Learn functions for all the different layers of control on the QuNexus pads.
So far, the available QuNexus mappings are biased toward production programs and the live performance features of Ableton Live, but that shouldn't stop DJs from checking it out as a very capable compact controller.
PROGRAMMABILITY
The QuNexus Editor lets you program three layers of input and output: the Keyboard, Controller, and CV layers. The Keyboard layer lets you set values that effect the entire Keyboard, such as turning on Channel Rotation, or assigning pitch bend, channel pressure, polyphonic aftertouch and up to three MIDI CCs to key pressure, key tilt, or to the expression pedal. For each setting, you can choose the gain (which multiplies the input value), offset, an effect curve, and the range—for example, the pitch bend range or the range of a filter sweep assigned to pressure. You can set message output to USB MIDI, the optional MIDI Expander, or both. Incoming MIDI can control the LEDs, and you can set the MIDI channel for controlling the LEDs in the editor.
In the Controller layer, you can assign an additional MIDI note, toggle CC, pressure CC, and tilt CC to individual QuNexus keys. You can also set whether each key applies to the Keyboard layer, Controller layer, or both. What that does is to let you create QuNexus keys that do not play sounds but rather act as hardware controller for specific controls.
The CV layer lets you setup how the QuNexus keys send and receive control voltae from the four possible CV outputs and two possible CV inputs.
The QuNexus Editor is laid out well, and with its companion PDF manual, it takes some of the mystery out of MIDI editing. It could be a good first step for a beginner to try MIDI editing, and at the same time, its comprehensive options and CV-to-MIDI options should satisfy serious MIDI heads.
However, you don't necessarily have to use the QuNexus Editor to make changes – Live Edit mode lets you make quick edits to the QuNexus on the fly. These changes are not saved if you change presets or power off the device.
GETTING WHAT YOU PAY FOR
Since there are compact keyboard controllers that cost $50, it can be hard to find immediate need for the $149 QuNexus. There's no doubt that buying a QuNexus will be an investment in build quality, compatibility, and unique performance features. If any one of those factors means something to you, it could be worth plucking down the extra dough for a piece of equipment that really does provide extra value.
When Mad Zach threw the QuNeo out of the window and into legendary status, he helped establish a legacy of robustness for KMI products. No, we didn't spill a case of Modelo on the QuNexus to try to one-up the Mad one, but the QuNexus bears all the hallmarks of road-worthiness as the QuNeo: an impenetrable surface, and a bend-but-don't-break structure that belies is tiny size and weight. KMI actually did their own impact test of the QuNexus (above) by strapping it onto a 30lb watermelon.
Markkus Rovito is the DJTT Tech Editor. Leave your thoughts, and find out what Markkus is reviewing or send questions to him in the comments or on Twitter.