Taking full advantage of the new A7 64-bit processor in the lastest iPads from Apple, Algoriddim has quickly launched two new versions of their well-made iOS apps for DJs and VJs, djay and vjay respectively.
In djay, users now have access to a pitch detection and shifting engine, dubbed Harmonic Match, which analyzes the keys of tracks in musical notation (no Camelot or Open Key here) and then allows DJs to change the key from one to the next. This also has been reflected in new additions to the library view – allowing browsing by key to find a quick good match for your mix.
The new version of the app also adds support for inter-app audio, meaning that djay can send audio to another audio host like Garageband – easily letting you record and layer output from the djay app into a project you're working on elsewhere – or potentially effecting and processing it.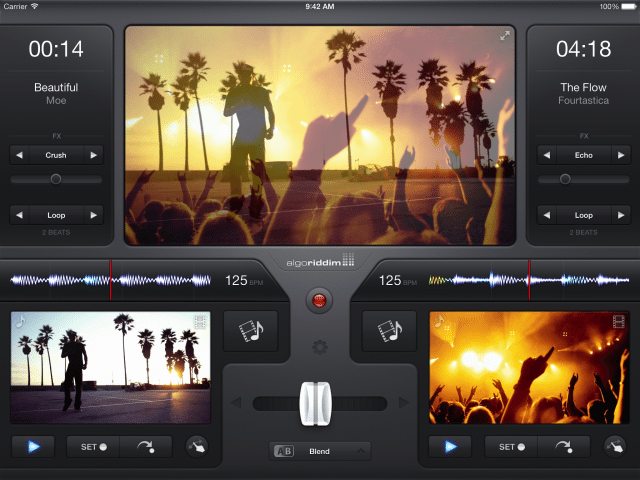 On the vjay side of things, the new processor allows for even better video processing – Algoriddim claims the new chip:
enables vjay to playback, record, and mix HD videos and output in HD resolution with cutting-edge power rivaling desktop systems.'
In addition to a performance improvement, vjay users get two new transition effects: Luma (mixes the lumonisity channel of one video with the second video) and Edge (detects and highlights edges + contours), as well as a new Echo Audio/Video effect.
djay 2 are both available in the iOS App Store for $9.99 – see our review links below.