The near-larger than life Serato DJ controller, the Numark NS7 II, reaches for the sky by combining the best of both the turntablist and controllerist worlds. Touch-sensitive controls, MPC pads, a mack-daddy audio interface, and full-service vinyl platters are just part of the menu. Check it out to see if this all-you-can-eat approach is right for you.
Manufacturer: Numark
Price: $1599 (MSRP) $1499 (on Amazon)
Communication: MIDI over USB (high-resolution MIDI for the platters)
Ships with: Serato DJ (download), power + USB cables, 2 platter assemblies with tools, paper user guides
Weight: 35.8 pounds (16.24 kg)
Dimensions: 30 x 17.5 x 5.3 inches (76.2 x 44.5 x 13.5 cm)
The Good: 8 velocity-sensitive, multi-mode pads per deck. Cool Filter macro modes. Excellent vinyl turntable feel. Pro-grade audio interface and mixer. 5 dedicated hot cue buttons per deck. Booth outputs with dedicated volume control. Much improved visual feedback.
The Bad: Monstrous to transport. No Serato DJ support for Windows 8 yet.
The Bottom Line: This Serato DJ controller means to mark off all the check boxes: turntablist control and mixing abilities, controllerist performance touches, full-blown audio features, touch sensitivity, visual feedback, and hardware options for nearly every task. If you showed up to a gig and this was in the booth, could you complain? Even the price, while high numerically for a controller, is still reasonable considering what you get. Impressive.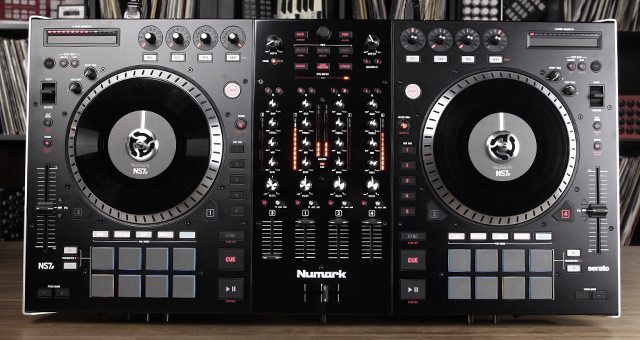 LET'S GET THIS OUT OF THE WAY
The NS7 II is a controller made to satisfy turntablists using Serato DJ. The 4-channel controller and mixer with professional-grade audio interface is quite heavy, as well as relatively large and expensive. It uses powered turntable-style platters with real vinyl discs so that DJs used to spinning with records and/or control vinyl won't miss anything except perhaps the size of the turntable. If any of the above has you concerned, the NS7 II probably isn't for you.
Numark is striving to make this piece of gear the best at what it does, which means it just won't appeal to everyone. If you thought the original NS7 was too big and heavy and don't have much use for jog wheels, let alone motorized vinyl platters, save your complaints for someone who cares, not Numark.

Like it or not, the NS7 II beats the pants off of the NS7 in just about every conceivable way. First off, it obviously includes better software: Serato DJ, rather than Serato Itch. You get touch-sensitive knobs that access some innovative new features in Serato DJ. The NS7 II also maximizes the available surface area far better than its predecessor, adding 8 multi-mode and multi-colored MPC pads, a full effects section, and new dedicated Hot Cue buttons on each deck, as well as dedicated Filter knobs in the mixer, and much better visual feedback overall.
BUILD QUALITY AND DESIGN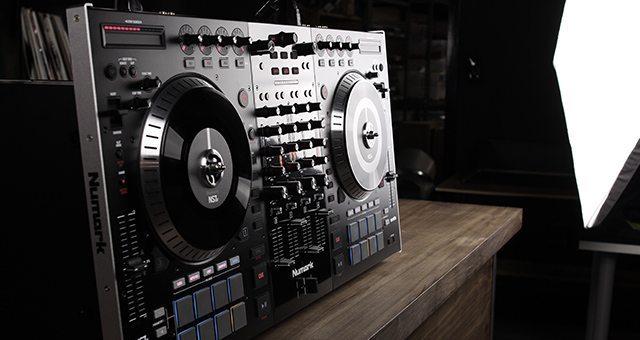 Numark was not budging on build quality for the NS7 II. The mechanics of the motorized platters would already make it heavier than most all-in-one controllers, so why not go all out? Just like the NS7, the NS7 II employs an-all metal chassis, making it one of the most robustly-built controllers you'll find. At 33 pounds, the NS7 II is relegated to transporting in a flight case with rollers -unless you're one of those fist/iron-pumping heavyweight DJs from Jersey, you're not hauling this thing from studio to gig by hand.
The heavy metal components of the NS7 II aren't the only signatures of a professional build. Its velocity-sensitive MPC pads come straight from Akai (like Numark, also owned by inMusic Brands). And the NS7 II's mixer section is a full-fledged, 4-channel DJ mixer that can mix 4 phono/line input sources—as well as 2 mic inputs—with pro-grade components and turntablist features.
CONTROLLER PERFORMANCE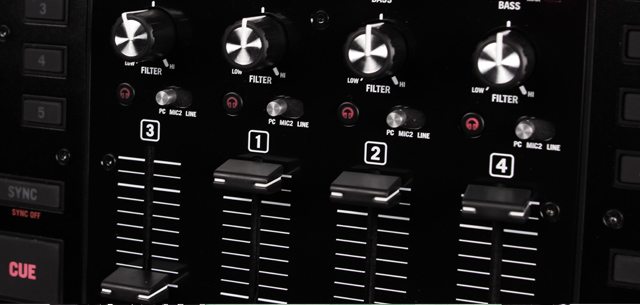 The NS7 II's controls are class all the way. The channel and crossfaders have that loose, slick feel of a dedicated scratch mixer, while the pitch faders are stiffer and ideal for minute adjustments.
Likewise for the knobs and rubberized buttons: Their construction and feel leave little to be desired. While the controls utilize every inch of the available space, nothing feels too cramped, and the logical layout puts nothing you're using in the way of something else. In particular, the Filter knobs' larger, grippable size and smooth, creamy action single them out for frequent use.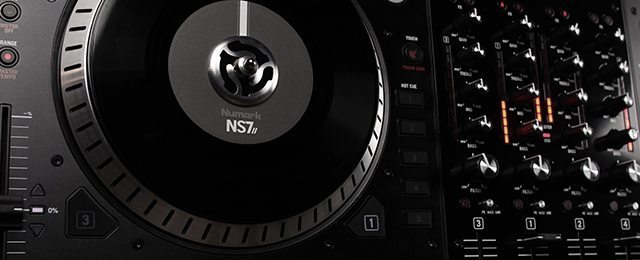 If you prefer to mix on powerful, direct-drive turntables, the NS7 II's platters will give you the feel and response you desire—all except for the actual size of a pro DJ turntable. Out of the box, they require some quick and easy assembly, and you can use the included vinyl pieces or your own 45 records to customize the look. A motor torque switch on the back adjusts from a heavier torque of modern turntables to the lighter feel of vintage turntables, and Start and Stop Time knobs give you generous leeway between near-instant starts and stops to slow, grinding wind ups/downs.
There is also a Bleep/Reverse switch. Flipping it to Reverse actually reverse the platter rotation as well as the playback, so it's not instant. Bleep provides a momentary reversing of the audio in Slip mode that doesn't reverse the platter. It's good for censoring words or just doing a reverse effect that won't interrupt the linear flow of the music.

With the Slip/Clear and Adjust/Set buttons, it's an easy and fast process to use the platters to move the Beat Grid left or right, or to set to Beat Grid markers for those times when the original analysis misreads a track.
Simply put, the NS7 II's platters provide a virtually identical experience to using control vinyl or even using pressed records on turntables. Be assured that this is akin to having two mini-turntables built into your controller – the torque strength and vinyl control feel like a pro deck. And with 3600 ticks of response resolution per rotation, the high-resolution MIDI that connects the platters to the software lets you scratch, nudge, and otherwise control the Audio Pointer in Serato DJ with precision.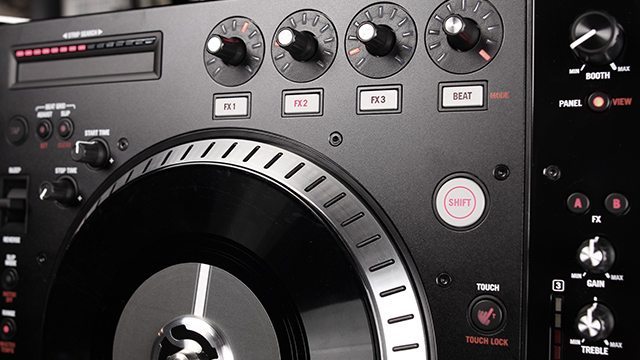 As a kind of "yeah, why not?" innovation, the NS7 II includes some touch-sensitive knobs to add some additional flare and performance options to your mixing. Press the Touch Mode button on the left deck once to activate touch sensitivity for the three FX knobs. Touching any part of the knob will activate the effect or the parameter for that knob until you take your finger off. With Shift-Touch Mode, you'll add touch sensitivity to the EQ knobs on all 4 channels. Touching the EQ knobs then kills that frequency band. You could for example place your hand over all the EQs for a track and kill the entire track momentarily until you lift your hand.

You'll notice a lot of improved visual feedback on the NS7 II. The Strip Search touch ribbon that helps you access any point in a track works well for that purpose, but it also adds a helpful LED progress bar that shows you where the track is in its playback, which is great whether you use the touch strip or not.
Another LED bar, the BPM Meter, sits above the mixer channel strips and shows when the tempos of the two active decks are matched. A white LED in the center glows when the tempos are matched, and the Meter's red LEDs bend to the faster deck when the tempos aren't matched.
At first, I thought perhaps the light rings around the outside of the MPC pads would be deficient compared to fully backlit pads you see on controllers such as the Pioneer DDJ-SX. It turns out they're not deficient, just different. They light up in different colors for each of the 9 Pad Modes and they're easily visible in both well-lit and night conditions.
SOFTWARE INTEGRATION: SERATO DJ UNLEASHED

The NS7 II gives you hardware options for just about anything you want to do in Serato DJ, including browsing, dropping tracks in Crates or the Prepare panel, toggling through panel views and screen layouts, adjusting the Beat Grid, etc. But in some key areas the NS7 II goes far and beyond what's normal for most controllers.
The MPC pads and accompanying Pad Mode buttons provide the most comprehensive performance toolbox that I've seen on a Serato DJ controller. Most Pad Mode buttons select two separate modes, and the two Parameter arrow keys further modify the pads' actions.
Cue: Press Cue once to enter Hot Cue Mode, where you can set, trigger and delete cue points with the 8 pads. Press Cue again for Hot Cue Auto Loop Mode, where new or existing cue points are triggered with an auto loop assigned to it. Use the Parameters to increase or decrease loop length. Personally, I love this mode; it's great for setting up your next mix while working with another track.
Auto/Roll: Press this once for Auto Loop mode, where each pad triggers an auto loop of different lengths. You can use the arrow keys to make the loop length longer or shorter, or use Shift-arrow keys to move the loop position forward or backward. Press Auto/Roll again to enter Loop Roll mode, where pressing a pad triggers a momentary Loop Roll. While a pad is pressed, you can use the arrow keys to lengthen or shorten the Loop Roll.
Loop: This button enters Manual Loop roll. Pressing it once accesses the first back of 4 loops in pads 1-4, and pressing it again assigns the next 4 loops to pads 1-4. Pads 5-8 are used to set loop in and out points, activate/deactivate the loop, and to reloop. The arrows keys halve or double the loop length, and Shift-arrow keys move the loop back or forward.
Sampler: Press this to enter Sample Player mode, where the first 6 pads trigger the software's SP-6 samples. Pressing the mode button again enters Sample Velocity Trigger, which is the same thing except that velocity sensitivity is activated for the samples.
Slicer: In Slicer mode, Serato chops up the playing track into 8 segments according to the Beat Grid, which you can then retrigger from the 8 pads, or hold down a pad to loop it. Pressing Slicer a second time enters Slicer Loop mode, where instead of playing a track continuously, the 8-Slice phrase loops while you perform. In both modes, the arrow keys change the length of the slice quantization, and Shift-arrow keys increases or decreases the Slice Domain size.

The NS7 II has one last trick up its sleeve: the Filter Mode button on the right-hand deck. Pressing it enters the Filter Roll mode, and in addition to the normal filtering, the Filter knobs now apply a Loop Roll to the track, and the Loop Roll decreases in length as you twist the Filter further to the right or left.
Pressing Shift-Filter Mode turns on the Filter FX mode. This, in addition to normal filtering, also turns up Parameter 1 of either FX deck that's applied to the track as you turn the Filter right or left. So you can have any one or two of Serato DJ's effects applied to the filtered track simultaneously from the Filter knob.
Filter FX mode gives you more creative freedom than Filter Loop mode, but let's face it, both are a pretty fun and easy way to make you sound cooler. That being said, don't just dive in haphazardly—at least not in front of an audience. Since these effects happen in Slip mode, you'll want to have your timing down just right and the Beat Grids prepped accurately.
AUDIO QUALITY

Numark lists the NS7 II's soundcard as 24-bit, and Serato DJ doesn't provide any customization options for it. Before comparing it to anything else, it was clear that the NS7 II punched out plenty of audio levels from all of its master, booth and headphone outputs. There was headroom to spare, and when both headphone outputs are used, the levels remained the same.
After comparing the NS7 II to several other soundcards, including the NI Traktor Kontrol S4 and M-Audio Conectiv, the impression was that the Numark delivered a very classically transparent sound. Where others emphasized the bass a bit—too the point of slight distortion in very bass-heavy music—the Numark kept it even. The same could be said of mid-highs like lead synth lines. The Numark sound kept such frequencies even in the mix.
Whereas there was definitely a difference in the NS7 II's sound compared to other currently used DJ soundcards, the difference was subtle, and not easily characterized as "better" or "worse." Suffice it to say that the sound was clean, powerful and a transparent mix; I wouldn't hesitate to use it in a public setting.
MORE IS MORE

Using the NS7 II after a pretty long period of not using jog wheels or turntables made me remember just how fun and satisfying it can be to mix without using the Sync button. At DJ Tech Tools, we pretty much don't have biases for or against any type or method of controlling music; whatever sounds best coming out of the speakers is the point. But still, the NS7 II plus Serato DJ makes for a great combination of old school-meets-new school organic music mixing. You have the full ability to combine your turntablist and controllerist techniques at will.
Sometimes you can have too much of a good thing, but the NS7 II is not such a case. Besides the practical issues of size and weight that are inevitable, if you have room in your life to add the NS7 II, I doubt you'll regret doing it. Transporting it can be rough, especially if you don't have the NS7 II case, but if you can set it and forget it somewhere in a DJ booth or studio, it could be the perfect controller for getting lost in Serato DJ and your music collection for hours and even days on end.
Markkus Rovito is DJTT's Tech Editor. Want something reviewed? Let him know in the comments.