Hercules DJControlWave: 100% Wireless Bluetooth DJ Controller for iPad
Hercules has a booth at the Consumer Electronics Show this year, and is one of the few companies that shows products at both CES and NAMM, despite the two conventions being just a few weeks apart. They're showing a brand new product, the DJControlWave controller, a wireless controller for iPad DJ softwares. Have a look at the unveiling video below and then scroll down for more specifics on the product itself:
CONTROL LAYOUT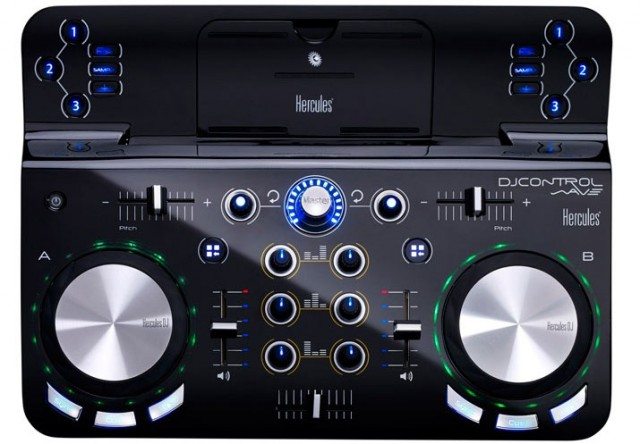 The DJControlWave has a control layout that feels similar to the Pioneer DDJ-WeGO – small and compact, with controls and lights that focus prominently around the 4″ capacitive touch jogwheels (notice the curved Sync, Cue, and Play buttons at the bottom of the jogs). Two channels of control, a crossfader, and three EQ knobs are the expected controls, but there's also a master volume control knob, flanked by loop encoders and horizontal pitch faders at the top of each deck.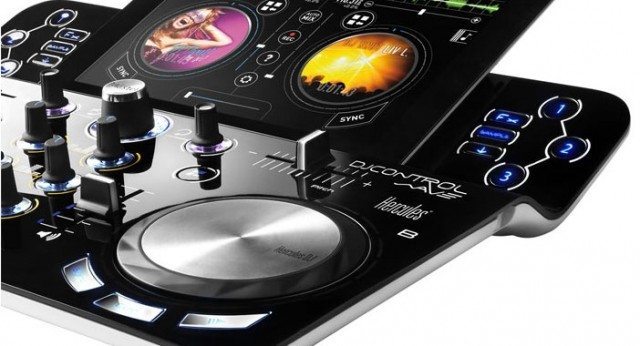 Above the transport layer is a second angled layer that the iPad rests on into – this is where the Bluetooth 3.0 module is located. The numbered labels to each side control FX, cue points, and samples. All of the controls seem to have a simple blue LED backlight,
WIRELESS AND RECHARGEABLE – BUT NO SOUNDCARD

The DJControlWave is just a wireless controller for iPad software, so there's no soundcard or audio interface on the hardware itself. The only port is a USB charging port, used to recharge the battery which can last up to 8 hours. The controller  also has a standard Bluetooth pairing range, meaning that you can pick up the iPad and continue to use it with the controller up to 10 meters (32 feet) away. The only issue is that since there's no sound card, the iPad will continue to needs to be plugged into the sound system  – or you'll need to pair it to a wireless Bluetooth speaker.
DJControlWave works out of the box with DJUCED for both iOS and for Mac/PC desktops – Hercules' own DJ software that works very similarly to Algoriddim's djay. The controller will be available starting Spring 2014, with a MSRP of $299.99.
Learn more about the DJControlWave on Hercules' site.