Most DJ softwares don't use velocity sensitivity in their controls – but with more and more devices including them, why not? Today Ryan shares a quick tutorial on using velocity-sensitive pads to modulate effect parameters and Remix Deck volume in Traktor – read on to learn how and to download a free mapping for Maschine!
QUICK INTRO TO VELOCITY SENSITIVITY

Velocity-sensitive controllers are able to tell how hard or soft the controller is pressed. Once a pad is hit, it sends a MIDI value between 0 – 127, depending on the amount of pressure on the pad itself. Typically velocity sensitivity is used with pad controllers, MIDI keyboards, and synthesizers to mimic the dynamics of a real instrument. Hit the pad/key hard, and the sound will be louder. It'd be pretty repetitive if a musician could only play super loud or not at all, so don't let your MIDI controller suffer the same fate.
Popular controllers with velocity sensitivity include the entire Maschine lineup, QuNeo, Push, Pioneer DDJ SX/SR/SP1, VCI 380, Numark NS7 II, and many others.
BRINGING VELOCITY INTO TRAKTOR

Today, we're going to apply velocity sensitivity to parameters in Traktor Pro 2. By default, there are no mappings or controllers that use velocity in Traktor. The Maschine line is best suited for custom mapping velocity feedback because you can easily customize the control messages in the NI Controller Editor app. The controller editor also allows you to easily change the MIDI channel – this will help avoid any conflicts with other controllers and define the kind of message that the controller sends (control change is the message we're after).
Since it's using MIDI, there's a range of 127 steps of sensitivity and using the Controller Editor will allow you to change how sensitive the pads are.
Other controllers will do the trick, but you'll need to use a MIDI monitoring program to find the right messages to map. When using Traktor you'll have to manually select the MIDI channel and MIDI note for the command. Using the "Learn" button to map velocity may not work as it may mistakenly detect the hit and not the pressure messages. 
ADDING VELOCITY SENSITIVITY TO REMIX DECKS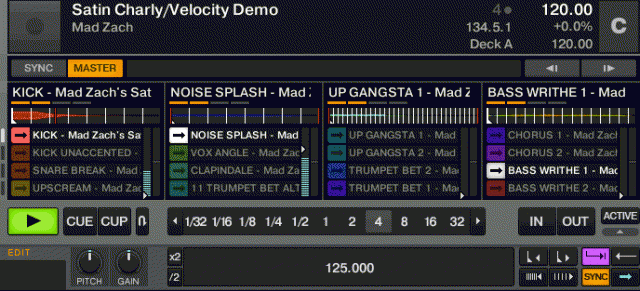 Having velocity sensitive pads makes it great for drum samples in one shot mode. You can even import Maschine drum samples. With the Remix Deck pages you could load up to 4 different styles of drum kits (such as an 808 kit, an acoustic kit, or a Mad Zach soundpack) and play them with the same expressiveness as an Maschine or on a MPC.
As of Traktor 2.6.6, Native Instruments has included a default mapping for Maschine's Remix Decks. For simplicity we're going to use their mapping and template to demonstrate mapping the Remix Deck Volume slots to the Maschine pads (links for the mapping and Controller Editor template below).
Note that we're setting velocity sensitivity to work with one shot samples, so make sure your samples are set to one shots, not loops.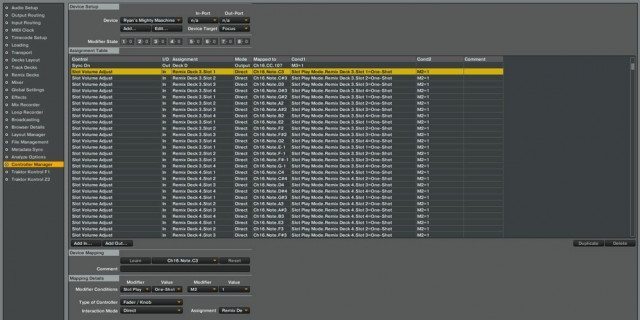 Mapping steps: 
Open Controller Editor > Select Maschine Controller MK2 > Templates > Edit > Open > Select "Maschine MK2 Remix Deck.ncm2"
Open Traktor's preferences > Controller manager > Add > Import Maschine Mk2 Remix.tsi (if you have 2.6.6, select Import TSI > Native Instruments > Maschine MK2 Remix Decks)
Add the Slot volume mapping for each deck: Go to Controller Manager in Traktor and  select the Maschine MK2 Remix mapping from the "Device" menu. Add 32 "Slot Volume Adjust" commands (16 for Remix Deck C, 16 for Remix Deck D). Click "Add in" > Remix Deck >  Slot Volume Adjust. (Refer to the picture of the controller manager window above – but my controller messages will be different from yours). To save you trouble we've included the default mapping with the "Slot Volume Adjust" commands loaded in, just assign them to your pads and map a modifier of your choice.
Want to add a toggle for turning this velocity mode on and off?  You'll need to add a modifier that will allow you to toggle between velocity mode. You can map it to any button, I recommend "Note Repeat"  on the Maschine as it's close to the pads (Be sure that the button "mode" is set to "Toggle" under the assign tab in the controller editor). To do this, add a modifier (to toggle between the control modes) and you'll need 8 "Slot Volume Adjust" commands set to Direct mode with a value of 1.0 – also make sure that inverted is selected. This will reset all the sample slots to full volume.
Download this Remix Decks mapping on Maps.DJTechtools.com

More Remix Deck Fun: Ean's Remix Deck Techniques

ADDING VELOCITY SENSITIVITY TO TRAKTOR'S EFFECTS

Say good-bye to static effects presets! Using Maschine's velocity sensitive pads I can apply pressure to 3 pads and easily change the sound of the effects. It's even possible to assign 3 fx knobs to one pad, it's like having 3 hands.
This works really well with a variety of Traktor's built-in effects, and is great for easy build ups using beatmasher, reverbs, and delays. It's even possible to have dynamic filter wobbles using one of the Filter LFO effects with the press of a pad.
When using velocity sensitivity with FX, it can be a little harder to get the exact same result every time. However that's the beauty of it, they're not static FX presets so whenever you press on the pad it's always changing. This also saves you from having "me too" FX.

Mapping these effects are pretty complicated – we'll have to do an expanded tutorial in the future. In the meantime you can download the controller editor template and mapping used in this video (works with Maschine MK2 – needs modification for others). If the FX aren't to your liking, we've added comments to the mapping to make it easy to find and change the FX that are loaded (see image above – pad number refers to the numbers on the controller). Before you load this mapping I'd recommend creating a backup of your Traktor settings in the controller manager window (use the "Export" button), since this mapping requires loading effects presets for it to function properly.
Download this Traktor FX mapping on Maps.DJTechtools.com

DEMO OF BOTH + QUICK MAPPING EXPLANATION