We've previously covered hand-based motion technologies for DJing and live performance – from the Hot Hand USB to the MYO armband. But IK Multimedia has decided to take on the challenge of dramatically dropping the price of gesture-based control for audio applications by building the iRing.
Introduced this week at CES, the iRing uses camera-based positioning, detecting the X, Y, and Z (distance from the device) coordinates of two different dot patterns via the front-facing camera on an iOS device.
iRing uses […] advanced volumetric positioning algorithms to recognize and determine the exact physical location of the ring in relation to the device camera. This precise reading of the physical location of the ring is converted into MIDI control messages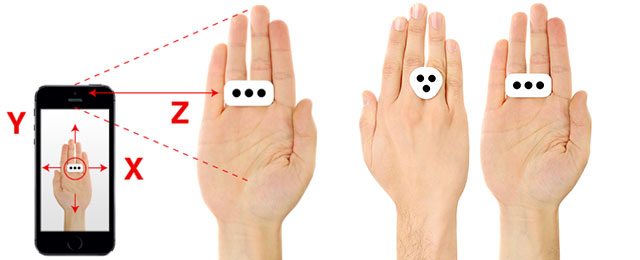 The ring itself has two sides with distinctly different patterns on them, and rests in between your fingers (all the promotional material seems to show it fitting between the middle and ring fingers). Watch it in action:
THE iRING SOFTWARE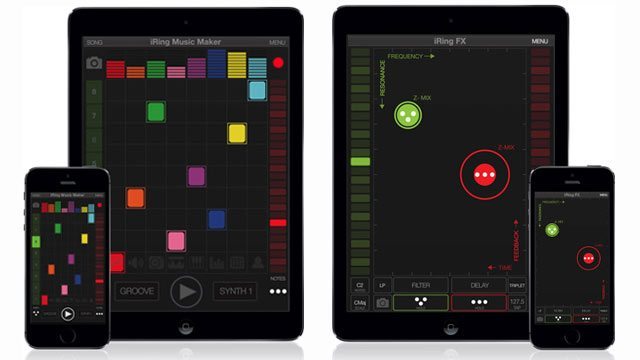 iRing is packaged with two applications that enable motion control instantly: iRing Music Maker  and iRing FX/Controller. Music Maker is a totally pre-packaged experience, making it easy to jump right in and use the controller to effects beat patterns, synths, and effects.
The real power comes in the iRing FX/Controller app, which translates the positioning information from the rings into MIDI information. The MIDI data can then be sent to other applications on the device that are Core MIDI compatible or to a computer connected via Wi-Fi. The app also can act as an audio effects processor, with 16 included effects (Delay, Stutter, Phazer, Compression, etc) – and inserted as a device for any app that's compatible with Inter-App Audio or Audiobus.
COMPATIBILITY + AVAILABILITY
An iRing package, which includes two rings, is slated to be released in the first quarter of 2014 for $24.99/€19.99. You'll need to have an iOS 6 device or later, and is only compatible with iPhone 5(normal/S/C), iPod Touch (4th + 5th generations) iPad Air, iPad Mini, and iPad 3rd and 4th generations. IK Multimedia is also releasing a SDK and free licensing program for developers to start integrating their applications if the concepts take off.
It's worth noting that a camera-based motion tracking software might not have the same low latency and precision of some of the other options mentioned at the start of the article, as processing an image dynamically is likely to take a fair amount of power. Another big limitation: you can't control anything if the rings leave the camera's field of view, something that standalone solutions like the Hothand have no issue with.
Learn more about the iRing on IK Multimedia's site. 
MORE FROM CES 2014: Hercules DJControlWave Wireless Controller