We got an on-the-ground, inside look at the new Pioneer DDJ-SZ ultra 4-deck controller for Serato DJ at NAMM 2014. This comprehensive beast gives you the size and feel of a DJM mixer/two CDJ combination without all the cost. It has exclusive onboard effects, amazing performance pad modes, and a unique 2-port USB connection that lets you mix from two computers at once or swap out DJs without stopping the music. Get the inside scoop with video right here.
For Serato DJ users who want high-end Pioneer quality but have no need to play from CDs or USB sticks, the DDJ-SZ offers affordable Pioneer quality for Serato DJ users on the go or for small venue/bar installations.
Want one? DDJ-SZ's are available in the DJTT webstore.
When we say it's affordable, we're talking about a premium price for an all-in-one controller: $2,399 MSRP/$1,999 street. However, we're also talking about a no-compromise Serato DJ experience.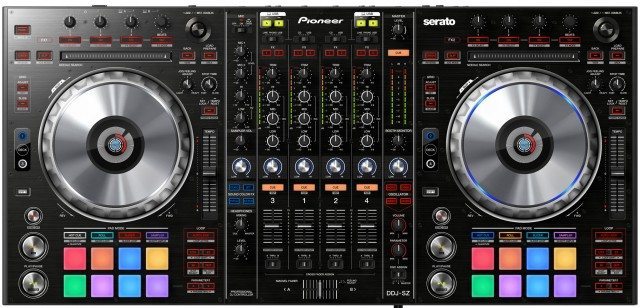 Pioneer built the DDJ-SZ keeping in mind user feedback that requested the look, size, and feel of CDJs and a DJM mixer in a single controller. On that account, the DDJ-SZ delivers and then some. When you consider that a DJM-900SRT with two CDJ-2000 Nexus players would cost $5,457 out the door ($4,857 if you went with the DJM-900 Nexus mixer), the DDJ-SZ looks pretty good. Of course, there's so much more to the this piece than just the look and feel: it also delivers a lot of new bells and whistles.
THE KEY FEATURES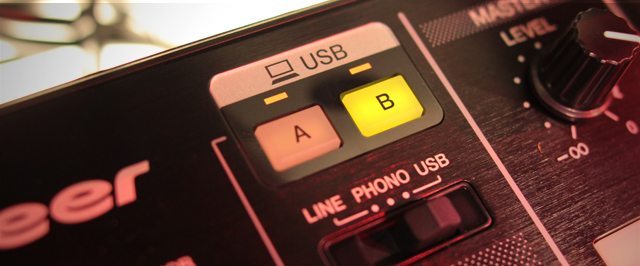 • Multi-person use
With the DDJ-SZ's two USB ports, two people can plug in laptops simultaneously and play on the hardware at the same time. There's two truly independent sound cards, so you can tag-team DJ or simply switch from one DJ to the next without interrupting the sound.

• Timecode Connectivity
The DDJ-SZ includes DVS functionality, so you could, for example, connect CDJ units to the controller and use the CDJs as decks 3 and 4.

• Effects
You'll get four exclusive Oscillator effects on the DDJ-SZ not found on DJM mixers: Noise, Cymbal, Siren and Horn. These produce tempo-synced oscillations with a parameter control, and they can be routed to a specific channel for mixing and cutting. Four additional Sound Color FX include Echo, Jet, Pitch and Filter.

• Performance features
The same awesome performance pad modes that made the DDJ-SX controller one of our recent favorites grace the DDJ-SZ as well. Besides Hot Cues and launching samples from the SP-6, you get two kind of loop Roll and audio Slicer modes. The fully illuminated pads are color coded to illustrate which mode you're in. The only bummer here is that you can't active Slicer when a loop is already running.

• CDJ-style experience
When you master the DDJ-SZ, you'll be getting used to a CDJ hardware experience that you might end up using in a club. For example, the 8.1-inch jog wheels are the same size and use the same On Jog Display and hardware Jog Feeling Adjustment as on CDJ-2000 players. There are two browsing/loading knobs — one for each deck — like there would be in a CDJ setup. And the Jog Wheels are conductive, rather than a mechanical push.

• Quality Hardware
Two built-in 24-bit soundcards use a low-jitter clock and a Wolfson digital-to-analog converter for the audio playback. The sounds cards total 10 inputs and 10 outputs, including 2 I/O for each channel and 2 mic inputs.
The Magvel crossfader with adjustable curve is the same crossfader found in the DJM-900SRT mixer.
One-inch, velocity-sensitive performance pads illuminate fully and offer great feel and response.
Ever forget which deck is active on a side? The DDJ-SZ jog wheels are illuminated blue for decks 1 and 2 and they change to white for decks 3 and 4.
STATS
Dimensions: 34.3″ W x 16.5″ D x 3.9″ H (87 x 42 x 9.8 cm)
Weight: 22.9 lb. (10.4 kg)
D/A and A/D convertors: 24-bit
Sampling rate: 44.1 kHz
Inputs: CD/Line×4 (RCA), Phono×2 (RCA)
Mic x 2 (XLR & 1/4 inch combined x 1, 1/4 inch x 1)
Outputs: Master Out×2 (RCA×1, XLR×1); Booth Out×1 (1/4 inch);
Headphone Monitor Out×2 (front panel 1/4 inch, 3.5 mm mini-jack)
OUR IMPRESSIONS
After Ean and rest of the gang gave the DDJ-SZ an initial spin on the show floor, we think it seems like a really fun controller with a lot of high-end features and wicked effects to play with. The full-sized layout, at 30% larger than the DDJ-SX, does not feel like a toy but a full-blown DJ setup with all the bells and whistles. The pads, with their various cue point and slicer modes are great for cutting up tracks and you can't beat the 2 sound cards for DJ swaps or dual laptop performances.  This certainly seems like a strong no-brainer for Serato DJs who want a mobile controller without any hardware compromises.
The weight is nearly twice that of the DDJ-SX, but not nearly as heavy as the gargantuan 35.8 lb. Numark NS7 Serato DJ controller. Purchasing an all-in-one system at this price feels a little scary (in lieu of buying each piece separately) as one point of failure brings down the full system, but it also represents a significant savings over the current option: a full CDJ setup.
Some online retailers already have the DDJ-SZ available for pre-order with availability listed as March 14. Will you be tempted to try it out? Let us know in the comments.