Four hard-working DJ TechTools staff members and three volunteer reporters took on the sights, sounds, and smells of NAMM 2014 in the hopes of finding the most interesting and inspiring products of 2014. If you have any use for amazing DJ effects, deluxe DJ controllers, game-changing drum programming software or a next-level DAW, you'll want to read and watch our findings now.
Another NAMM has come and gone in a flurry of competing sound systems, faded rock star glory, and the wafting aromas of fog machines and booze. This year we saw a lot of really cool gear that may keep you inspired to play music through the year. Here are the most notable products we saw from 3 categories: DJ Hardware, Production Hardware, and New Software.
DJ HARDWARE
Pioneer DDJ-SZ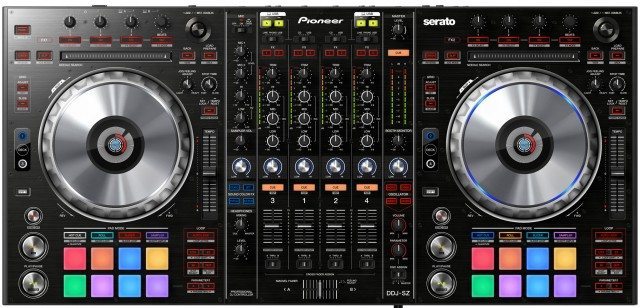 For Serato DJ users who want high-end Pioneer quality but have no need to play from CDs or USB sticks, the DDJ-SZ offers affordable Pioneer quality for Serato DJ users on the go or for small venue/bar installations. This is possibly the new cadillac of controllers.
Availability: 2014
Price: $1999
Key Benefits:
Full-sized mixer and CDJ style layout
Pioneer quality components
Dual sound cards for 2 DJs to plug in
Tight Serato DJ integration
Two sets of dedicated hardware effects
Check out our full coverage of the DDJ-SZ here
Sennheiser HD7 DJ and HD8 DJ headphones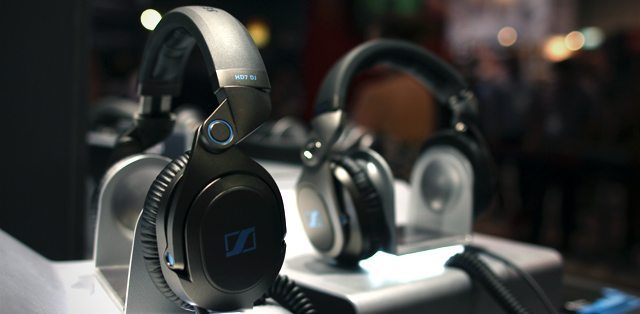 Availability: End of January
Price: $329.95 for HD7 DJ; $389.5 for HD8 DJ
Key Benefits:
Sound signature based on the classic HD 25 cans and professional DJ feedback.
Swiveling ear cups with 210 degrees of movement and extremely flexible and durable headband.
115 dB of SPL, frequency response of 8-30,000 Hz
Included accessories: 2 pairs of interchangeable ear pads: soft velour and leatherette; 2 Keval-coated cables: coiled and straight (3 meter); hard-shell case; mini-to-1/4-inch converter plug
What We Like: Both pairs offer a very comfortable over-the-ear fit, and that design also helps to isolate outside noise. The swiveling ear cup design felt great to use. With the phones over the head, you can twist one ear cup to rest on the head behind the ear, for one-ear monitoring, or with the headphones slung around the neck, one of the ear cups can bend upward for comfortable, quick bursts of one-ear monitoring.
We will need to do more extensive testing, but upon our brief tryouts at NAMM, these headphones offer satisfying clarity in the low-, mid-, and high-frequency ranges. The NAMM show floor gets quite loud. Not as loud a club, but still, the HD7 DJ and HD8 DJ appear to be quite capable of cutting through noise and isolating some degree of outside sound so that you can hear what you need to for your mixing.

The detachable cables can plug into either ear cup.
The HD8 DJ also comes with what felt like very durable metal reinforcement parts. The ear cup swiveling on the HD8 also seems like it may be adjustable to be as tight or loose as you want it.
What's Missing / Needs Work: Unlike the HD 25 II that inspired their sound, these headphones aren't designed with completely user-replaceable parts.
Pioneer RMX-500 External Effects Unit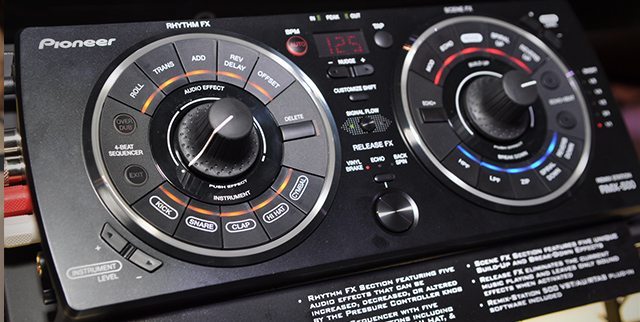 Availability: February
Price: $499 MSRP
Key Benefits:
Takes the best features of RMX-1000 but with a simplified layout and lower price.
Scene FX section, Rhythm FX, a simple drum machine, and Release FX
Onboard soundcard with USB.
Comes with an AU, VST, and RTAS plug-in version of the effect processor; the hardware works as a controller for the plug-in. Also supports MIDI control.
What We Like:
Just about anything you do with the RMX-500 is gold. There are no throw-away effects, and everything syncs up to the incoming tempo with quantization for your actions. The two knobs work the effect wet/dry mix and effect parameters when you press and twist them.
It will come in extremely handy as a plug-in for producing tracks or DJ sets from a computer, or as a supplementary MIDI controller. It's available for pre-order at some online retailers now for $399, so you get a lot of what you'd use for the RMX-1000 for at a much lower price.
What's Missing / Needs Work:  You don't get all the same effects or the SD card slot that the RMX-1000 has for loading customized settings from desktop software. Nor do you get the RMX-1000's touch-sensitive X-Pad or its level meters.
Read more about the RMX-500 and watch a walkthough in this article.
DJ-Tech DIF-1M & Thud Rumble TRX Scratch Mixer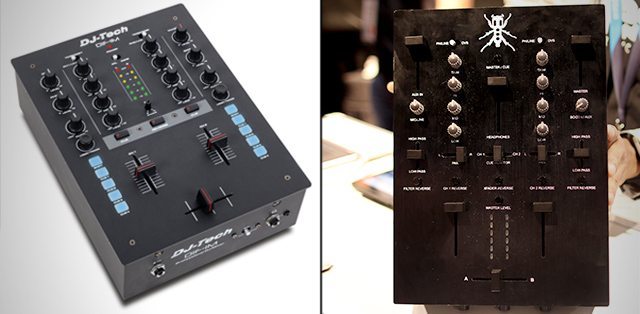 Availability: DIF-1M TBA, TRX Scratch Mixer est. for June
Price: DIF-1M: $239; TRX Scratch Mixer: $500 (only via QBert's Kickstarter campaign)
Key Benefits: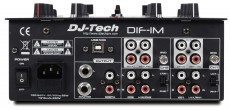 Attractive new scratch mixer options from a small, evolving company.
DIF-1M provides a low-cost alternative to the Traktor Z2 with USB MIDI knobs and buttons, a Mini Innofader crossfader out of the box, and seamless switching between DVS software and vinyl/CD setups.
A collaboration between DJ QBert, Thud Rumble, and DJ-Tech, the limited-edition TRX Scratch Mixer aims squarely at being the best scratch mixer ever; it includes an Innofader Pro crossfader, seamless switching between DVS software and vinyl/CD setups, and — a first for a DJ mixer — dedicated post-fader direct outputs for each channel.
What We Like: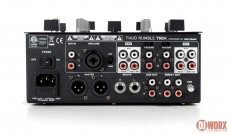 Remember when DJ-Tech made the weirdest stuff ever? Those days seem to be firmly behind it. Now you can spot some of the biggest OG's of the scratch scene — like Shortkut, Babu, and QBert — drooling over the new models at their NAMM booth.
We're all for the integration of MIDI control with scratch mixers, and at a price of $239, the big question concerning the DIF-1M  is: could it really be that great for such little dough?
Another thing we love: crowd-funding of gear. In the case of the TRX Scratch Mixer, you can only scoop it up as a benefit of supporting QBert's upcoming album, Extraterrestria, at a price of $500. There were about 180 of a run of 200 left when we published, and you have until Feb. 15 to claim yours.
We'll be interviewing QBert very soon at DJTT HQ showing off the new TRX scratch mixer – keep an eye out! 
Ultra Low Cost Controllers: Gemini Slate 2 and Slate 4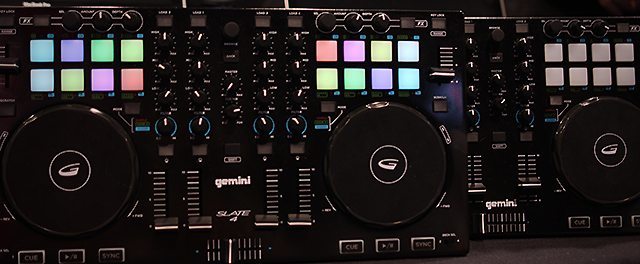 Availability: TBA
Price: $199 for Slate; $249 for Slate 4
Key Benefits:
Thin (25 mm high) and light, although Gemini has not yet released the weight info.
Cables connect on the side, so you could push the controller back flush against a laptop when they're both on a tabletop.
Pre-mapped for Virtual DJ.
What We Like: Gemini has stepped up its controller game recently with offerings like the G4V. There's a viable mission behind the Slate and Slate 4, which is to offer a very compact and portable, yet well-rounded controller, to complement the ever-more-slender, solid-state computers that are gaining ground these days. The prices might indicate a compromised controller, however, you still get must-have features like the 8 multicolored pads per deck, dedicated filter control per channel, FX section and a built-in soundcard.
What's Missing / Needs Work: In making a slim, light controller that you can carry around pain-free, Gemini also went with a plastic chassis that's not really the most confidence-inspiring. The headphone output is a single 1/8-inch jack.
Xone:23 Two Channel DJ Mixer
Availability: April
Price: $299 MAP
Key Benefits:
Fantastic Allen & Heath VCA faders and analog high-pass and low-pass filters with cutoff and resonance controls.
2 + 2 channel design — both channels have dual phono/line inputs
FX Loop
Compatible with mini Innofader
Low price for DJs who want club sound without all the extras.
What We Like: The re-designed Xone:23 updates the Xone:22 with a better look and a more ergonomic design that puts the mic input on the top and both headphone outs on the front. Each of the four inputs has its own level knob, so you could have 4 inputs going into the mix at once if you like. There's also an option to mod the phono inputs to make them line-level.
What's Missing / Needs Work: Instead of a custom AC adapter plug, we'd rather have a standard power supply cord for easy replacement. Rather than separating the effects loop from the filter on each channel, the filter must be active for the effect to route to a channel.
Read our full in-depth piece on the Xone:23 here. 
Production Hardware
Universal Audio Apollo Twin

Availability: Now
Price: $699 for Apollo Twin Solo w/1 DSP chip; $899 for Apollo Twin Duo w/2 DSP chips
Key Benefits:
Includes the Realtime Analog Classic bundle: 14 meticulously crafted UAD plug-ins for compression, equalization, guitar amp modeling, and more.
Onboard DSP power for offloading the plug-ins' requirements from your CPU.
New Unison technology combines the Apollo Twin's preamps with onboard plug-ins to emulate preamps from classic tube and solid-state devices.
Famously high-quality Universal Audio A/D, D/A conversion at up to 24-bit/192kHz.
Thunderbolt interface means an extremely fast connection for near zero latency (and also that it's Mac-only).
What We Like: The sound of Universal Audio's interfaces and plug-ins makes people into believers very quickly after they first hear it. With the Apollo Twin, you get a compact and efficiently designed interface with the great audio conversion, 14 bundled plug-ins, and onboard DSP processing for an unprecedented price. Universal Audio has many exclusive rights and/or access to classic high-end analog gear modeling, and its emulations of pieces such as the LA-2A audio leveler, 1176 limiting amp, Pultec EQP-1A equalizer, and others are some of — if not the — best you'll hear.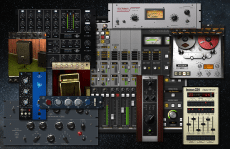 Apollo Twin houses its included plug-ins, as well as any other UA plug-ins you purchase, in the Console mixer application, which accepts a DAW channel through a virtual channel of the Apollo Twin. The Console provides a tidy mixer environment for working with the plug-ins and shows you the processor load on the UAD DSP chips, so you can print an audio track when it's loaded. Pressing the Apollo Twin's big hardware knob cycles through controls on the Console, giving you easy access preamp functions and other key controls.
Elektron Analog Rytm

Availability: Late Q1 2014
Price: $1,549/€1,489  est. MSRP
Key Benefits:
8 fully analog drum synth voices, optimized for their particular drum sound.
12-channel sequencer (recorded from pads or via step sequencer button input)
Each of the channels has an analog synth voice, a 16-bit/48kHz WAV sample voice, analog multimode filter, analog distortion, an LFO and digital delay and reverb. The master mix also has an analog compressor and analog distortion.
Full parameter automation per step
USB port for MIDI and sample transfer to/from a computer.
What We Like: The Elektron Rytm is a completely analog drum synth, and it really shows in the sounds produced. There's an impressive feature set that makes it a solid choice for both studio work and live performance.
Read our full thoughts and impressions in this full article
If you're a fan of classic-sounding analog beats, it'll be worth it in the end. Watch a performance we captured by Elektron employee Cenk below:
M-Audio Trigger Finger Pro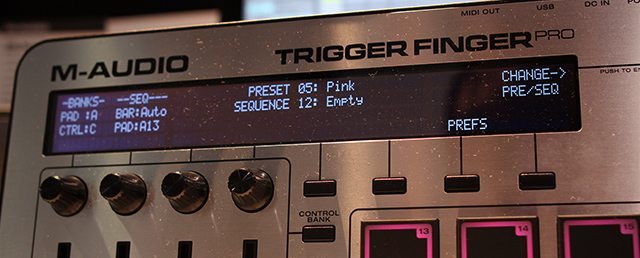 Availability: Spring
Price: $399 MSRP
Key Benefits:
Updated design adds a four-line display, RGB backlit drum pads, and a step sequencer across the bottom with 16 illuminated buttons and time divisions for 1/4, 1/8, 1/16, 1/32 and triplet notes.
Included Arsenal software hosts AAX, AU and VST plug-ins, and acts as a plug-in wrapper, mapping 48 controls over 4 banks of knobs (x4), faders (x4) and buttons (x4).
Arsenal instantiates as an AAX, AU or VST plug-in inside a DAW host.
Includes two plug-ins to start you out with Arsenal: the Air Drums drum machine that tightly integrates with the Trigger Finger Pro, and Air Hybrid 3 High-Definition Synth.
8 GB sound library of drum and instrument loops and one-shots and Hybrid 3 presets, many of which were artist-created by ToolRoom Records artists
What We Like: With its included software, the Trigger Finger Pro plus any DAW software equates to an extremely fast and painless way to translate your beat or musical ideas into recorded tracks. The Roll button for sequencing drum fills is a nice touch, too.
The Trigger Finger Pro feels more robust than its predecessor; it includes an aluminum faceplate and a detachable, 3-position metal stand for angled use. It can also jump in and out of MIDI mode with the touch of a button, so it's a tool that you can use it to produce tracks either in the studio or on the go, and then it doubles as a live tool for your performances.
Korg RK-100S Keytar Synth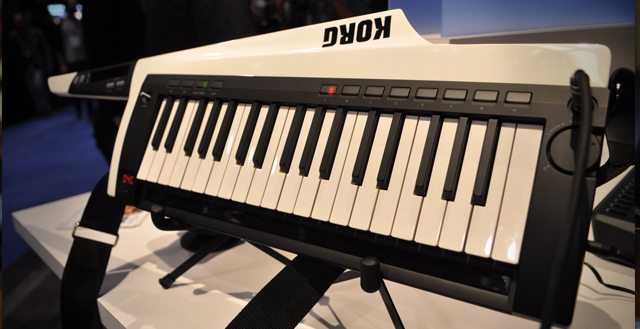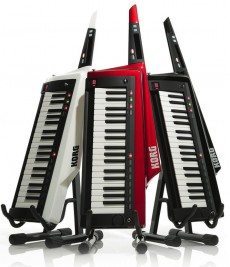 Availability: June
Price: $1,150/£695
Key Benefits:
Lightweight (7.5 lb./3.4 kg), 37-slim key analog modeling synth
200 onboard sounds, plus MIDI out and USB
Two touch ribbon controllers.
Mic/line input for the vocoder
Battery powered with 6 AA batteries or use an AC adapter
Slick design featuring a glossy wooden body in red, white, or black.
What We Like: 

You know that if you're confident enough to unabashedly rock out on a keytar, you're ready to hit the stage. When you do, you'll enjoy solid Korg analog modeling sounds, fast access to your favorite sounds, a vocoder, and best of all two touch ribbon controllers — a short one for the left hand and a long one that stretches the length of the keyboard in front. With that you can play a specified range of notes and scales, or use it to control the filter or pitch in various ways.
When plugged in over USB, you'll have detailed access to tweaking the sounds via the software editor.
Mostly, the RK-100s Keytar is just a lot fun, if you have about a grand to spend on that kind of thing.
Livid Instruments DS1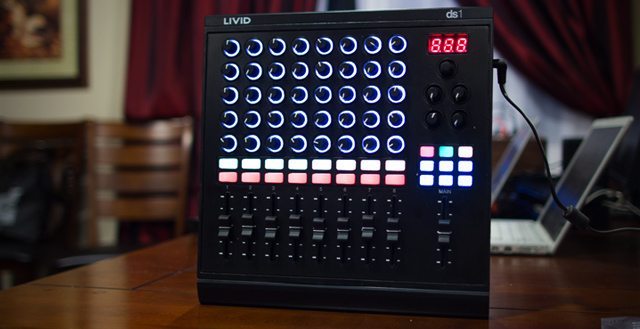 Availability: First shipment to Dubspot schools by mid-April; public availability TBA.
Price: Around $400
Key Benefits:
A WYSIWYG MIDI controller, what a Dubspot spokesman called "a love letter to the Evolution UC-33."
Simple interface and layout with easy compatibility for any DAW software and other MIDI programs.
1/8-inch expression pedal output allows connecting a crossfader as a small breakout box.
USB power available; AC adapter for full illumination.
What We Like: 
It's simple! Electronic Music school Dubspot wanted a simple MIDI controller for their students – so teamed up with Livid Instruments for the task.
Read our full thoughts on the DS1 in this article.
New Software
Serato Pitch N' Time DJ Demo
Availability: When Serato DJ 1.6 drops in February
Price: $29
Key Benefits:
Same professional standard time stretching and pitch shifting technology that launched Serato's reputation 15 years ago.
Brings an unprecedented level of time stretching quality to DJ software.
What We Like: 
Serato's Pitch 'n Time DJ expansion pack for Serato DJ integrates studio-quality technology into the Serato DJ software, allowing users to easily speed up or slow down tracks to extreme tempo values, while ostensibly maintaining its key perfectly, with the highest quality and definition of any available software.
Read More: about Pitch 'n Time in our article from yesterday
iZotope BreakTweaker Drum Sculpting Plug-in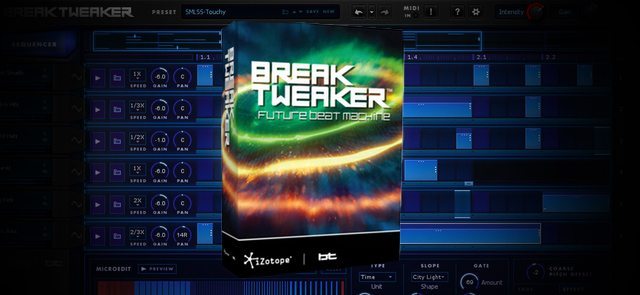 Availability: Now
Price: $199/$249 for BreakTweaker and BreakTweaker Expanded for a limited time; then $249/$299. (BreakTweaker Expanded included three additional sound Expansion packs.)
Key Benefits:
Three main modules: the Sequencer, the MicroEdit Engine, and the Generator (wavetable synth)
Isorhythmic sequencer tracks — vary the time signature of tracks so that beats evolve as they loop and don't repeat identically.
Tracks route individually to separate outputs, and you can automate track mute, solo, and other parameter in the DAW.
2 GB library of processed one-shots designed just for BreakTweaker such as many multi-layered snares and kicks that sound great straight out of the box.
A Discover feature analyzes and displays similar-sounding samples, making it much easier to locate the perfect sample to fit your production needs.
What We Like:
BreakTweaker is an incredible beat-oriented VST instrument designed by DJ/producer/composer BT the breaks the mode of traditional step sequencers. You can stretch each note in the sequence to any length, and then apply MicroEdits to them.
Read our full thoughts in this article – or watch the intro video below:
Bitwig Studio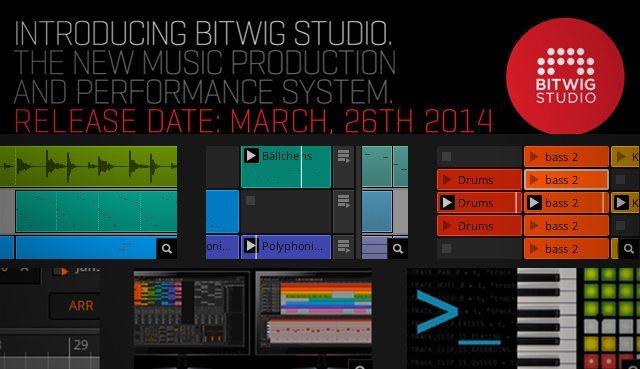 Availability: March 26
Price: $499/329€; the US MAP will be $399.
Key Benefits:
Focuses on production workflow and making all actions possible with the least amount of mouse clicks possible. Simply faster to use than other DAWs.
Open Controller API that will let anyone alter the script for almost every feature of the software. The Javascript API file will be available at Bitwig.com at launch.
Supports both 32-bit and 64-bit plug-ins, which are "sandboxed"—meaning that Bitwig will continue to work even if the plug-in crashes.
Linux users rejoice; it's compatible with Mac, Window, and Linux.
What We Like:
At NAMM we got first-person looks at Bitwig Studio and it's integration with controllers from Novation, Livid Instruments and Nektar. There's a lot to process – so check out our full thoughts on the software in a near-launch state in this article.
As rumored, Bitwig looks extremely intuitive and has many unique and impressive features allowing for faster workflow than any other DAW. Although the software hasn't been released yet, the attention it's garnered is well deserved. Bitwig Studio is successfully combining many different aspects of other popular DAWs and improving upon them.
Dan White, Markkus Rovito, Eric Manacsa,  Taylor Barnes, and Darren Gin all contributed to this report and general NAMM coverage.