Elektron added to their lineup with a new fully-analog drum computer, the Rytm. We got a chance to take a look at the unit at Elektron's booth at NAMM 2014 – read on for the specs, and exclusive performance video, and our thoughts.

Features: 
8 fully analog drum synth voices, each specifically designed to be optimized for their particular drum sound.
12-channel sequencer with options to record from 12 pressure-sensitive, backlit pads or through traditional step sequencer button input. (4 drum pairs are set to cut each other off when triggered – such as open and closed hi-hats – preserving the 8-voice polyphony.) There are 128 onboard pattern memories for the sequencer.
Each of the channels has an analog synth voice, a 16-bit/48kHz WAV sample voice, analog multimode filter, analog distortion, an LFO and digital delay and reverb. The master mix also has an analog compressor and analog distortion.
Full parameter automation per step; change the tuning, filter and envelope settings, effects settings and more for each sound as the sequence plays.
USB port for MIDI and sample transfer to/from a computer.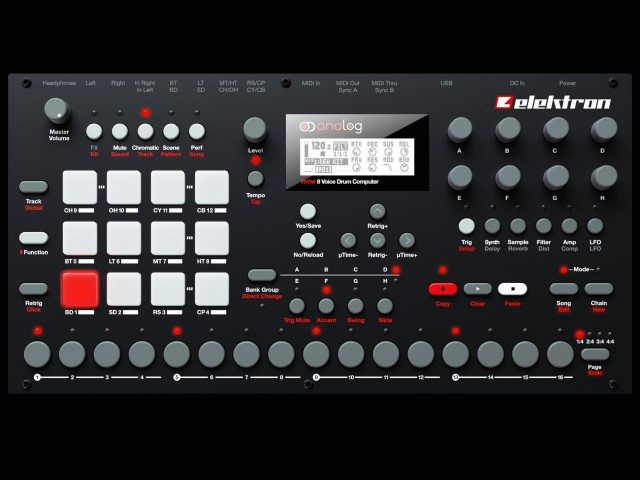 OUR THOUGHTS AND IMPRESSIONS
The Rytm's analog synth engine, including the drum sounds, the beautiful/destructive analog filter and distortion sound amazingly smooth, full and warm. No matter how accurate digital modeling and how smooth digital anti-aliasing becomes, you really can't replace certain aspects of analog sound, like the big, round boom of a bass or the sharp screech of a resonant filter. Elektron has also done a great job of customizing the synth voices for each drum sound, while implementing such radical sound-shaping options that you could for example take a deep kick drum line and soon turn it into a melodic lead synth line.

All of that flexibility makes Rytm a monster for live performance, as well, especially in experienced hands. Cenk Sayinli, an Elektron employee who wears many hats, was throwing down impromptu acid-tech-house-style mini-sets all with just the Rytm. "This is not your normal groovebox," he told us. "This is an instrument that you learn on, just like a guitar or a keyboard." It's true that just like Rytm and other Elektron machines are an investment of money, there's also an investment of time required to get the most out of its unique hardware and menu based interface. If you're a fan of classic-sounding analog beats, it'll be worth it in the end. Watch a performance we captured by Cenk below: