Welcome To Roland's New AIRA: TR-8, TB-3, VT-3 & System-1 Revealed
Enough of the teasing already. We can finally tell you all about the new Roland AIRA series, a group of meticulously modeled digital instruments based on the legendary Roland "xox" series — analog classics like the TB-303 Bassline and TR-808 and TR-909 drum machines, pieces that kicked off entire genres of dance music. The new TB-3, TR-8 and VT-3 Voice Transformer will be available in March, with the System-1 synth, inspired by the old SH-101, following in May or June.
AT A GLANCE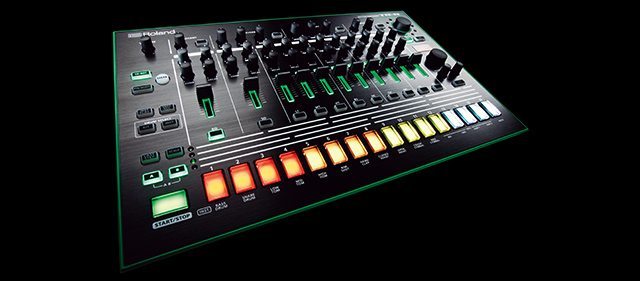 TR-8 Rhythm Performer
Inspired by: TR-808 Rhythm Composer and TR-909 Rhythm Composer
Available: March 2014
Street Price: $499
Key details: Faithfully reproduces the original sounds, controls, and sequencing from the original drum machine while also adding new sounds, controls, performance tools and modern technology.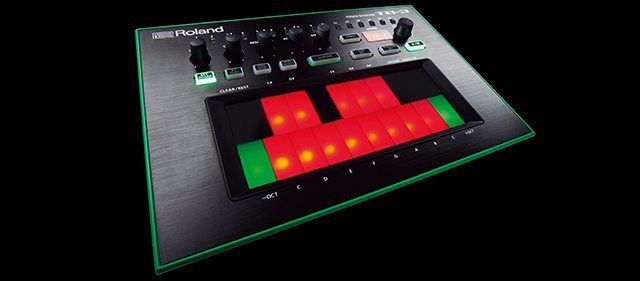 TB-3 Touch Bassline
Inspired by: TB-303 Bassline
Available: March 2014
Street Price: $299
Key details: Models the TB-303 down to the individual circuit, including the filter, oscillators, Accent, Slide and step sequencer behavior. Uses a pressure-sensitive touchpad segmented by backlights to input notes for patterns and for spontaneous effect tweaking of playing patterns. 134 total sounds, not just TB-303 sounds.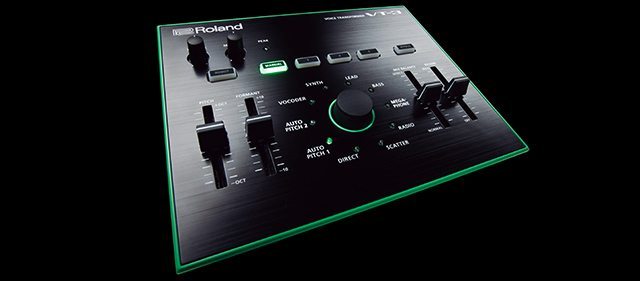 VT-3 Voice Transformer
Inspired by: VP-330 Vocoder Plus and other vocal processors
Available: March 2014
Street Price: $199
Key details: 10 voice settings — including Robot, Vocoder, Auto Pitch, Megaphone and Radio — with quick editing via sliders for pitch, formant, mix balance and reverb.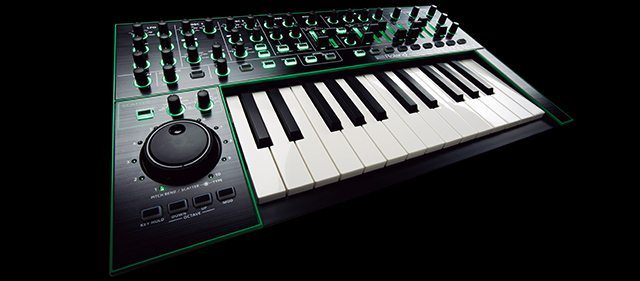 System-1: Plug-Out Synthesizer
Inspired by: System 100 and SH-101
Available: May or June 2014
Street Price: $599
Key details: 4-oscillator synth where all parameters are controllable with physical knobs and sliders. Arpeggiator with new Scatter phrase variation. Integrated effects and tempo syncing. Can load Roland plug-in synths, so they can be played without a computer.
Watch our exclusive performance video that we captured at NAMM 2014 in the Roland suite – complete with annotations on what's happening:
SOME BACKGROUND
Roland engineers have been working on refreshing their classic "xox" instruments for years, but ran into a number of problems. For instance, they found that even when dipping into their pristine museum units to analyze and model them, no two units ever sounded exactly the same.
So to create consistency, and also to add new modern technology and keep costs down, Roland opted to make their updated machines digital, and developed their own new modeling method they call Analog Circuit Behavior (ACB). With ACB, they first carefully study the analog circuit diagram of the original hardware and then write a corresponding digital program. Next they use instrumentation to compare the sound waves of the new machines with the original and then use that data to fine-tune the digital program and recreate the analog characteristics. Finally, they do any last revision after comparing the sounds by ear.
WHAT'S AWESOME
The sounds and real-time control: We only had the briefest of interludes with the AIRA hardware in a hotel room near the NAMM conference a few weeks ago, but we can confidently say that lovers of the old Roland gear being recreated here will not be disappointed with the sounds. While it is digital, all of the AIRA gear uses 32-bit/96kHz digital signal path, which means that you cannot detect any digital aliasing (notching) in the sounds, even during long, slow filter sweeps and LFO modulation.
Scatter: Each AIRA units uses Roland's new Scatter effect in some capacity. Scatter is a creative performance tool for the real-time reversing, glitching, gating, stuttering, truncating and otherwise rhythmically varying sequenced patterns and synth arpeggios. The TR-8, TB-3 and System-1 all have different Scatter types and 10 levels of Scatter depth.
Interoperability: All AIRA units include USB ports for passing audio to a computer. The TR-8, TB-3 and System-1 can all send and receive audio and MIDI over USB. They also can receive MIDI clock to sync to external third-party devices and software, or other AIRA units. The AIRA family was also made to easily sync to each other through their MIDI ports.
System-1: Plug-Out Synthesizer: In case you missed the significance of it, the System-1 will be able to load compatible Roland plug-ins into its own memory, so you can then play those plug-ins live from the System-1 without a computer. In that mode, the System-1 control LEDs will illuminate to show you which ones are active. When connected to a computer, the System-1 will also act as a 1-1 controller for those Roland plug-ins. The first plug-in to work in such way with the System-1 will be based on the old SH-101 analog monosynth, and more should be on the way after that.
FROM THE HORSE'S MOUTH

Additional details taken from Roland's internal copy:
TR-8
Just like the original:
• Newly developed Analog Circuit Behavior (ACB) technology allows part-by-part analyses and faithful recreation of tonality and behavior including the smooth variations of tone that occur when you work the controls of each instrument
• Obsessive attention to detail – like reproducing the original TR's unique variations in tone that occur when multiple instruments are entered in accented steps

TR Evolved:
• 16 stunning kits made up of 11 instrument types
• Control the intensity of the Accent function with a dedicated knob
• Per-step Gate Reverb and Delay effects with dedicated, real-time knobs
• Mix sources connected to the External Inputs
• Built-in Side Chain function creates rhythmic ducking and gating effects on External Inputs with per-step control
• Rec/Play modes have been eliminated enabling seamless pattern making and performance
• Real-time play of 4 different types of rolls (8th, 16th, VARI 1, VARI 2)
• Quickly Mute/Unmute individual instruments during performance or production
• Pattern randomizing and Pattern copy

TB-3
TB Evolved:
• Pressure sensitive Touch Pad
• Dedicated Tempo control with Shuffle and Tap Tempo
• Control built-in effects with smooth, responsive knobs
• Seamless switch between pattern creation and performance
• Enter steps manually or record real-time on the Touch Pad
• Random pattern generation and pattern modification with pattern copy

System-1: Plug-Out Synthesizer
• Advanced Arpeggiator with SCATTER jog dial offers 10 different phrase variations
• Variety of modulation  (incl. ring modulation, cross modulation and oscillator sync)
• -12dB and -24dB filter types with independent high pass filters
• Crusher knob for modern edge
• Integrated Delay and Reverb effect units
• Tempo syncing for LFO and Delay
• Innovative thin keyboard with 25 normal sized keys

VT-3 Voice Transformer
• Voice characters: Pop and electro sounds with two distinct "AUTO-PITCH" effects; VP-330-style VOCODER sounds without need for a keyboard; Glitchy effects that sound like something broke (in a good way) with SCATTER o Loads of lo-fi character with MEGAPHONE and RADIO settings; Synthetic sounding voices with the ROBOT button; Synths you can sing with SYNTH, LEAD, and BASS
• Save your three favorite settings for instant recall
• XLR standard combo jack with phantom power and 1/8" inch powered mic jack
• Stereo outputs can be configured as separate mono Wet/Dry channels
• USB audio interface with loopback recording to overdub vocals on existing tracks and USB bus powered