Maschine Sample Slicing Tips From Bass Kleph + Maschine/Komplete Giveaway
Today we've got an exclusive quick Maschine video from live performer and finger drummer Bass Kleph. In this tutorial, he's sharing some of his favorite techniques for taking a single sound from a full song and creating dynamic, playable samples out of that sound. We're also giving away a Maschine + Komplete bundle in this post – click through to enter!
BASS KLEPH'S MASCHINE TIPS
Maschine makes it incredibly easy to get sounds ready to sample, with just a few steps to quickly get a few copies of your starting sample into the unit's pads.
Load a full song into the first position on a Maschine group
Hit the Sampling button to enable sample-trigger mode.
Hit the Edit button, and then adjust the start/end points to find the single sound you want to isolate
Switch to "Truncate" in the left Maschine LCD and press "Apply" – this puts the sound into a standalone file and removes the rest of the song.
Use Duplicate to make two more copies of the sample
Then you're set to use one of the ways that Bass Kleph outlines in the video above to length a sample and make it more usable for a live routine or a remix.
Changing the play type to ADSR and link two of the samples together – making one short and punchy and one time stretched with a long tail.
Apply a Beat Delay plugin to add an echo tail to a time stretched sample – maybe add a bit of reverb to create more space.
Add a loop near the end of the sample – this works well in Pad Mode for playing a sample across different keys. (try adding Glide in for serious fun!)
MASCHINE + KOMPLETE BUNDLE GIVEAWAY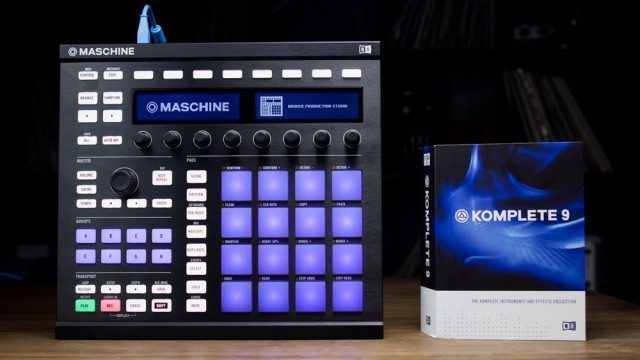 We're currently running a sale on a bundle of the Maschine MK2 and Komplete 9 in the DJTT webstore – $799 for the month of March. But for this article, we decided we'd give away one of the bundles! You can enter up to two times in the widget below via Twitter and Facebook – note that the contest ends Thursday Night/Friday Morning at midnight EST.
Watch Our Interview: How Bass Kleph Performs Live on Maschine