Most DJs these days manage their music collections in iTunes, good old-fashioned folders, or even DJ software. According to Beatport, up to 90% of DJs that manage a music library use iTunes, and based on most feedback, no one really loves it.. Fortunately, the new version of Beatport Pro provides a good alternative with a dedicated music manager for DJs and producers.

The first version of Beatport Pro was released nearly a year ago and enabled advanced users to browse the popular dance music retailer through their desktop with features not available in the online store. Now, after many months of hard work, Beatport has added full-blown music file management, offering a full package for those wanting to find and organize electronic music in one place.
Why would you want a dedicated program for managing your DJ music collection?

BETTER PLAYLIST MANAGEMENT

   Always present in the left-hand side
   Nested playlists and easy re-ordering
   Automatic integration with Beatport purchases
   Downside is that they lack "smart" playlists for now
BETTER EXPERIENCE FOR WORKING WITH DJ MUSIC
   Full-length waveform preview for songs allows easier digging
   Automatic separation of files by type (tracks, mixes, parts, etc.)
   DJ music-specific tagging fields (feel, room, set time, etc.)
   Powerful multi-filters parse down massive collections quickly
MANAGE YOUR MEGA DATA

Meta tags are the fields in MP3s and other music files that allow us to store information about that file. If they're accurate, meta-tags provide the opportunity to dig into a deep collection and find the music you want quickly. If inaccurate, they can be misleading and worthless. Pro provides the ability to sync up your songs with their extensive online database and get accurate information on each track including:
   Cover art
   Accurate release date
   Correct genre
   The key of the song
   The correct names
   Even suggested tags like mood and style from other Pro users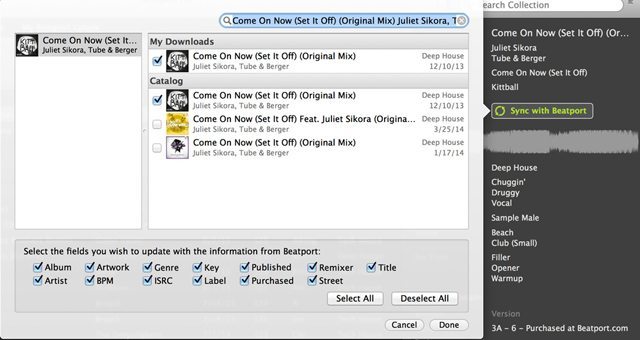 After syncing up a song or entering new tags, all metadata is written permanently to the file including WAVs and AIFFs in open ID3 spec. Right now, there is not any software on the market that will natively read "special" tags like set time or mood, but Serato and Native Instruments have indicated a desire to roll that out later this year. In the meantime, Beatport Pro for Mac allows you to write everything to the comments field.
Additionally, it has a metadata manager, which can move pieces of info in bulk from one field to the other. For example, if your key info was stored in the comments, it can be quickly moved over to the correct location or appended to a different area.
LOOK FOR NEW RELEASES IN THE SAME TOOL

The biggest benefit of Pro remains an alternative way to churn through the million-plus songs on Beatport today. Through clever filters and tagging, it's possible to quickly reveal songs that might otherwise be buried in a pile of new releases.
Negative and positive filters allow you to parse the collection quickly; for example, you can ask it to only show you house tracks, or not to show you anything that's hip-hop or breaks. You can filter and browse by key, BPM, mood, and even release date.
ALSO GREAT FOR THE PRODUCER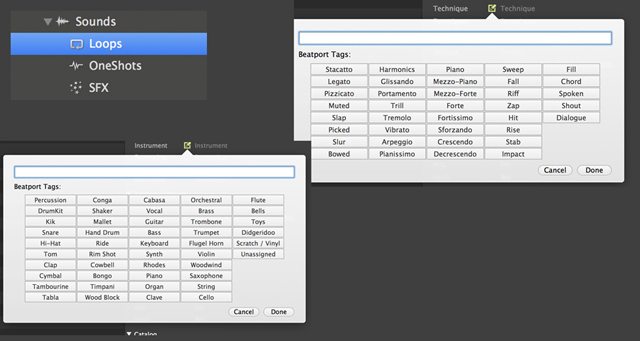 For those of us who have countless loops, samples, and one-shots floating around the hard drive, Beatport Pro also attempts to provide a central organizer with tags specific to production files. With a few basic tricks, it's fairly easy to round up your samples, apply basic category tags, and make it easy to find that elusive growling bassline in F# minor that was hiding in a folder with Game of Thrones Season 3.
DJ SOFTWARE INTEGRATION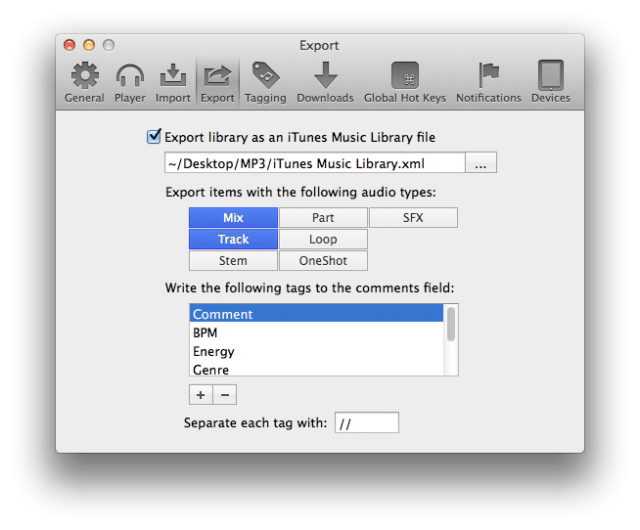 After spending hours taming your wild collection into submission – what about putting those playlists in your dj software of choice? While not offering direct "integration" per-se, Pro does have a reasonable work around. Under settings you can choose to export the collection as an iTunes playlist that is updated with any changes. Then, it's possible to point your dj software towards this file instead of the real iTunes collection. This will break the iTunes connection but it will accomplish the goal of updated Pro playlists in any dj software that supports iTunes.
OUR TAKE?
I have been working with Beatport Pro for Mac for about a month now, and it's starting to really grow on me. At first, the idea of tagging and organizing my entire music collection runs a close second to filing taxes as the least appealing things to do on the planet. That being said, if taken in small doses, it's possible to make a significant dent fairly quickly.
One thing we know for sure: this beats iTunes for music management hands down. I would still advise using a program like iTunes to hold all your music (especially in order to copy those files to a single place on the hard drive), but for building playlists and managing a smaller collection of your favorite dance tracks, it might be time to leave the land of apples and explore something new.
Beatport Pro for Mac launches on April 16. Check out more of its features here.