Portable MIDI mini-keyboards have become a dime a dozen, but Reloop's Keyfadr tries to give you a little more bounce for the ounce. Without sacrificing mobility, it packs in some healthy channel-strip controls, Ableton Live integration, and internal Arpeggiator and Chord modes. Is it worthy of your twiddling fingers? We gave it the once-over to find out.
Reviewed: Reloop Keyfadr
Price: $299 (MSRP); $229 (US street price) $156.13 (on Amazon)
Availability: Now
Communication: MIDI over USB (bus powered)
Ships with: Ableton Live 9 Lite, USB cable, quick-start guide.
Weight: 2.03 pounds (0.92 kg)
Dimensions: 12.6 x 8.66 x 1.14 inches (32 x 22 x 2.9 cm)
Minimum System Requirements (for Live 9 Lite):  Mac: OS X 10.5 or later, Intel multicore processor, 2 GB RAM. PC: Windows XP/Vista/7/8, multicore processor, 2 GB RAM.
The Good: Compact and lightweight; lots of controls; Ableton Live integration; can control Scenes and clips in Live; internal Chord and Arpeggiator modes. 
The Bad: No pitch bend/mod wheel controls; could use a setting to control Live Device macros and more arpeggiator patterns.
The Bottom Line: There are tons of 25-key mini MIDI keyboards to choose from, but not all of them have this many controls or Ableton Live integration. If that appeals to you, Keyfadr also comes with a potentially useful Chord mode and an internal arpeggiator for creating quick synth patterns or drum rolls.
If you're searching for a portable MIDI keyboard, either for live performance, mobile production, or both, there's a plethora of options out there.

The Reloop Keyfadr takes a bit of a different tack on the category, though. For one, it has more numerous and larger controls than the average 25-key mini-keyboard, and it does so without sacrificing portability. It's definitely wider front-to-back than something like the Akai MPK Mini, Novation Launchkey Mini, KMI QuNexus, etc., but at about 2 lbs, the plastic-body Keyfadr feels quite light to carry and easily slips into modestly sized backpacks with a laptop and a pad controller. 
Keyfadr also sets itself apart with a Chord mode for triggering chords with a single note, and a built-in arpeggiator, which can help you track patterns into Live. Perhaps best of all (if you're a Live user or want to get started on it), Keyfadr integrates with Ableton Live (and includes Live Lite 9).
MORE THAN JUST KEYS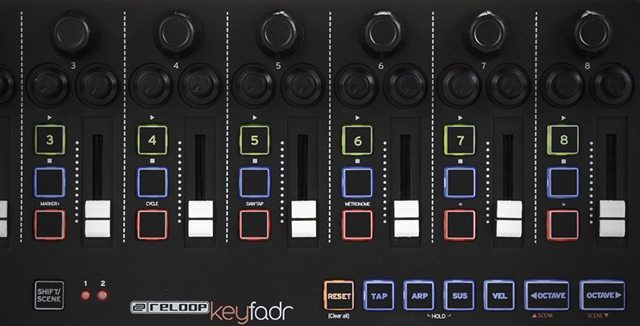 Keyfadr includes eight blocks of channel-strip controls at the top. Assuming you're going to be using it with Live Lite 9 or the full version of Live (the board works the same either way), the channel-strip controls break down like this: A push-button controller at the top operates track pan and selects the track when pushed; the two knobs per channel control send amount for Sends A and B; the fader works track volume; and the three buttons per channel mute, solo, and record-arm a track. 
Press the Shift/Scene button, and the eight channel strips will switch from controlling tracks 1-8 to tracks 9-16. 
Three transport buttons control Live's global Play, Stop, and Record. Using Shift/Scene plus other marked buttons, you can also launch and stop clip Scenes from Live's Session view, and with Shift/Scene plus the track mute and track solo buttons, you can play and stop individual track clips. 
KEYBOARD AND ARPEGGIATOR
Keyfadr's 25 mini-keys feel fine for what they are: good for a portable keyboard, yet not ideal for playing. A Vel button sets the keyboard to always trigger a note with full velocity, and two Octave ± buttons give you a nine-octave playing range. 
The arpeggiator is probably the most fun feature on Keyfadr that you always don't find on a MIDI controller. It's an internal feature, so it'll work in any DAW software you use. Turn it on with the Arp button, and press Sus to keep the notes sustaining indefinitely. If you set the MIDI Clock to "external," the arpeggiator can sync to your DAW's tempo, or you can use the Tap button to set the arpeggiator tempo and Shift/DAW Tap to try to tap the same tempo into your software.  
Using Shift/Scene and the keys, you can set the time signature of the arpeggator's notes, the arpeggiator pattern, range of notes played, and the scale of the notes played. It's a cool little tool, and does a lot without the use of a display on the controller, however, it would be nice if there were more arpeggiator patterns to choose from, and if Chord mode and Arpeggiator worked at the same time. 
KEYD UP

For a compact controller, Keyfadr puts a lot of options at your fingertips. It could be a boon to those who want to map it themselves.
It includes plenty of Shift-level actions in Ableton Live, like setting markers in the timeline, jumping to different markers, looping a section, turning on overdub, an launching scenes and clips. The Keyfadr's feature set seems to bend it toward being a producing/recording tool for Live, but it could certainly come in handy for live performance as well if paired up with a Push, Launchpad, etc.
If you produce in Live but perform in another DJ software, Keyfadr could help a lot of people map in some of the missing pieces they don't get with their DJ controller. 
Although we didn't test it, the larger Keypad presents a lot more performance and production options with its 16 drum pads, while adding a little bit more size to your gig bag.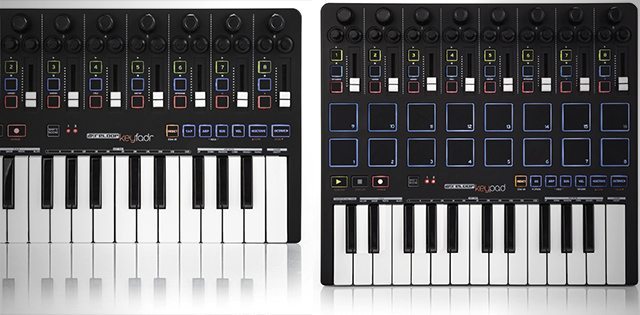 Also available, the Reloop Keypad ($207.53 on Amazon) has everything the Keyfadr has, plus 16 drum pads that map automatically to Live's Drum Rack notes and can also be used to send MIDI control-change and program-change messages. While we wouldn't call either unit a "must-buy," for the right set of needs, the Keyfadr or Keypad offer a more compelling package than the average compact MIDI keyboard.