Pioneer quietly suspended new registrations of their rapidly-aging Rekordbox software a few weeks ago, and today they're launching the new version, Rekordbox 3.0. With completely rebuilt interface and functionality that serious working DJs should expect from a preparation software, this release is a big deal for CDJ users around the world. Watch the introduction video and read more about the new features inside.
Two Decks + A Crossfader: this perfect for trying out a mix, checking BPM – but we suspect perhaps it might be a hint at things to come from Pioneer? No reason why Rekordbox couldn't be a full DJ software.
Match Function: This is something that we've seen crop up in different forms in various softwares (Virtual DJ and Traktor DJ for iOS both have track-suggesting capabilities in their libraries. Rekordbox's Match is based on your feedback, though – you'll have to mark two songs as working well together manually, and it'll suggest the tracks the next time you make a mix.
Personalized Tags: Similar to Beatport Pro's tagging system, set up your own list of custom tags for genres or moods and quickly mark your tracks with them.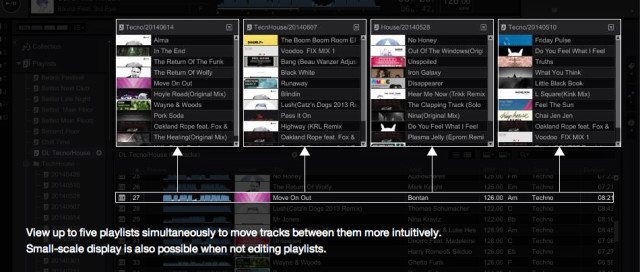 Playlist Pallate (shown above): being able to see 5 playlists at a time is a major win over even iTunes. Moving songs back and forth between a bunch of your playlists will be a serious timesaver for DJs who play a lot of gigs and build a lot of different playlists every week.
Import/Export Speed and Analysis Improvements: Probably one of the most asked-for features was simply to address the amount of time that Rekordbox spends bringing tracks in and out of the software. This might seem trivial, but it's about time it was addressed!
Complete Visual + UI Redesign: Again, a long-awaited improvement here – this includes things like colored waveforms and a clean preview interface, as well as waveforms in the library view and colored cue points.
Learn more about the new features of Rekordbox 3 (and download) here.