Touch devices in a DJ's gear bag is starting to become more of a common practice with better designed applications and faster devices. More performers, like The Glitch Mob, James Zabiela, and Kill Paris, are starting to rely on using touch devices in their sets. Even so, a group of DJs from the Netherlands feel there is something missing that many DJs require in a controller. Tuna Knobs are the world's first control knobs for your touch screen. Keep reading for more about how Tuna Knobs work, what they can do for the DJ, and the team behind the project.
What are these things?: Tuna Knobs are a stylus in the shape of a knob with a small axis in the middle. The hardware sticks to your device using a micro suction cup and translate a turning movement to a touch command. Tuna Knobs are currently supported by TouchOSC, Korg iMS-20, Korg iElectribe, and iDJ2GO applications.
How can the Tuna Knobs improve performances?: These knobs provide the precision and tactile element to a wide variety of music manipulation software. In conjunction with the applications above, a performance can now be given through custom software without the possibility of brush a finger too far or accidentally activating a button. Tuna Knobs provide the artist with the required mobility and versatility that many apps seemed to lack.
Who's behind Tuna Knobs?: Tuna Knobs launched on July 7th, 2014 through a Kickstarter campaign led by Tweetonig, a Netherlands based company invested in engineering fun and challenging new products. Samuel Verburg is an intern with Tweetonig and the creator of Tuna Knobs. A DJ himself, Samuel was intrigued by the great iPad apps for making music but had ways of innovating the technology.
" Playing around with apps like TouchOSC and Korg iElectribe I felt something was missing. I wanted more precise control. I wanted knobs." – Samuel Verburg via Kickstarter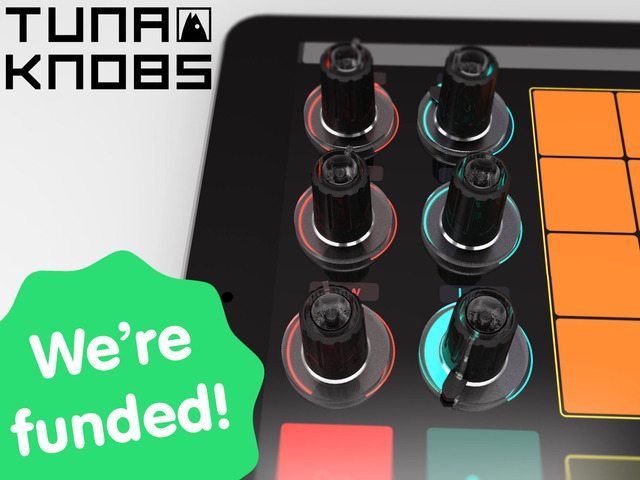 The Tuna Knobs Kickstarter has been funded by 352 backers totaling over $23,000 in funds with 28 days left to back the project. The knobs are currently only available through backing the Kickstarter ,for a minimum pledge of $12 (11 €) which will get you one Tuna Knob. There are various levels of pledging that include more Tuna Knobs and various other gifts. Tuna Knobs secured through pledges are set to ship in November of this year.
Tuna Knobs may be the hardware DJs having been looking for to really implement the iPad into a set. The big question is if knobs are enough to make software truly applicable to professionals or will they become a nice addition to a nifty app that only costs $5? What may be interesting is seeing the project go beyond knobs to faders and other hardware allowing a DJ to create their own versatile controller via the applications on their device.
What do you think about this new venture? Would you be more inclined to use touch based apps if you had a set of Tuna Knobs? Let us know below in the comments!
Learn more about the Tuna Knobs Kickstarter Campaign and pledge to get Tuna Knobs.
Looking for special knobs for your physical controller? Visit the DJTT Store to get your hands on the customizable, versatile Chroma Caps!