Soundcloud has been the YouTube for audio content for a number of years now – the giant that everyone in the DJ and producer worlds use to share and discover new music, mixes, remixes, mashups, etc. But in the last few years, Soundcloud's popularity has begun to cause headaches for content creators. Today we've rounded up a selection of alternatives for DJs and music producers looking to share their work with the world.
SOUNDCLOUD DRAMA FOR DJS
Soundcloud has been suffering a backlash recently. Their new mobile app was received poorly, and the newly revealed partnership with Universal which allows the label to remove content from the site has sparked controversy and worries for the future. To further exacerbate the drama, reports have been made that the site is now implementing restrictions based on country. Over the last 2 years Soundcloud has come under increasing pressure from the music industry. Many users have complained that mixes are being taken down on copyright grounds. Will the site's popularity become its unmaking?
The site has been a huge part of the dance music scene and DJ culture since it's inception in 2007. A powerful tool for both established and beginner artists, Soundcloud really picked up steam in the 1st wave of a copyright clampdown by Youtube. It's easy accessibility and intuitive sharing capabilities have made it a prominent part of the current internet landscape.
What if the recent developments signal the beginning of a downfall for the site? Where are the best alternatives to host your mixes, edits, compositions and audio sketches? We take a look at a few possible solutions…
MIXCLOUD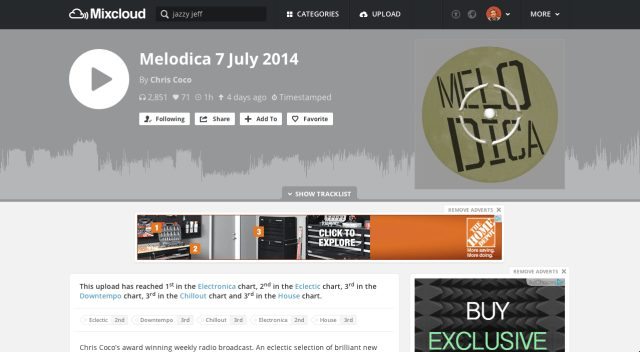 Website: www.mixcloud.com
File format: MP3
Prices: Free
A well established platform already, Mixcloud has attracted a large amount of DJs and fans since it began in 2008.
The Good:
No upload limits.
Pays license fees in the style of a radio station so that your mixes will not be pulled down.
The site design has come a long way since their early days.
Lots of cross-compatibility with DJ software including Traktor, Serato, and Mixvibes.
The Bad:
Pages are heavy with ads
Low bit-rate streaming, particularity on mobile (

low bit rate streaming on mobile complies with Apple's regulations of <5 mb per 5 mins.)

No backwards scrubbing means that you can't replay parts of the mix once the play-bar has gone past that point. This is only a restriction in the USA due to licensing.
Aimed at DJ mixes, not a good platform for uploading tracks.
DROPIFY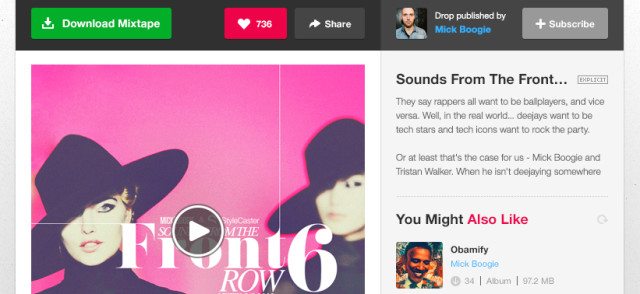 Website: www.dropify.com
File format: various
Price: Free – $99 per month
Committed to using downloadable content as currency, encouraging all types of business to explore the potential of trading files (which they call 'drops') for Facebook likes.
The Good:
A smart way of boosting your Facebook profile.
Good experience in content marketing.
Could be used for Tracks, Mixes or whatever file you want!
The Bad:
With an emphasis on downloading, this isn't really for the casual listener, looking for something to listen to while working out or driving.
More of a Facebook add-on than a standalone service.
HEARTHIS.AT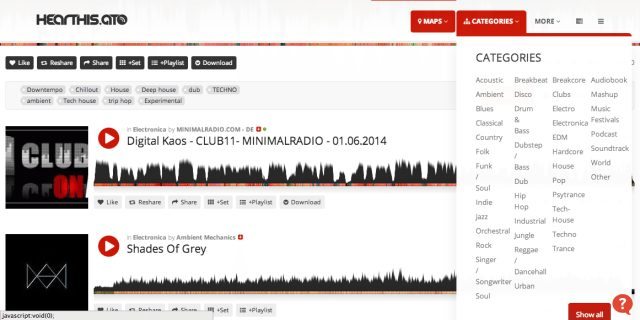 Website: www.hearthis.at
File format: MP3
Price: Free – $33 per year (approx)
Newcomer to the game and certainly influenced by earlier layouts of Soundcloud. There is a slightly punky/Wordpress aesthetic to the site, but I anticipate it will get more polished if adopted by more people.
The Good:
Anyone familiar with Soundcloud is going to be comfortable with the functions and layout of Hearthis.
Define your own streaming bitrates with a premium account.
'Maps' function lets you search for music geographically and connect with other DJs close by.
Very reasonable upgrade costs.
The Bad
Occasionally buggy experience at the moment because it's a new site.
No iOS app at time of writing.
The format is so similar to Soundcloud, it makes us wonder if Hearthis will be vulnerable to the same issues in the future.
BLEND.IO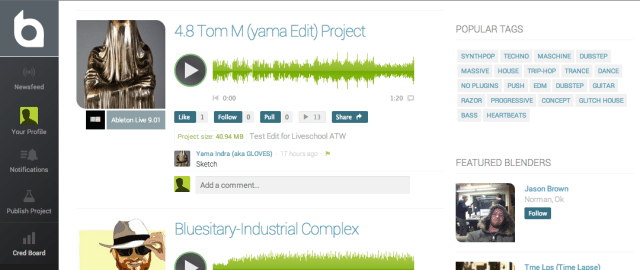 Website: www.blend.io
File format: DAW project files and MP3/WAV
Price: free
Previously covered in-depth on DJTT in this article, the emphasis at Blend.io is on collaboration and community incorporating Dropbox-style sharing as a way to share project files.
The Good:
No tiered membership system means that everyone has equal access.
Great way to learn about music production and song structure.
The Bad:
Music uploaded to the site is covered by Creative Commons and the T&C's you agree to allow Blend to use your work in a variety of ways.
Feels more like a members-only club, not particularly useful for promoting yourself to non-musicians.
It's all about the tracks here, collaborative DJ Mix project files would be quite large!
MIXCRATE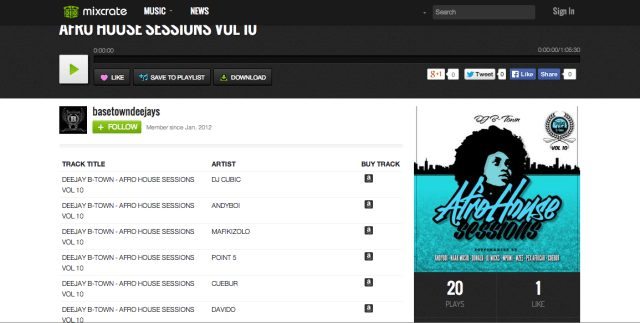 Website: www.mixcrate.com
File format: MP3
Price: Free
The same age as Soundcloud, but somehow feels like the old veteran of the group. For DJs wanting a place to host their long-form mixes.
The Good:
Simple approach makes it very clear what the site is.
Powerful search algorithm and a huge library of mixes.
Opportunity to be featured on the front page if your profile generates enough traffic.
The Bad:
Mixcrate is old-school to the extreme and feels like there haven't been any major updates in a while.
Does not have the same universal appeal as other audio hosting sites, might be a harder sell to entice listeners that are not DJs to visit your profile.
BANDCAMP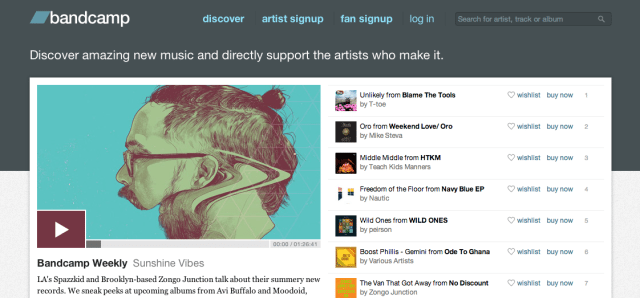 Website: www.bandcamp.com
File format: MP3
Price: 10% – 15% cut of artist sales.
This site has been an outlier for a while now. A longtime favorite of indie-bands, there are an increasing amount of electronic acts signing up. Bandcamp can be used to sell physical merchandise alongside downloads.
The Good:
Bandcamp looks lovely, with a clean simple layout.
No upfront fees, Bandcamp takes a 15% cut of your sales.
Upload in the highest possible quality and let your customer choose their preferred format.
The Bad:
No feedback system means you can't leave comments on music.
Unintuitive search and recommendation system can make browsing through the catalog lifeless or disconnected.
The site encourages original material, so mixes and mashups are a no-no.
Do you have a place where you're considering moving your DJ or production content? Let us know in the comments below.