We originally saw Numark teasing at a DJ controller with integrated screens a few months ago at a Microsoft developer conference – and now it looks like that product will soon be a reality, called the Numark NV. This Serato DJ controller has dual full-color LCD screen that provide real-time feedback from the software. Keep reading for more details and photos:
Want your own Numark NV controller? It's available in the DJTT store here.
Watch a complete review of the NV by Chris Brackley here. 
THE NUMARK NV'S SCREENS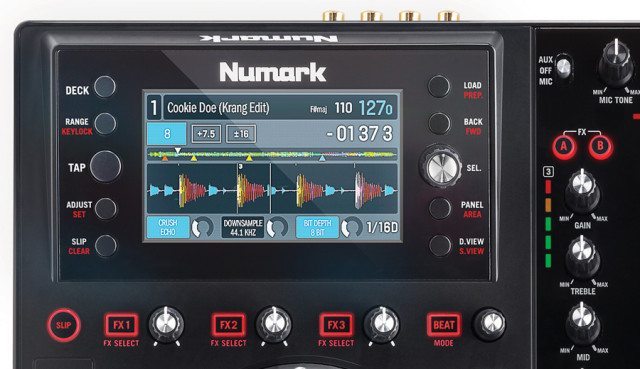 We suspect that almost every major company making DJ hardware has been inspired by the Pioneer CDJ-2000 Nexus' full color displays and the onboard screens on Native Instruments' Maschine Studio production controller. But Numark is absolutely the first to integrate LCDs into an all-in-one DJ controller. Each screen is full-color, coming in at 4.3 inches (measured diagonally) and positioned prominently above the jogwheels on the Numark NV. Like the CDJ-2000N, the screens have a forward tilt to them for ergonomic considerations. Note that these are not touch screens, but instead  have a full set of controls on either side of the screen.
The screens are integrated with Serato DJ for "vivid, real-time visualization", including virtual decks, FX controls and feedback, cue points, waveforms, and music library navigation. It's not unlike if Numark had taken Serato DJ's iPad app, Serato Remote, and put the best features right into a DJ controller.
THE REST OF THE CONTROLLER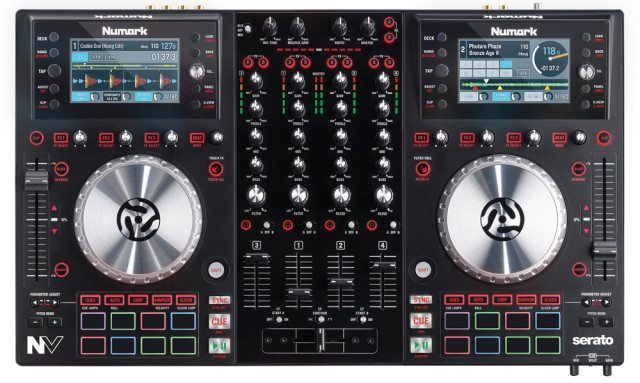 The NV looks very similar to a NS6 controller with a slimmer profile – it's got four decks of control and channels to mix on, the same dedicated hardware controls DJs have come to expect from all-in-one controllers, 5-inch jogwheels, and 16 velocity sensitive trigger pads with full backlit RGB feedback. Numark notes in their press release that the NV takes on some of the best new hardware features from the Numark NS7 II controller, including touch-activated capacitive knobs and jogwheels and the many different pad-modes that Pioneer and Numark controllers all now sport.
There's of course a built in USB soundcard, with booth outputs and balanced XLRs, a Mic input, and two extra pairs of RCAs for input and output.
PRICE AND AVAILABILITY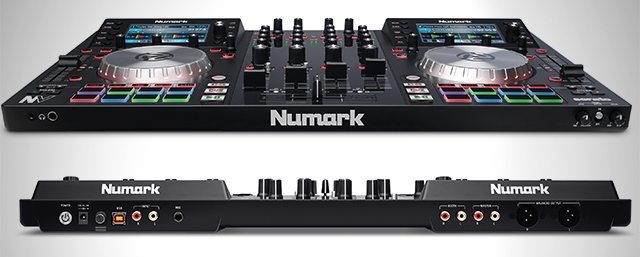 The Numark NV is scheduled to be released in stores this fall, with a preview at DJ Expo in Atlantic City, New Jersey in August. The expected price will be $699.99 – a pretty reasonable price tag considering the current state of the all-in-one controller market.
For more information on the Numark NV, visit the official product page here.
Wondering what a Traktor S4 might look like with built-in screens? Check out our mockup in this article.