You've been killing it in small clubs everywhere—but now it's time to step it up and play for thousands (okay, maybe hundreds) of people who may not know who you are, or are just out for a party. Here's what you need to know to prepare for your first festival set and win over a ton of new fans.
GET A READ ON THE CROWD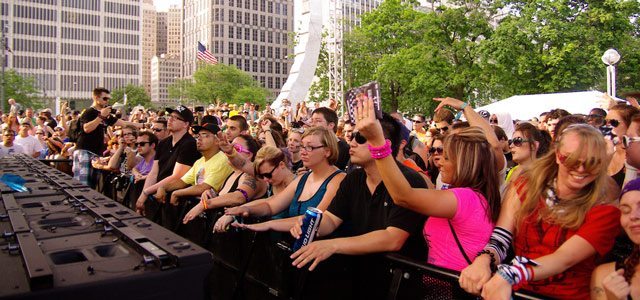 Like any gig, it's worth feeling out the crowd for a while before you go on. Hopefully you'll be there well before your set—and why not? It's a festival, after all—so give yourself some time to wander around and get the vibe of the place.
"In a way, reading a festival crowd is easier than reading a club crowd as most people are there on a common level en masse, and on the same 'party clock' or state of mind.

– Dave Aju "
Of course, playing a festival can mean that you're put high up on a stage, away from the close connection you might be used to with club crowds. So getting a read on the crowd when you're down in it is important.
Our own Ean Golden suggests:
"You might consider checking out the other stages, and carefully reading the lineup for what will be played during your slot. If it's all banging electro music, perhaps a low key house set might provide a welcome respite and pull a crowd from the larger stages. Bottom line, it pays to be aware and respond to the conditions on the ground. "
PROVE YOURSELF EARLY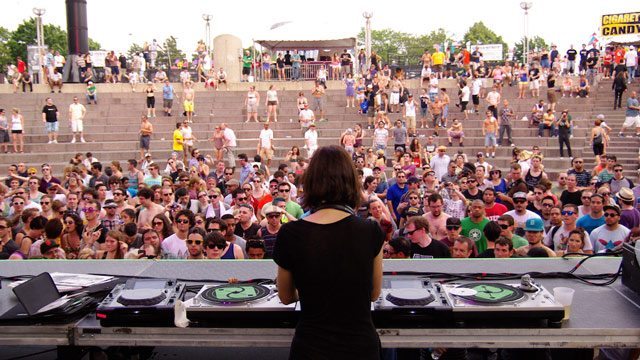 Whether it's your first or 50th time onstage at a festival, there's a good chance you're not the DJ everyone came to see (usually)—so you're going to need to prove yourself to win over the crowd. And early—at most festivals there are as many musical options as there are carnival distractions, so get them under your thumb as soon as possible.
"The crowd might not know who the hell you are, so you have to prove yourself within the first few tracks," says Danny Clancy of London duo Krankbrother. That doesn't mean breaking out your bangers right away (remember the basics of an opening set?), but make sure that your first few tracks are impeccable.
"You don't have long before the crowd wanders over to the merch booth, so make it count."
"Concentrate more on the sweet spot of the crowd and try your best to reinstall that connection and certainly not worry about the people on the peripheral edges—they are only half-listening anyway," says Berlin DJ and Sub:tance resident John Osborn. "If you build a good connection with the sweet spot of the crowd, it will grow, dragging in the peripheral half-listeners and turning them into full-on hands-in-the-air ravers, if you drop the right tunes at the right time," says Osborn.
TIGHTEN IT UP AND BRING THE PARTY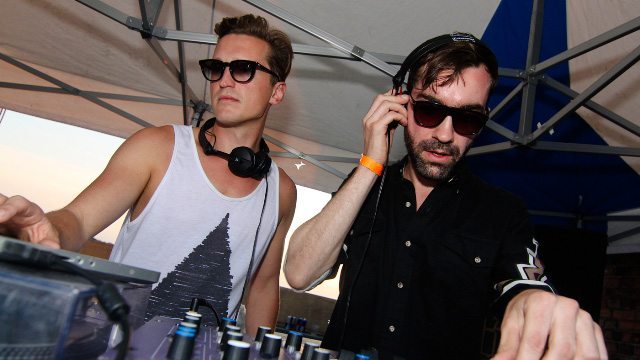 It's likely that whatever festival you're playing, your set is going to be shorter than you'd usually prep for the club. "Festival sets are often shorter and during the day, and hopefully in the sun," explains Osborn. "So the tracks I would select for a long four-hour set in winter in Panorama Bar just would not work in a sunny open-air field."
"At a festival, people have paid to have an amazing weekend," says Clancy. "You have to play a big party set, and interact and party with the crowd." Enough said—prepare to rock it however you can.
Thanks to the shortened sets, multiple stages, and a wide range of distractions – no dj will have the rapt attention of a sun drenched crowd. Generally speaking this also means shorter mixes and quicker song transitions to keep people interested and present – especially in the US market where attention comes at a serious premium.
PLAY IT SAFE—BUT NOT TOO SAFE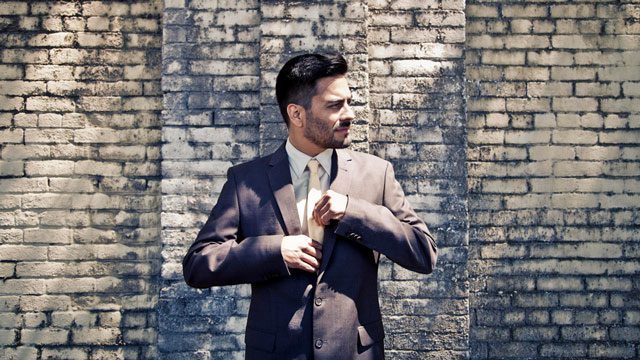 Unless you're playing some experimental festival (which you're probably not), you're tasked with keeping the party going.
"It's always good to bring out a few hands-in-the-air numbers, and even the odd edit or big tune that people might know,"
says Clancy. "A lot of the time you're playing daytime, too, so we tend to go on a more house and disco vibe and keep it bumping. I've got a whole section in my music collection dedicated to festival sets—classic house tracks and proper party shit."
However, take some chances once you find your groove, as you don't want to just sound like everyone else. "We usually find festival crowds far more forgiving than a club crowd—maybe less discerning and more up for it—so in our experience they can probably be an easier place to play than a trendy Berlin or London club," adds Clancy.
"If it is an extended multi-day festival, you have consider that people have heard and been exposed to many acts before yours," says Dave Aju. "So prepare to do some unique things that make you stand out." Whether that's playing a crazy party track or actually doing something crazy on stage is up to you, but figure out what works for you and make sure to be original.
"Likewise for DJ sets, in larger festivals with several stages there are many other DJs, and if everyone is playing the same tracks it can be quite boring for the audience, so stay away from the latest/greatest hits, unless you can make a special edit or exclusive remix to really personalize it somehow," Aju proffers.
BE READY FOR ANY SCENARIO—TECHNICAL OR OTHERWISE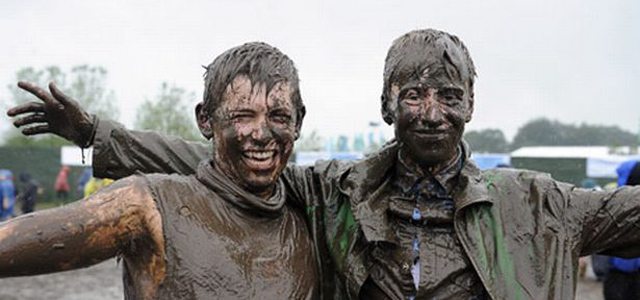 Things can—and will—go wrong. The festival won't have the adapter you need. It'll start pouring the second you take the stage. A dust storm will pick up from out of nowhere.
You've got two issues to think about here, so hopefully you've already taken care of the first one, which is protecting your gear. But do you have a suitable set ready for any and all weather conditions? Consider that when you're organizing your tracks. "You have to keep them dancing even though it's raining," says Clancy.
Just the same, if Arcade Fire is playing the main stage, you may end up playing to pretty much no one—but that's no reason not to give it your all. You know what small, dedicated crowds are like from your club gigs, so veer in that direction and really show off what you can do for those few who stuck around to see you.
Read more: DJing in Extreme Conditions, How to Protect Your DJ Gear
RELAX, BE YOURSELF, AND HAVE FUN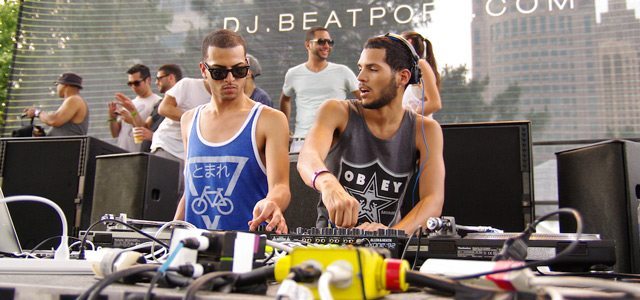 Yeah, it's the same advice that your mother gave you on your first day of high school—but who knows better than Mom, right? It's not just the crowd that should be having a good time here. You're all at the same festival, enjoying the sun (hopefully) and digging the incredible vibes that only outdoor gatherings can offer. "The atmosphere is totally unique at a festival and we love that," says Clancy. "We also love grazing the amazing food stands at festivals before the show; you don't get that at a lot of the gritty clubs we've played."
Plus, you might just find yourself at an otherworldly location, playing for a crowd you never dreamed of before. "We've played at Burning Man a few times and it's pretty hard to top," Clancy adds. "The locations are incredible. Playing in the desert surrounded by mountains and stars is completely unforgettable."
When it comes to festivals' special atmosphere, everyone agrees, including Osborn: "It can be more relaxed, and when all the correct elements of the cosmos aligns itself correctly, the crowd energy can be more intense than any club!"
Dave Aju's Black Frames is out now on Circus Company and Krankbrother's Recollective is out now on Defected.
Have a great tip for playing festivals? Tell us about it in the comments below.