Remember the last time a major feature was introduced in Traktor Pro? No, unlocking Remix Deck support for all controllers doesn't count. Neither does having a mapping window that expands when you drag the corner. Berlin's Native Instruments has stayed relatively quiet while Serato DJ and a number of other smaller softwares have been in the limelight.
UPDATE: The Kontrol S8 has been announced officially – read our full analysis in this new article.
WANT TO GET A KONTROL S8? Sign up here to get an email as soon as the product is available for preorder.
The silence is slowly starting to show cracks – with a second video just uploaded in the "Future of DJing" series, this time featuring techno duo Pan-Pot. Watch below (or watch the first one with MK here):
Here's what we suspect: Native Instruments is very carefully only showing us half of these "Future of DJing" interviews. In the other half, they've shown the artists a first look at an upcoming product or hardware that takes Traktor's live remixing capabilities to a new level.
Notice also who these interviews are with – producer/DJs who heavily edit tracks and layer additional sounds on top of their DJ sets using the Remix Decks. These are likely the ideal users for whatever is coming next…
WHAT ABOUT A KONTROL S8?
We wanted to include a bit of speculative discussion that's been going on in the DJTT forums about a new Native Instruments hardware or software release. Forum member Fango Jett posted this screenshot from a dutch DJ store: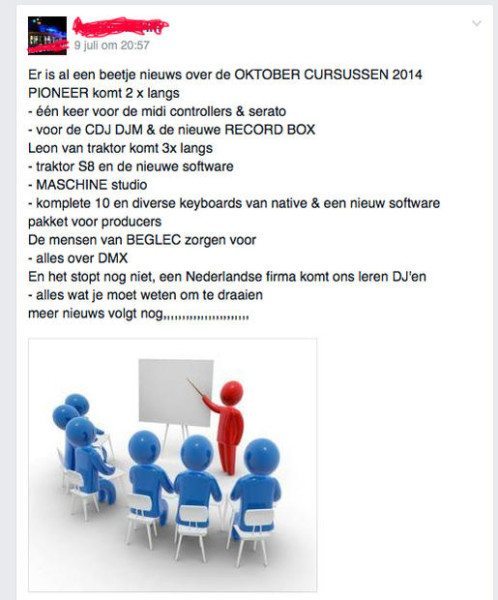 Roughly translated, the interesting part is this:
"There is already some news about the courses for October 2014
(…)
Leon (traktor-instructor) comes to visit us 3 times:
– Traktor S8 and NEW SOFTWARE
– Machine Studio
– Komplete 10 and several new keyboards and some new software"
But does a Kontrol S8 even make sense? Would it have controls for eight different decks? That might seem excessive, but perhaps if the other decks are focused on live remixing or F1-like abilities (maybe even with a bridge to Maschine), it starts to make a bit more sense.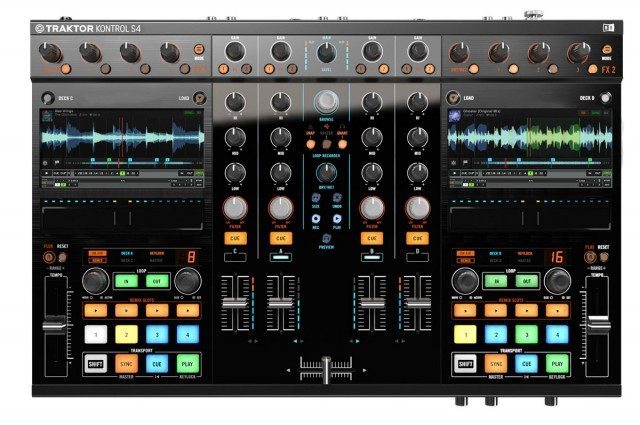 The other idea that jumps to mind is that Native Instruments could have a DDJ-SZ-style controller that has two soundcards integrated into it – meaning that if both DJs are plugged in at the same time, there's four decks coming from each DJ – giving you eight decks total.
We'll leave you with one more bit of speculation about the Traktor Kontrol S8 from forum member Ash Carr:
I think NI are going to move a little further from traditional DJing. I'm predicting that Traktor's next upgrade will only advance the remix decks further and hopefully incorporate a step sequencer. When you look at the midi fighter twister and the digital warrior you can imagine that it wouldn't take a genius at NI to think "hey, lets just put that into the next version of Traktor" and call it a Maschine deck or something.

With regards to hardware, you'd want something like a Livid Cntrlr to take full advantage of this new feature, but you'll still need something that's going to move your tracks around for normal decks. So they bang on some touch strips and get rid of jogs completely.

Thats my prediction.

[…] Both this video and the one with MK kinda re-enforce my point that NI will be pushing the remix decks and getting rid of jog wheels in the next iteration of Traktor and there hardware. I think we are heading for a unit with two X1 mkII sections, Two F1 sections, screens and a beefy 4 channel mixer section.The clues are out there guys.
EDITOR'S UPDATE: KONTROL S-SERIES
We've seen at least one of the items on the list come true – the new Komplete S-Series keyboards and a brand new version of Komplete 10 (all available in the DJTT webstore Production Gear category here).
Read the full speculation and latest updates on the rumors about new Traktor gear and a potential Kontrol S8 DJ controller here in the forums.