DJ TechTools' latest musical experiment offers an alternative to main room dj attractions, by inviting party goers to experience the joys of controlling music in a collaborative fashion. Built for Richie Hawtin's Enter party this summer in Ibiza, 12 independent touch wheels on a large circular table allow people to play one instrument in an evolving "dj mix" running through Ableton Live.  In today's article, we finally reveal the background of Orbit, and take you behind the scenes of it's development.
This summer, party revelers from around the globe will make a well-travelled trek to the Mecca of dance music, Ibiza. Some will be met by a small surprise waiting on an upper floor of the iconic Space night club. Every Thursday night, beneath the stars and under the roaring sound of passing jumbo jets – the curious will discover that there is no DJ at the helm of that room. Instead, anyone can join in, and together with strangers around them take control of the sound track. Dubbed "Orbit", this audacious project was designed and created here at DJ TechTools, and today I am proud to finally tell you all about it.
At the outset of this project, we had a lot of questions and no idea if anything would actually work but I hoped this funny little table would do two simple things:
CONNECT PEOPLE THROUGH MUSIC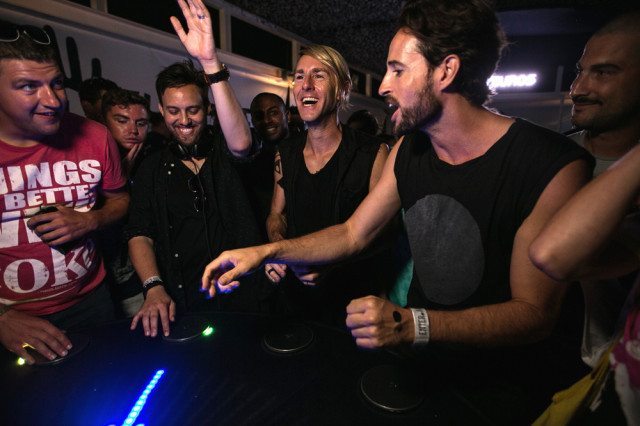 Playing music with friends can be one of the most fun, and connecting activities humans engage in, but very few get the opportunity to experience that process with creative barriers being so high. Just like sitting down at a table, and talking or laughing over food, there is something special about standing around in a circle and playing together as a group. Nightclubs are becoming increasingly disconnected with higher dj booths and larger VIP sections, so we wondered what would happen if you created a space where people could come together and play music in an un-expected environment.
The table intentionally avoids any touch screens or small controls so anyone can play the music by ear and focus on looking at those around them. Traditional instruments evolved to be very simple, and don't require a lot of visual attention – freeing up the player to engage, smile and connect in the moment. Many have described Orbit in a variety of ways, but the most simple might be the best: it's the modern electronic drum circle.
OPEN THE DOOR TO CREATIVITY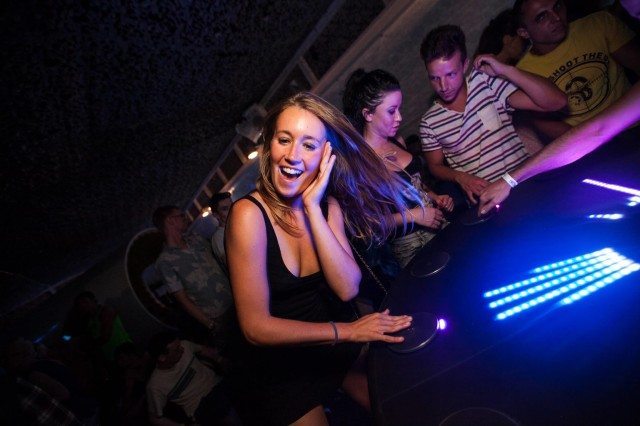 Almost everyone has some interest in playing an instrument – especially those that go out and dance to electronic music. Since most clubs and venues are very consumption oriented, we wanted to give everyone the opportunity to participate creatively in the night and discover the joys of controlling music. The hope is that this might peak the interest of a few creative individuals and possibly set them in the direction or production, djing, or music creation. Each night, Orbit asks the question:
What would happen if you allowed people to control the music in a night club? Would they have fun, be inspired and choose to dive deeper into music? 
There have been many excellent interactive music installations over the years including the Reactable and Moldover's JamBox series of instruments. With Orbit we were faced with the challenge of not only creating an interactive musical instrument, but also engineering the soundtrack to a nightclub room. The mix needs to evolve, sound good, and be easy to play – all at the same time.
THE INTERFACE CONCEPT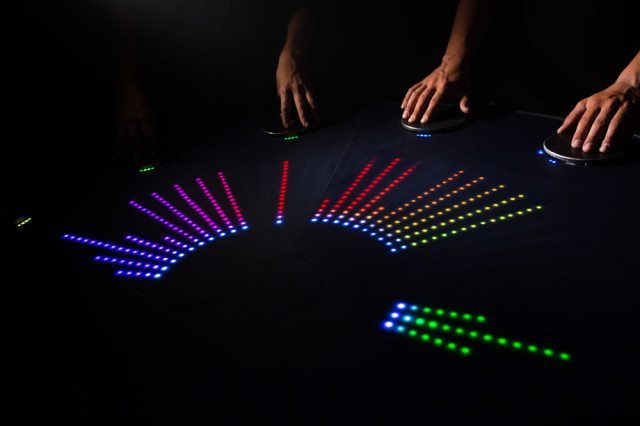 Orbit is equipped with 12 large jog wheels, not unlike like those found on all modern DJ controllers. Each touch-sensitive wheel plays one instrument in the "mix". When pressed, the instrument plays, and when turned it changes the instrument's tone or rhythm in very noticeable ways. The hi hat for example changes patterns from 1/4 to 1/8 and 1/16 with tasty reverb swells in the upper register. The actual hi hat sample you hear, and patterns played change over time as parts ebb and flow into each other just like a dj mix with each changing song.
All of the original parts from popular dance tracks like DubFire's "RoadKill" , including kick, snare, hats, and bass are playable, allowing the group to re-create, edit and de-construct songs as they come up in the mix.
We decided on jog wheels to keep the instrument dead simple and robust. This gave it the highest chance of surviving 14 weeks of parties in Ibiza, while also providing a commonly understood interface that almost anyone enjoys manipulating. Drum pads, knobs and sliders tend to break and require some degree of musical skill or knowledge to operate well. The wheels spin endlessly, and are very high resolution –  so they offer a broad palette of sound control for everyone from the professional dj, to a casual party attendee.
THE ENTER. BACKDROP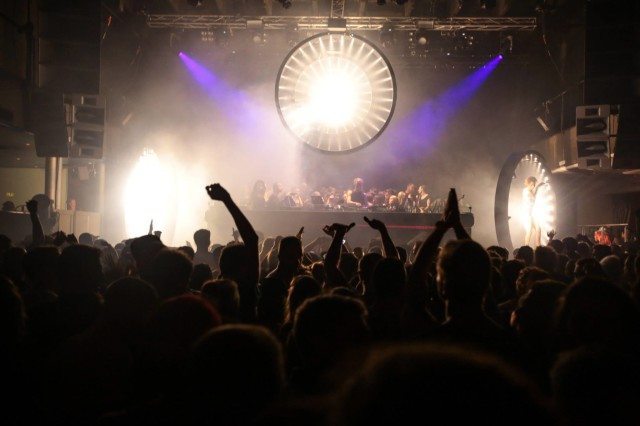 Every Thursday night in Ibiza this summer, a very dedicated team transform the iconic Space night club into a totally sensory experience dubbed ENTER. From completely re-decorating the rooms, to inventing new drinks, and pushing sound to the limits, no expense is spared to fulfill their mission:
"ENTER. will be a point of entry into new experiences: from new music and DJs through to technology and the Sake we introduce people to." – Richie Hawtin
This mentality was the perfect backdrop to experiment with a new model of musical interaction and invite party goers to explore playing music together.
THE CONTROLLER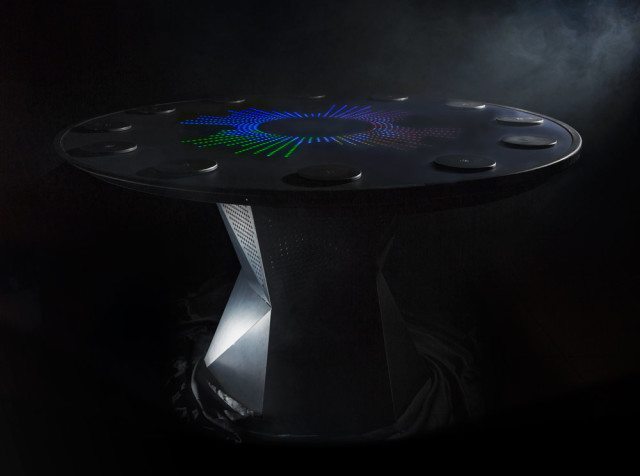 For the technically-minded, Orbit is basically a giant custom MIDI controller with 12 jog wheels, 6 USB interfaces, and some pretty impressive visual feedback provided through over 1000 LEDs. The jog wheels are sending high-resolution position data to Ableton Live, and displaying that position through the ring of LEDs around each wheel. When touched, the wheel "reveals" that part and the LEDs immediately in front of the wheel pulse in time with the rhythm of that part, thanks to a clever MaxMSP plugin written by Jeff Lubow at CNMAT.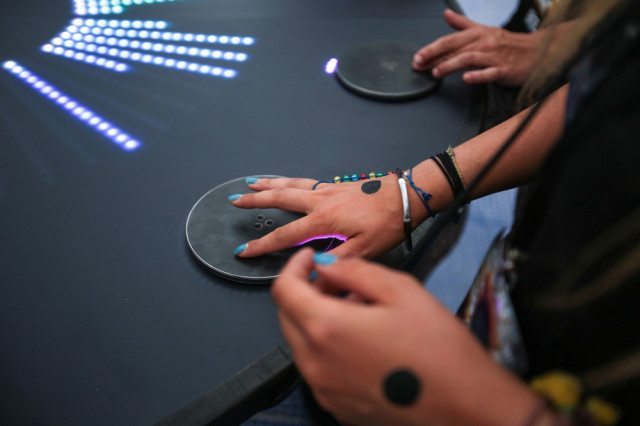 Our lead engineer and man behind the Midi Fighter, Michael Mitchell, re-purposed 6 VCI-100 jog wheels and then built custom circuit boards and firmware to seamlessly integrate them into Ableton Live. The table itself has space age origins, built using cutting edge aluminum bonding techniques by Ohio Design in San Francisco. Here is a deeper look into the process of the controller's creation in San Francisco:
THE MIX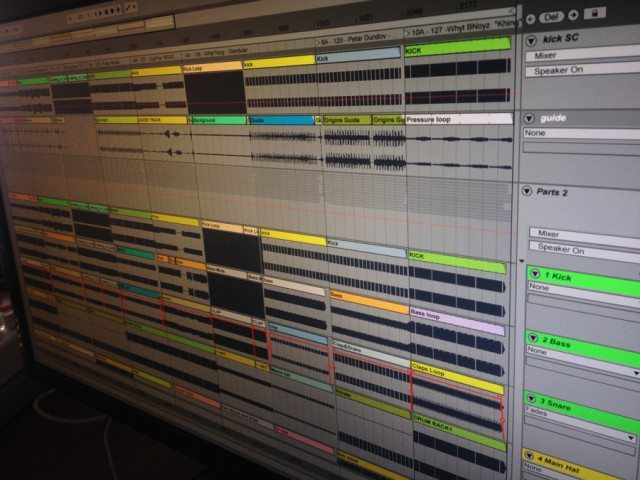 Not unlike a DJ mix, Orbit is running an extended blend of over a dozen "songs" in Ableton Live. Instead of stereo MP3s, each song is made up of 12 individual parts taken from stems that various artists provided for this installation. Throughout the night, people get to literally remix tracks from Dubfire, DJ Tennis, Plastikman, Chris Liebing and many others. The wheels mute, un-mute and deconstruct each channel through some very creative Ableton live effect racks.
Technically, how we allow people to play music turned out to be the biggest challenge of the project. There were three requirements:
People needed to sound good no matter what – if not they walk away and give up.
Putting music over speakers meant hours of music – and that meant easy music integration
The thing needs to be stable, so CPU usage has to be reasonable. (no convolution reverbs!)
It was a tough journey, throughout which we had to throw away 3 different models of musical control (and months of work) after testing and discovering many assumptions were dead wrong. Our own Lenny Kiser helped out in the first 2 months in building out the original Ableton session. Now in week 5, everything is very dialed in and the mix sounds amazing. More content is added every week, and each day we change little things to make each part more playable and fun. It's been a crazy hard job – but well worth it in the end as you see the smiles of genuine surprise when people realize that they are actually controlling the music and it's a blast to play with complete strangers around them.
CHECK OUT ORBIT YOURSELF AT ENTER THIS SUMMER 
THANKS TO REDBULL MUSIC ACADEMY FOR THEIR SUPPORT OF THIS PROJECT